Original post in Japanese: 「リーフ×道の駅なみえ」でRE100%を目指す日産と浪江町のエネルギーマネジメントシステム実用化検証を開始【現地視察】by Satoru Uno on EVsmart Blog
Why did Namie town start the renewable management system experiment?
Situated just 4km from the Daiichi Nuclear Power Plant, which suffered substantial damage and subsequent radiation leakage, all 21,500 residents of Namie were ordered to evacuate following the disaster. Since the reopening of the town in 2019, 16,500 have returned as registered residents, but only an estimated 1600 live in the region daily. While life slowly returns to normal, there still remain areas designated as "difficult to return districts", where pedestrians and cyclists are still prohibited to enter.
The town was divided into three areas according to the level of air radiation dose since April 2013, and two of them have been opened for daytime restoration works. In March 2018, a battery recycling plant "4R Energy Namie branch" for Nissan Leaf, funded by Nissan and Sumitomo Corporation was opened. This facility was the first domestic business specific to the recycling of battery for cars, and continues to contribute to the economic resurgence of the region.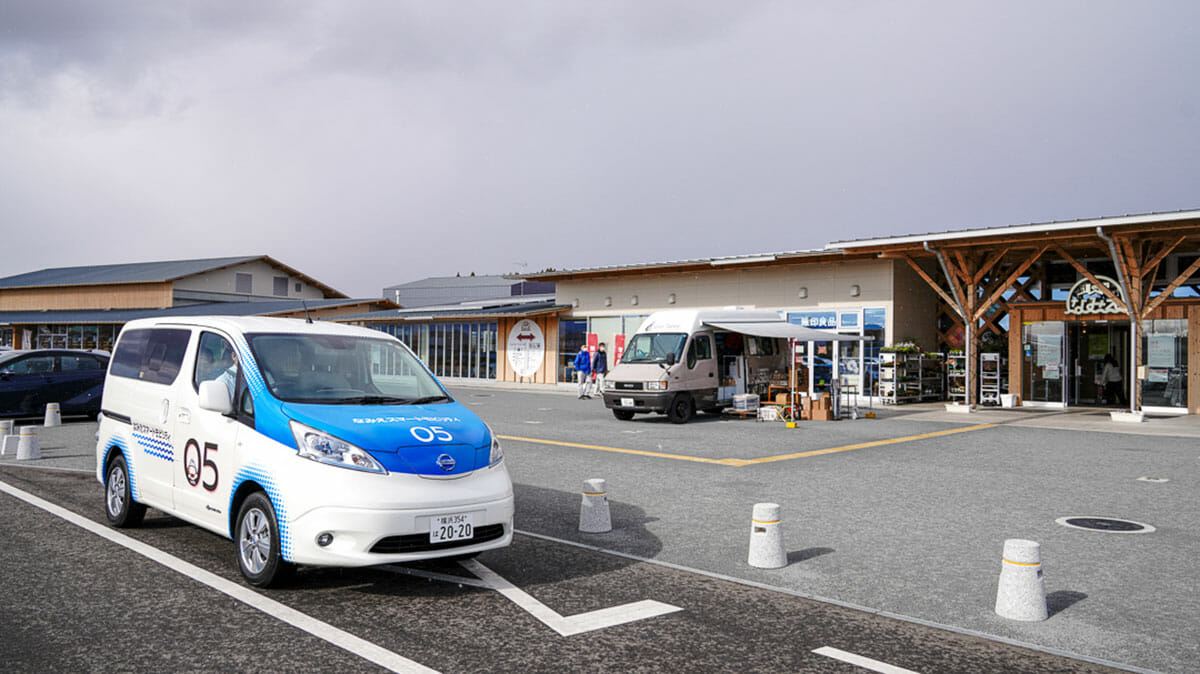 Namie has also been actively promoting renewable energy since the disaster. It signed the "town making alliance in Hama-dori area in Fukushima to utilize new mobility" and further focused on renewable energy use and low carbonization. The alliance includes "Namie smart mobility", a local mobility service experiment utilizing EV, that has entered its third phase.
Energy management based on EV charge/discharge
In 2022, Nissan will further support the area by introducing its new energy management control system for EV charge/discharging. Nissan describes the system as follows;
An autonomous decentralized power control system (PCS) will enable the town's five EVs to be charged or discharged based on the amount of electricity generated by solar, wind and hydrogen fuel cells, and the electricity demand of the town's commercial facilities.
To determine the optimal timing for recharging and discharging EVs, the system considers their battery status and usage patterns.
The system is expected to lower the peak power consumption of the commercial facilities and reduce electricity costs.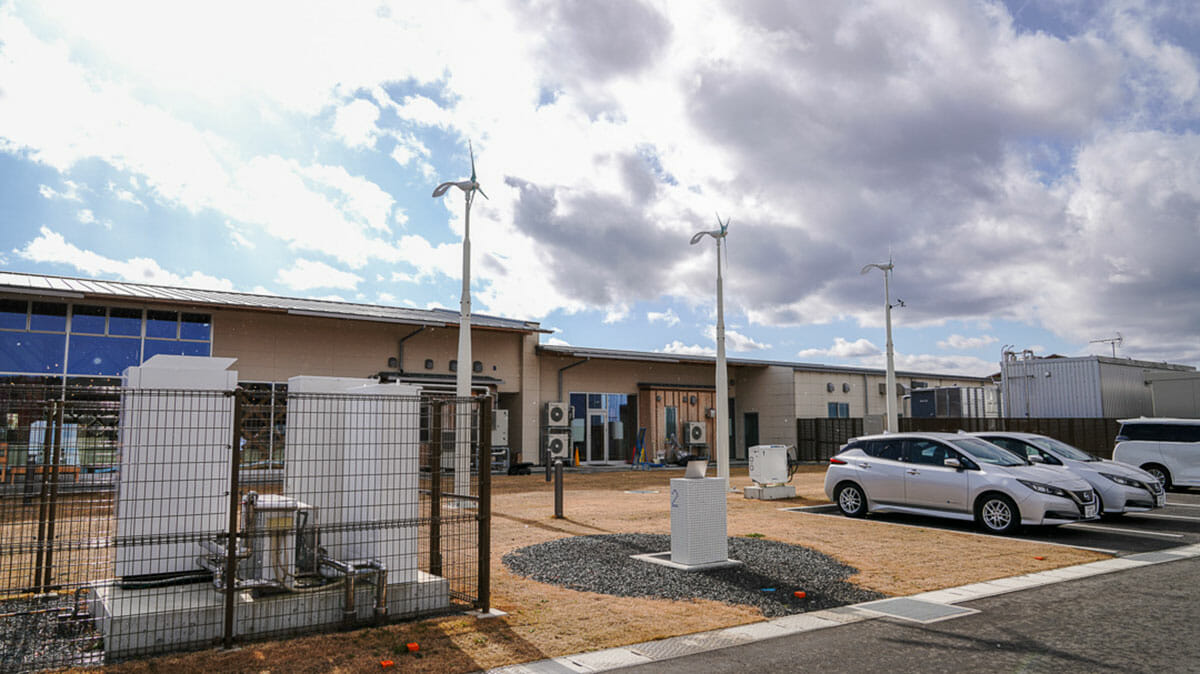 No extra investment needed for hardware
The energy management system relies on existing solar, wind and fuel cell infrastructure, and EVs for power storage, thus requiring no substantial new investments besides the PCS. The experiment will use Nissan LEAFs owned by the Namie local government.
With a diverse range of power sources including solar (37.5kW x 3), wind (1kW x 3) and fuel cell (3.5kW), the system should operate independently of weather and sunlight exposure. Hydrogen for the fuel cell is delivered from Fukushima Hydrogen Energy Research Field (FH2R), by which the hydrogen is produced renewably with solar power.
Will the whole town achieve 100% renewable energy usage?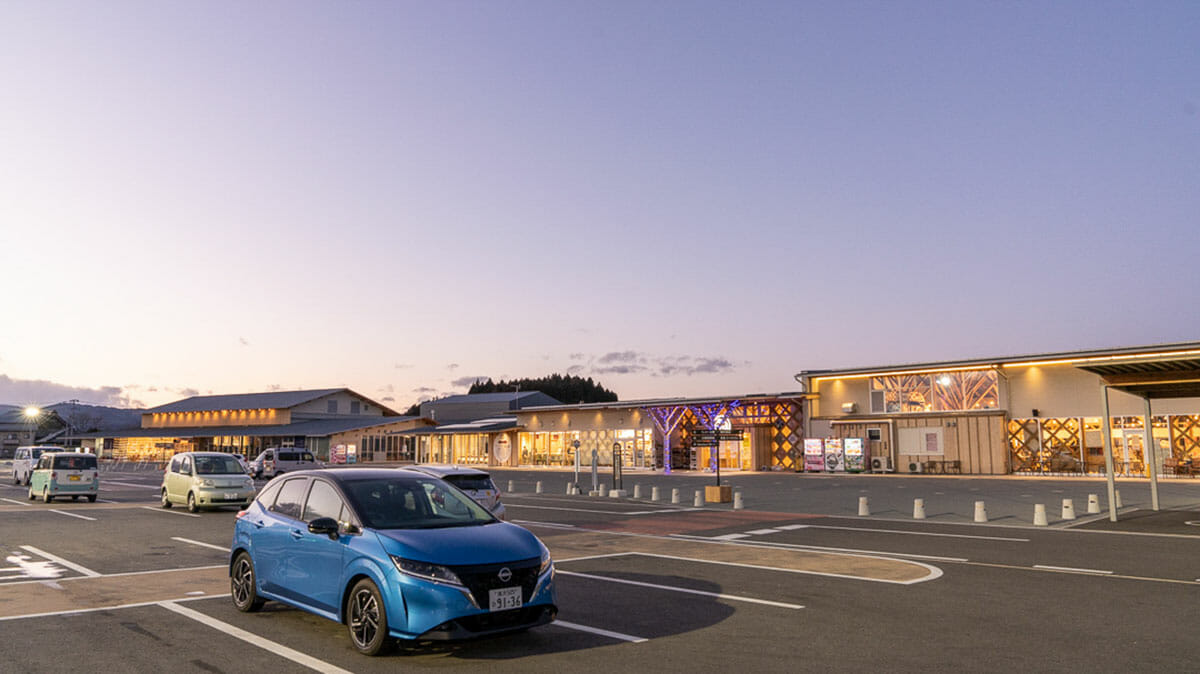 The energy management system will initially provide electricity to a large roadside station, including 128 parking lots and many canteens with local produce amongst other services. If this relatively large commercial entity can run on 100% renewable energy, the system is expected to be expanded to the entire town. Of course, with active residents in Namie at less than 10% of its peak, this should be considered a low hurdle to achieve 100% renewable energy, but the publicity and significance of the region will help promote this and other innovative energy systems throughout Japan.