Japanese version is here.
Show scheduled for 10 days, ended in 4
The Chengdu Motor Show 2022, or the 25th Chengdu International Automobile Exhibition, ended abruptly on August 29 following COVID control measures announced by the capital city in northwest China's Sichuan Province on August 29. The 10-day event was originally scheduled to run from August 26 to September 4.
It's been that kind of a year so far for China's auto market, which has confronted one "black swan" event after another: chip shortages, battery constraints, Shanghai lockdown, heat wave, power crunch, electricity rationing, sporadic COVID outbreaks and most recently a 6.8-magnitude earthquake in Luding County, Sichuan Province that shook the capital city of Chengdu.
Yet despite these disruptions that led to production hiccups and product launch/delivery delays, new energy vehicle sales continued to shatter records, with August sales reaching 666,000 units, a new all-time monthly sales record, and accounting for nearly 28% of all vehicle sales, and January-August sales reaching 3.86 million units, or almost 23 % of all vehicle sales, according to the most recent data from China Association of Automobile Manufacturers (CAAM).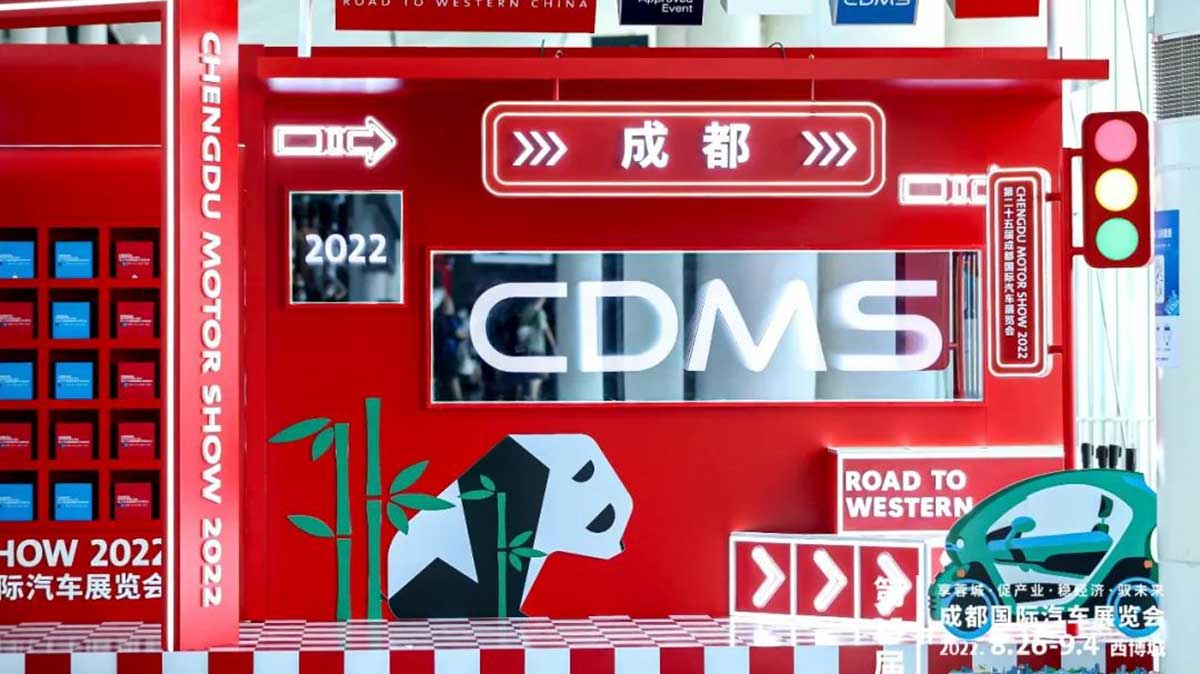 Though Chengdu Motor Show 2022 ended prematurely, at least it kicked off on August 26 as planned and ran for four days. It's hard to believe that this was the first A-level auto show held in China this year, following the postponement of the biennial Beijing Auto Show that was supposed to be held in April.
According to show organizers, a total of 72 press conferences were held on opening day, revealing/launching 92 new models, including 28 global debuts and 36 China debuts. More than 1,600 vehicles from 128 Chinese and foreign brands were exhibited at the show.
As usual, China EV Inc. dominated the narrative at the show. In sharp contrast, not one single new EV was revealed or launched from foreign legacy brands (volume or premium), at least nothing significant, in my opinion. It perfectly reflects the state of competition in China's NEV market: Chinese brands are running away, and foreign brands (except Tesla) are scrambling to play catch up.
Here's a look at some of the more notable EV reveals/launches at the show.
Icing on the cake: BYD Frigate 07 PHEV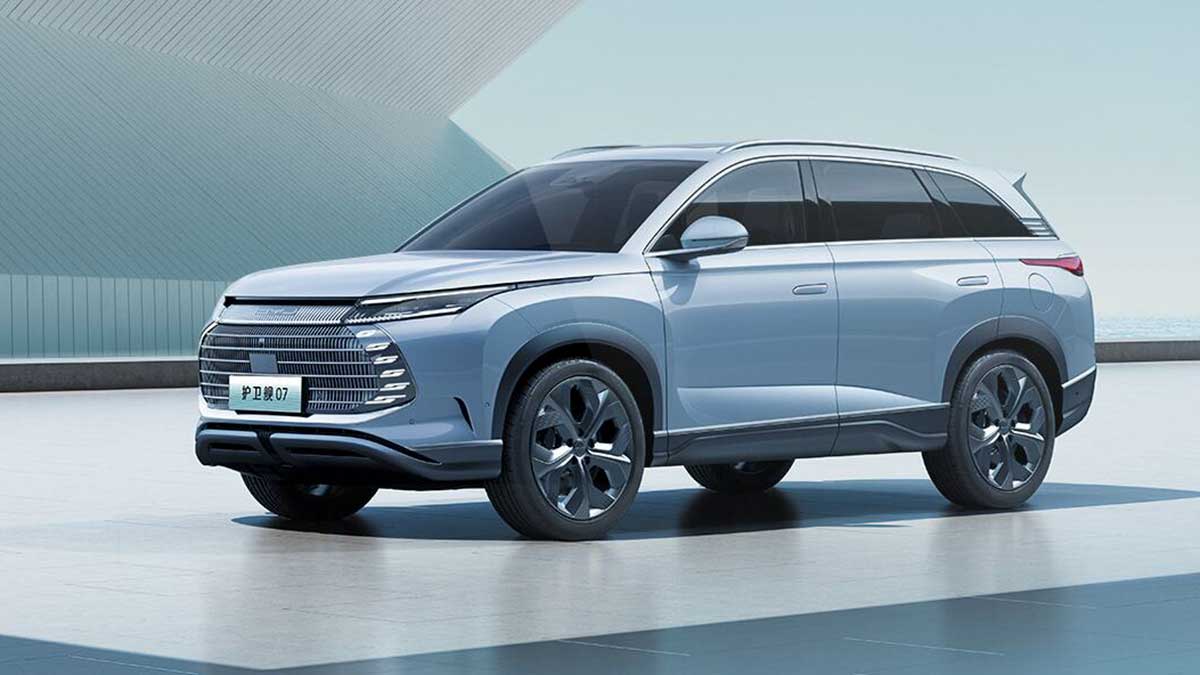 Having just rolled off its one millionth passenger vehicle produced in 2022, with more than 700,000 orders on hand and annual sales of 1.5 million new energy PVs now a foregone conclusion, anything BYD launches to the market is just icing on the cake.
The Frigate 07 is the fourth model available from BYD's "Ocean" network following the Dolphin, the Seal and the Frigate 05 sedan. Arriving ahead of the upcoming Sea Lion and Seagull, the mid-size, B-segment plug-in SUV began pre-sale at a price range of RMB220,000-280,000 at the show and is expected to officially hit the market in Q4 as part of the "Warship" family of models.
One of the most striking and signature features of the Tang-sized SUV is the "Chinese knot" styling of its wraparound taillight design. It is expected to be available in both the DM-i and the more powerful DM-p variants, both equipped with BYD's 36.8-kWh blade battery offering a pure electric mode range of 200 km but differentiated by the extra 150-kW rear motor on the DM-p version in addition to the single 145-kW motor for the DM-i version.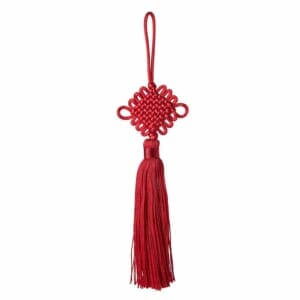 With the Song, Qin, Han, Yuan, Tang and Dolphin all selling well over 10,000 units a month, the only question remains is whether the Frigate 07 can become another hot seller.
Comeback kid: Denza's renaissance continues with the INCEPTION SUV concept
After gaining more than 40,000 orders for the Denza D9 electric MPV, the renaissance of BYD's high-end brand continues with this new concept, the successor to the mediocre X that was launched three years ago. Not many details were revealed for the model, but it is expected to go into production and launch to market in Q1 2023. Adopting the "π-Motion" design language used on the D9, the Tang-sized INCEPTION is about 4.9 m long with a 2.9 m wheelbase, equipped with two LiDARs, BYD blade battery that'll give a range of about 700 km and can go from 0 to 100 km/h in three seconds. Like the Tang, the production version of the INCEPTION will be available in both BEV and DM-i PHEV versions.
The D9, according to Zhao Changjiang, general manager of Denza Sales Division, has 50% of the orders coming from additional purchases by owners of Audi, Mercedes and BMW, 25% coming from 6-7 seater SUV owners and 15% from owners of the Toyota Alphard and Sienna high-end MPVs. The D9 is priced in the RMB300,000-460,000 range, so expect the production version of the INCEPTION to be priced just a bit lower but well over RMB300,000.
Can the HiPhi Z repeat success of the HiPhi X?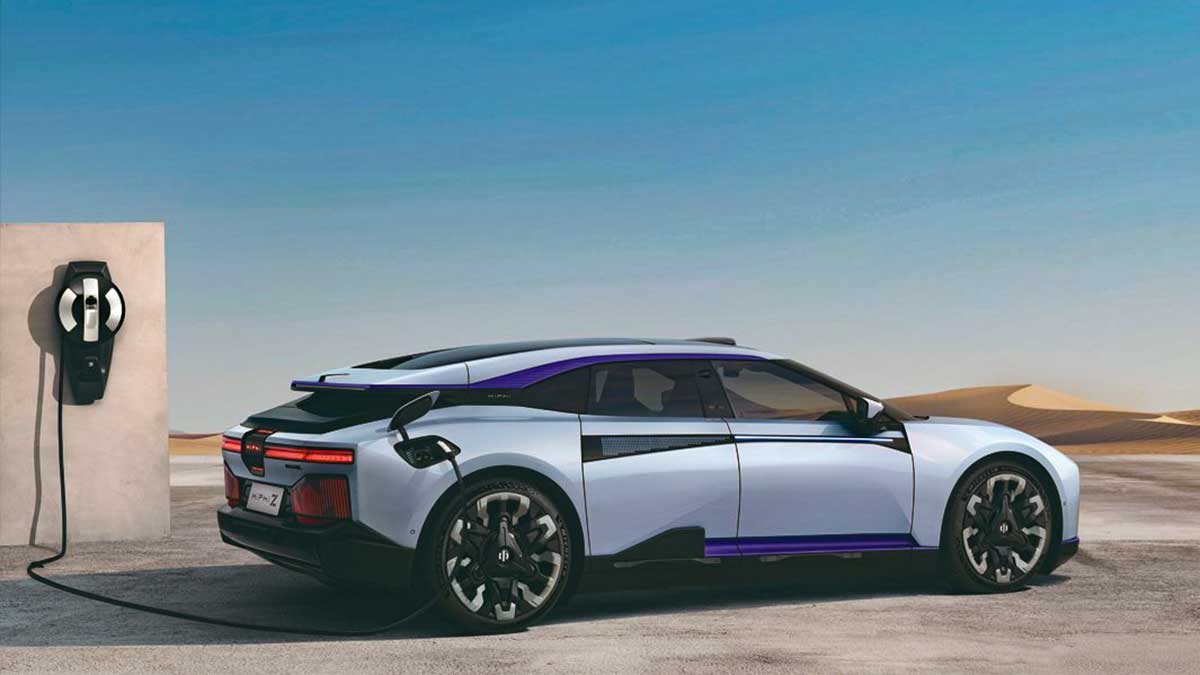 One of the pleasant surprises this year has been the HiPhi X, the bestselling EV priced above RMB500,000, and often beating the Porsche Taycan in deliveries in that segment.
The HiPhi X has won customers thanks to its sophisticated and unorthodox design and features, so the HiPhi Z is following that with an even more out-of-this-world design but at a lower price point: RMB630,000 for the 4-seater version and RMB610,000 for the 5-seater version.
Dubbed as a futuristic GT, the HiPhi Z is powered by a 120-kWh CTP battery pack giving it at CLTC range of 705 km, dual motors that provides the car with maximum power of 494 kW and peak torque of 820 Nm, as well as zero to 100 km/h acceleration time of only 3.8 seconds.
It maintains the ISD and PML lighting as well as NT doors found on the X, but also a new HiPhi Bot screen that is able to move in eight directions. A H-SOA E/E architecture underpins smart features and hardware/software including 32 smart driving sensors (including Hesai's AT128 LiDAR) as well as NVIDIA Orin X and Texas Instrument TA4 chips. An active grille system (AGS), active air spoiler, 13.2-degree rear wheel steering and 1,710 mm tread provides the vehicle with superb aerodynamics.
The only question remains is whether the Z can repeat the success of the X, and by how much.
Beating Xpeng's city-NGP to the punch: WEY Mocha DHT PHEV LiDAR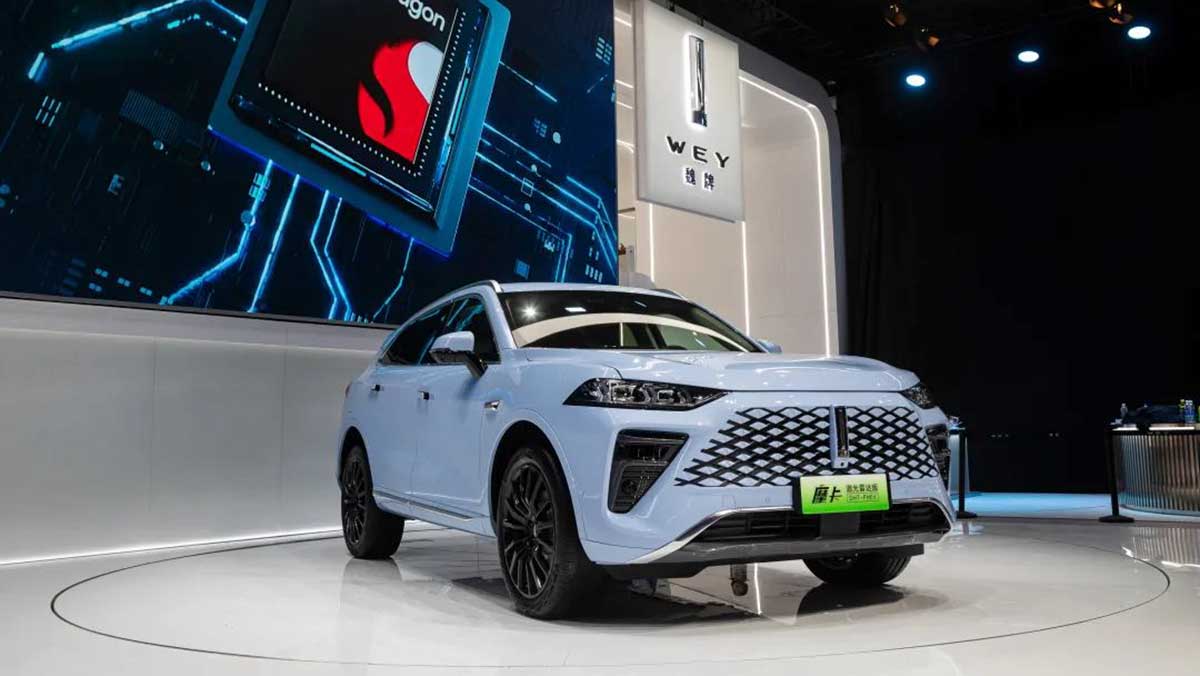 The WEY Mocha DHT PHEV LiDAR edition is not a new model per se, but the addition of two RoboSense RS-LiDAR-M1 hybrid solid-state LiDARs under the headlights, combined with Great Wall Motor's Haomo.ai autonomous driving unit and Qualcomm's Snapdragon Ride platform will provide the vehicle with the so-called NOH city assisted driving capability.
This is the same as the all-scenario city NGP functionality that Xpeng has been trying to rollout since last year, where the vehicle can basically achieve door-to-door L2 assisted driving (driver must always pay attention). Great Wall Motor is confident that this model with such capability will start deliveries by yearend, following SOP in September, and become the first model in China to offer this smart assisted driving capability. The plan is to cover 10 cities initially by yearend and expand to more than 100 cities in 2023.
On the powertrain side, the model is equipped with a 1.5T PHEV system with a 115-kW engine and 135-kW dual motors. Pure electric mode range on the two-wheel drive version is about 204 km.
HiPhi Z & X, meet your match: SAR Mecha Dragon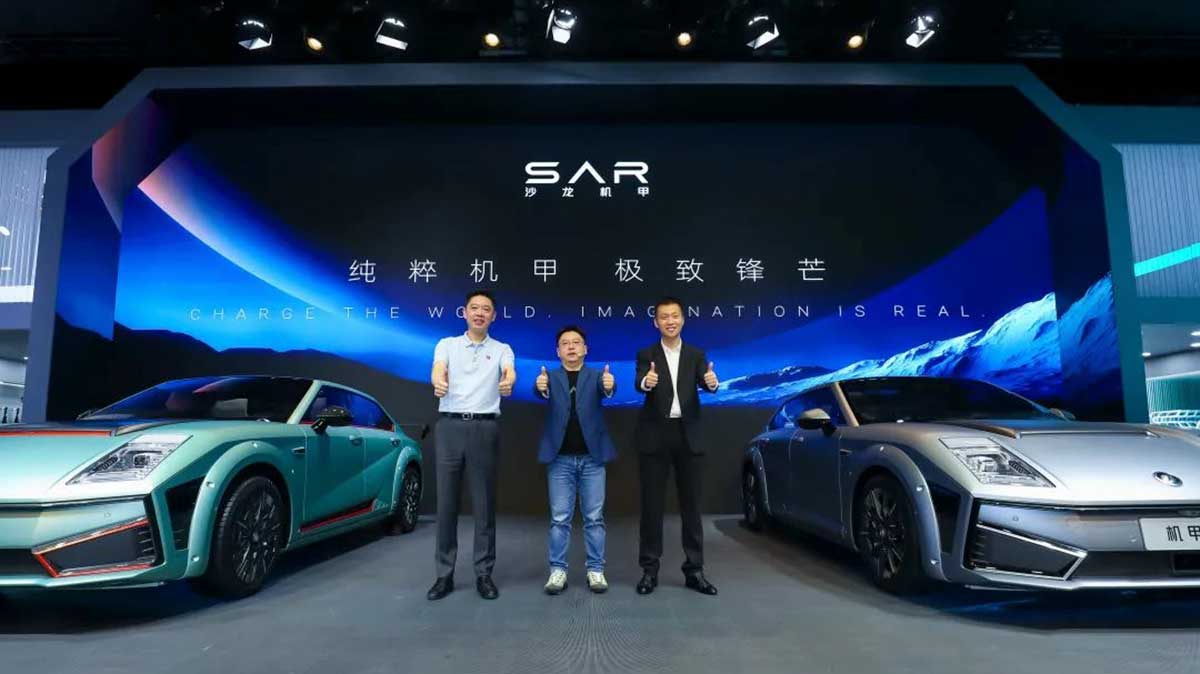 The prototype of this model was revealed at the Guangzhou Auto Show last November, now the production version has debuted in Chengdu along with a special limited-edition Mecha Dragon Evangelion.
The pure electric all-wheel drive coupe is 5.2 m long and has 4 Huawei 96-line hybrid solid-state LiDARs along with multiple radars and cameras. The dual motors provide this beast with a combined power output of 405 kW and 750 Nm torque. The powertrain including battery pack is based on Great Wall Motor's own design and thanks to engineering efforts it can get 400 km of range in just 10 minutes of DC fast charging. High energy efficiency enables a CLTC range of up to 802 km, while 0-100 km/h acceleration is achieved in just 3.7 seconds.
The Mecha Dragon will be launched in two forms: a special edition of 101 units priced at RMB488,000, followed by a standard version priced below RMB400,000.
The extreme and unorthodox design of the Mecha Dragon pits it against the HiPhi X and Z in a new segment that is more machine than car.
New kids on the block: Yuanhang Auto's Y6/Y7/H8/H9 quartet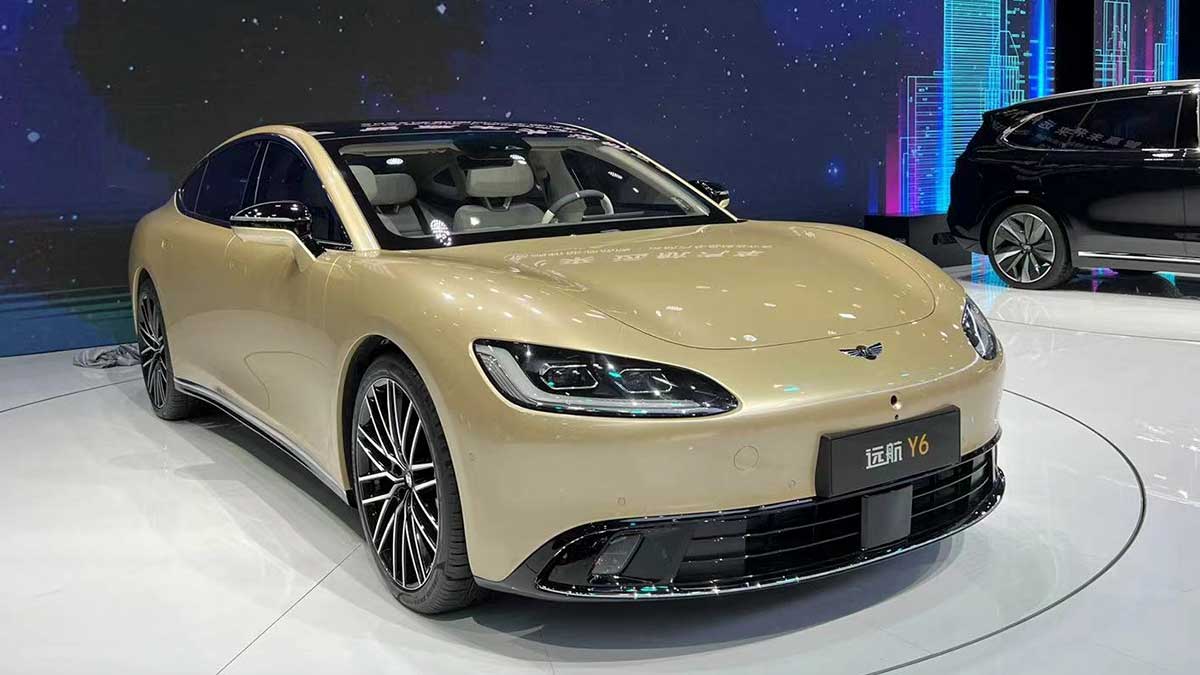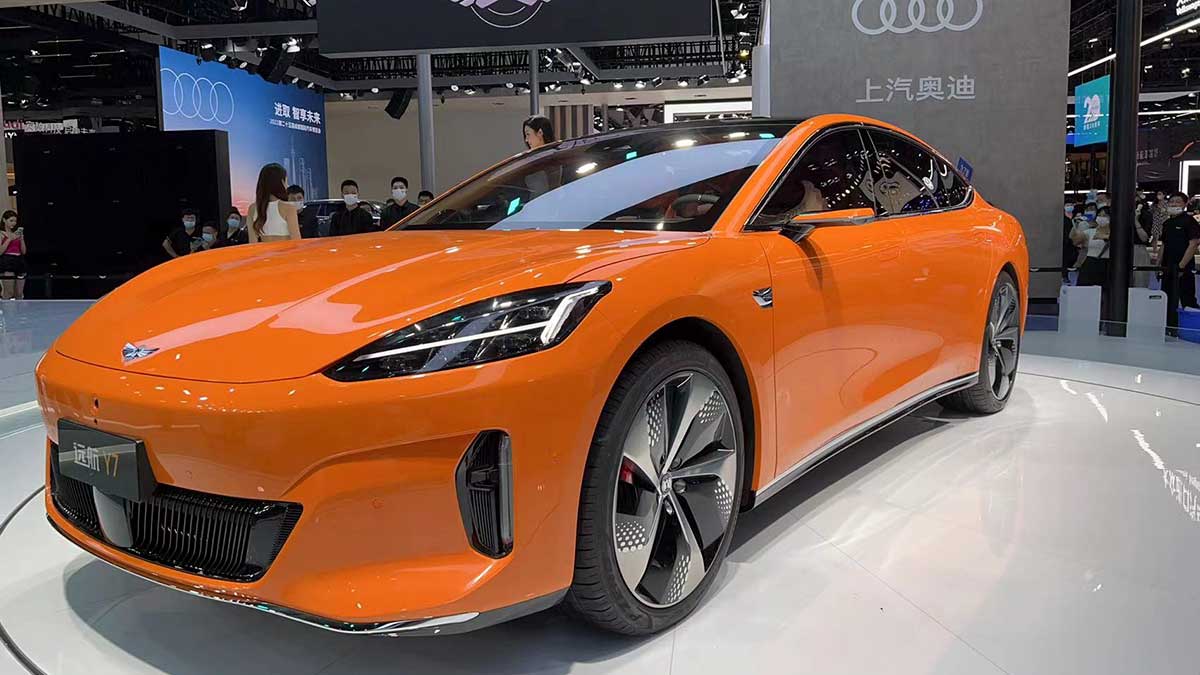 Another day, another new brand. This time, it's Yuanhang Auto, which literally means "long voyage" in Chinese.
It's a new brand but the company behind it, Dayun, is a household name for its early beginnings as a motorcycle manufacturer and now one of the leading heavy-duty truck manufacturers in China.
The Y6/Y7 premium electric sedans and H8/H9 premium electric SUVs are all capable of 800V charging, adding 300 km in 10 minutes, and will come with 800-km or 1,000-km editions. All four models notably are at least 5 m long, 2 m wide and have wheelbase of well over 3 m. Dayun Chairman Yuan Qinshan said that the goal of Yuanhang Auto is to become China's national electric premium brand benchmarking against world-class premium automakers with comprehensive performance surpassing that of luxury vehicles priced at RMB1 million.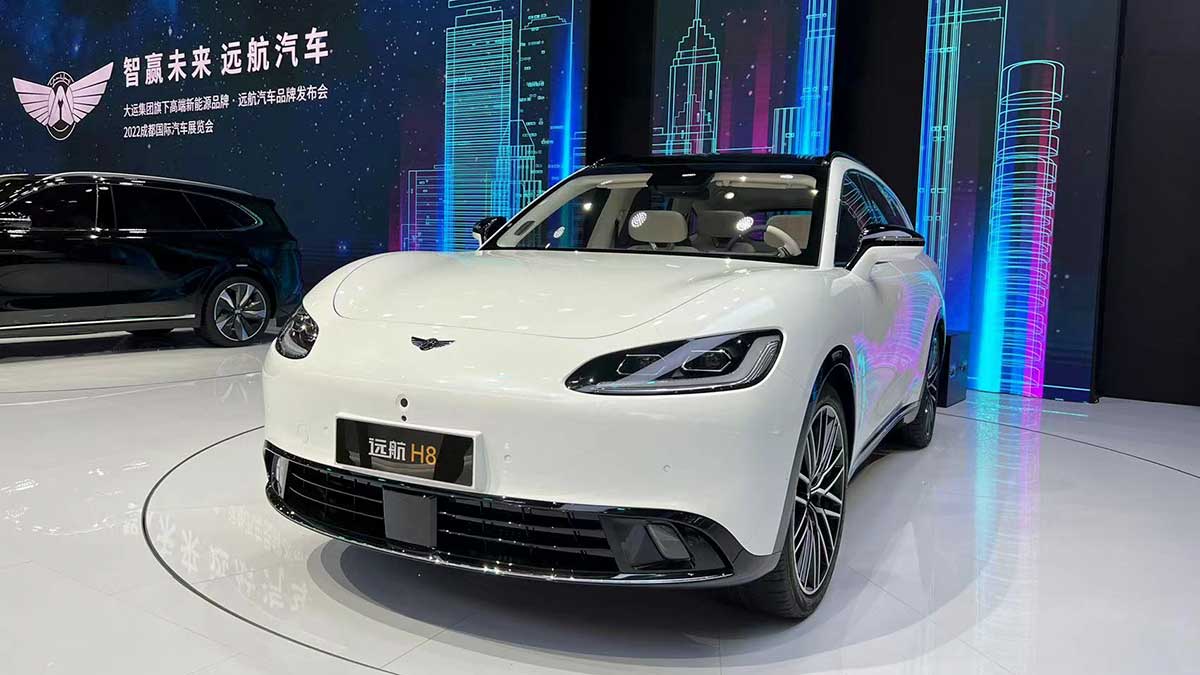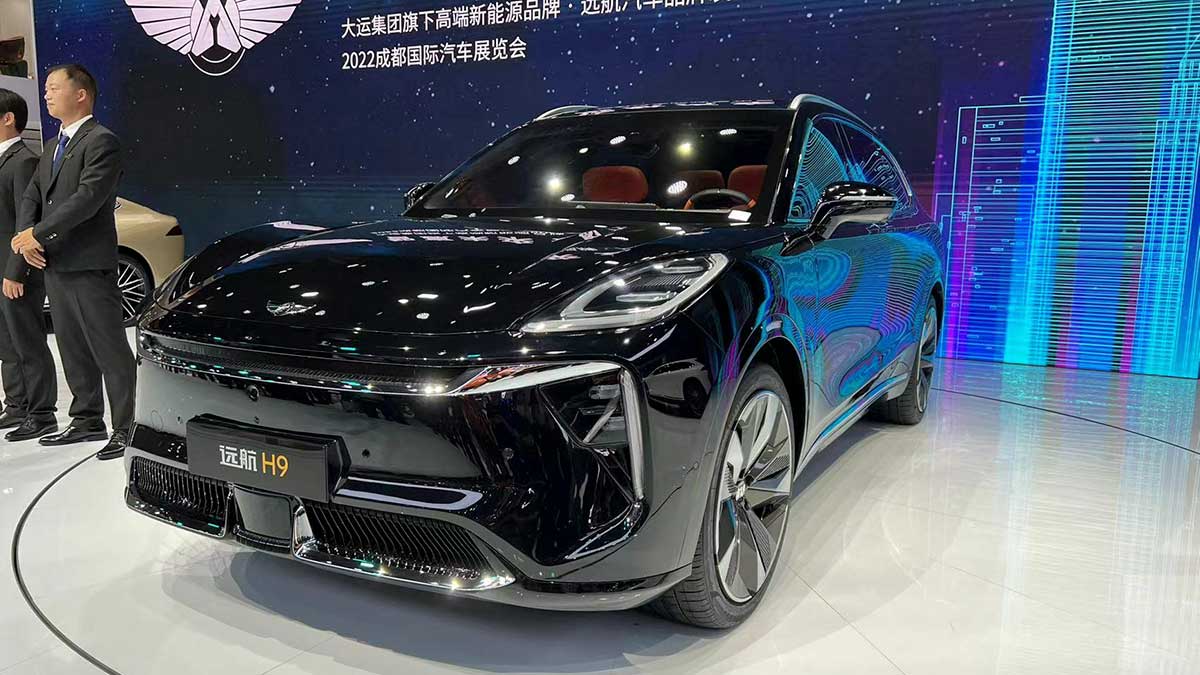 All models are based on Yuanhang's B.H.D high-end premium battery electric platform, with AliOS smart cockpit system, 17.38-inch large infotainment screens, 70-inch panoramic AR-HUD (yes, that's not a typo), immersive stereo system, Face ID, 140-degree rear reclining seats, massageable seats, and many other comfort and tech features.
The B.H.D platform is jointly developed with world-class partners like Bosch, Huawei and Alibaba Banma. It supposedly underpins different vehicle body types including cars, SUVs and MPVs covering B to D segment vehicles.
There were obviously other EVs exhibited but these models above, in my mind, are all unique and important in their own unique ways, and therefore stood out the most for me.
Report by Lei Xing.