This test was carried out at Zao Astria Hotel parking space in Yamagata prefecture from January 27th to 29th, and lasted 38 hours. The parking space is located at 940m altitude, and directly connected to skiing slopes. It was cloudy with occasional snowfall and the average temperature was -5°C. Substantial snow had already accumulated in the area after persistent snowfall from mid-to-late January.
Car settings
The "comfy"; 2021 Model 3 Long Range (Red). A/C@20°C, automatic air conditioning, interior air recirculation, seat heater switched off.
The "not bad"; 2019 Model 3 Performance Blue. A/C@18°C, automatic air conditioning, interior air recirculation, seat heater switched off.
The "tolerant"; 2019 Model 3 LongRange White. A/C@16°C, automatic air conditioning, seat heater is on among all seats, stayed with electric blankets
Our clothing

I wore typical winter clothes to simulate a driver who is not prepared to be stranded: Uniqlo Heat tech, jumper and down jacket on my upper body, and Heat tech, warm trousers from Workman for my lower body, and normal socks/water-proof boots for my feet.
Battery consumption; 80% to 10% in 33 hours with 20°C interior settings
The battery state of charge (SoC) went down to 10% from 80% in 33 hours with A/C@20°C, 51 hours @18°C, and 40 hours @16°C, seat heating and an electric blanket.
The electricity consumption rate was less than we had expected, such that we had to stop the experiment (and return home) before reaching 10% SoC. Therefore, we extrapolate the data (dots) to simulate the experiment down to 10%.
An estimate of SoC from 40% to 10%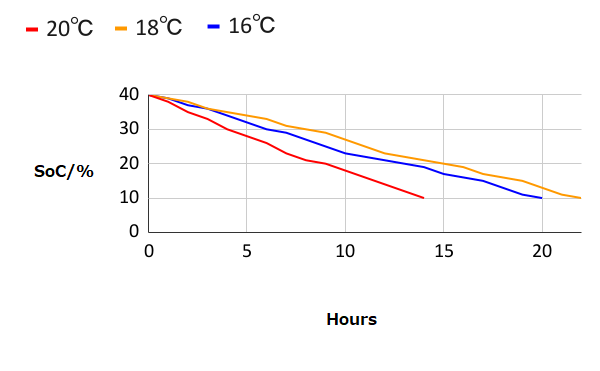 Of course, most drivers cannot depend on their batteries starting with 80% or more SoC if they are unfortunate enough to become stranded in snow. However, our test suggests that just 40% SoC can last for 14 hours with 20°C, 22 hours with 18°C, 20 hours with 16°C, seat heating and an electric blanket. Therefore, the cars should provide a safe environment for the duration of a night, and 14 hours is usually enough time for emergency services to attend to the situation in Japan.
How comfortable is it to stay in a Model 3?
We started our test at 21:30 on January 27th. I stayed in the "tolerant" overnight, while visiting other vehicles occasionally to capture the experiment on video.
The "comfy" with A/C@20°C felt sufficiently warm with my jacket on. The A/C relies on a heat pump which can be quite noisy, but is acceptable given it how effectively it works.
The "not bad" with A/C@18°C is more quiet than "the comfy", as the PTC heater generates warm air without a heat pump. It is warm in the driver/passenger seat area, but the back seats can get cold due to limited air flow and a larger glass window surface.
It was cold in the "tolerant" with A/C@16°C settings. The automatic A/C, with its wind blowing everywhere, actually added to the discomfort. I could just about survive with seat heating and electric blankets, and at least appreciated that I was protected from the -5°C environment just outside of the car.
During our experiments, we tested a variety of electric blankets with different power sources: USB socket (80cm x 140cm), Cigar socket (150cm x 110cm), generic plug (190 x 130cm). In general, it seems none of these blankets were sufficiently warm by themselves, so additional duvet/blankets would be recommended.
We buried a petrol car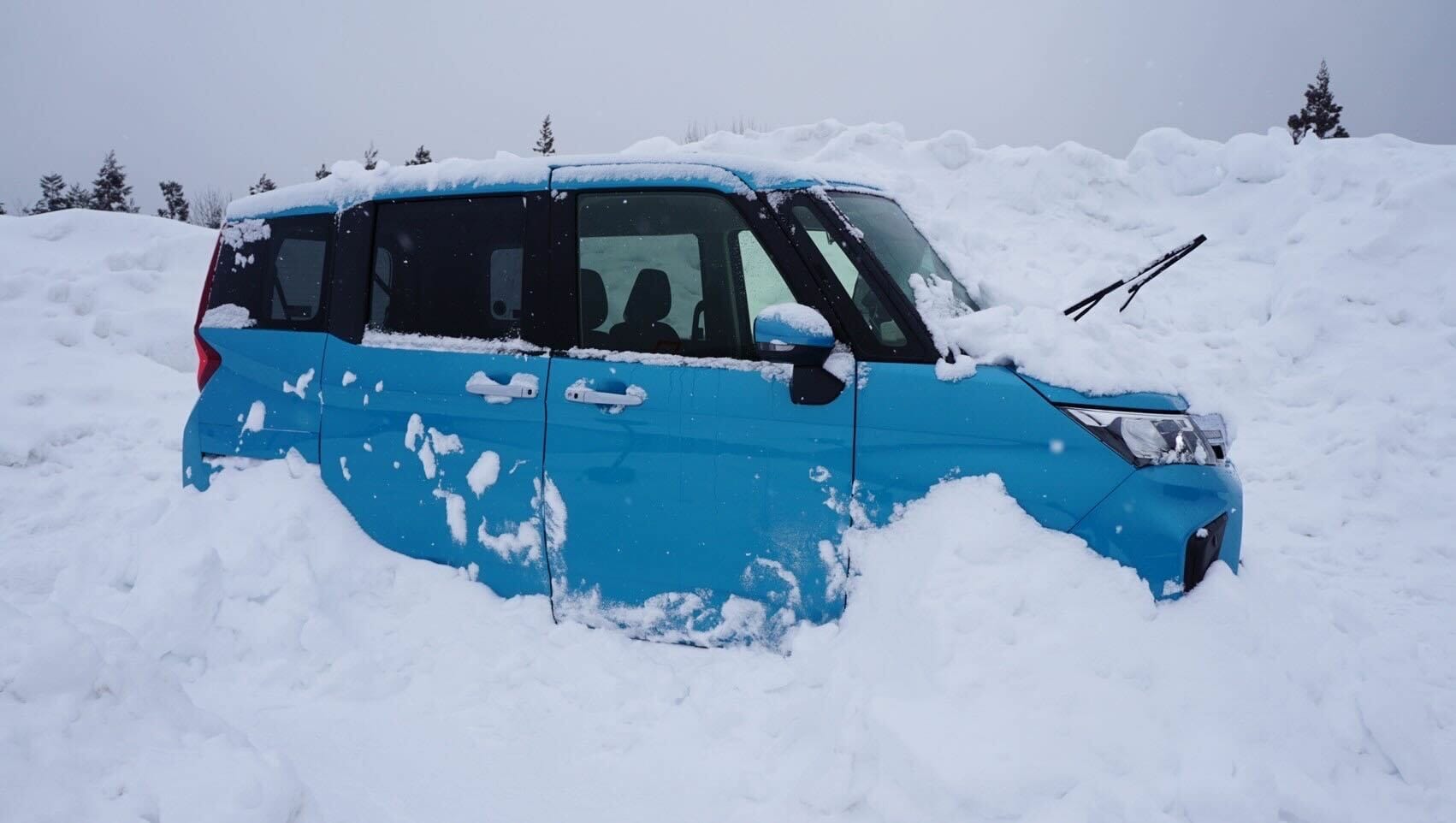 A common concern for drivers stranded in petrol cars are the interior CO levels, which can increase if the car's exhaust is blocked by snow. We measured these levels in a car that was buried to the top of the wheel well, and while using A/C with exterior air circulation enabled. A CO level measuring device left above the dashboard showed 322PPM in just 3 minutes: at this level, the average person will develop headaches and nausea within 2 hours. For a fair comparison, we performed the same test in a Model 3 similarly buried in snow, and unsurprisingly found no significant rise in CO levels.
To summarize our test, we found that being stranded in snow is an uncomfortable and exhausting experience regardless of whether you are an EV or petrol car. If snow continues to accumulate, you will have to frequently remove it from around an EV to avoid the doors getting stuck. However, the threat from CO poisoning is real, which means the zero emissions of the EV is a big advantage.
Written by Teskas, Photography/Video shooting by Mitsuharu Ishii, Translation by Meiko Sugita