Original post; '【速報】日本仕様テスラ『モデル3』がアップデート=約156万円の大幅値下げ' by Yoshinori Yorimoto On "EVsmart blog"
Massive price down
On February 17th 2021, while checking Tesla's official configurator page, I was surprised to find these discounts.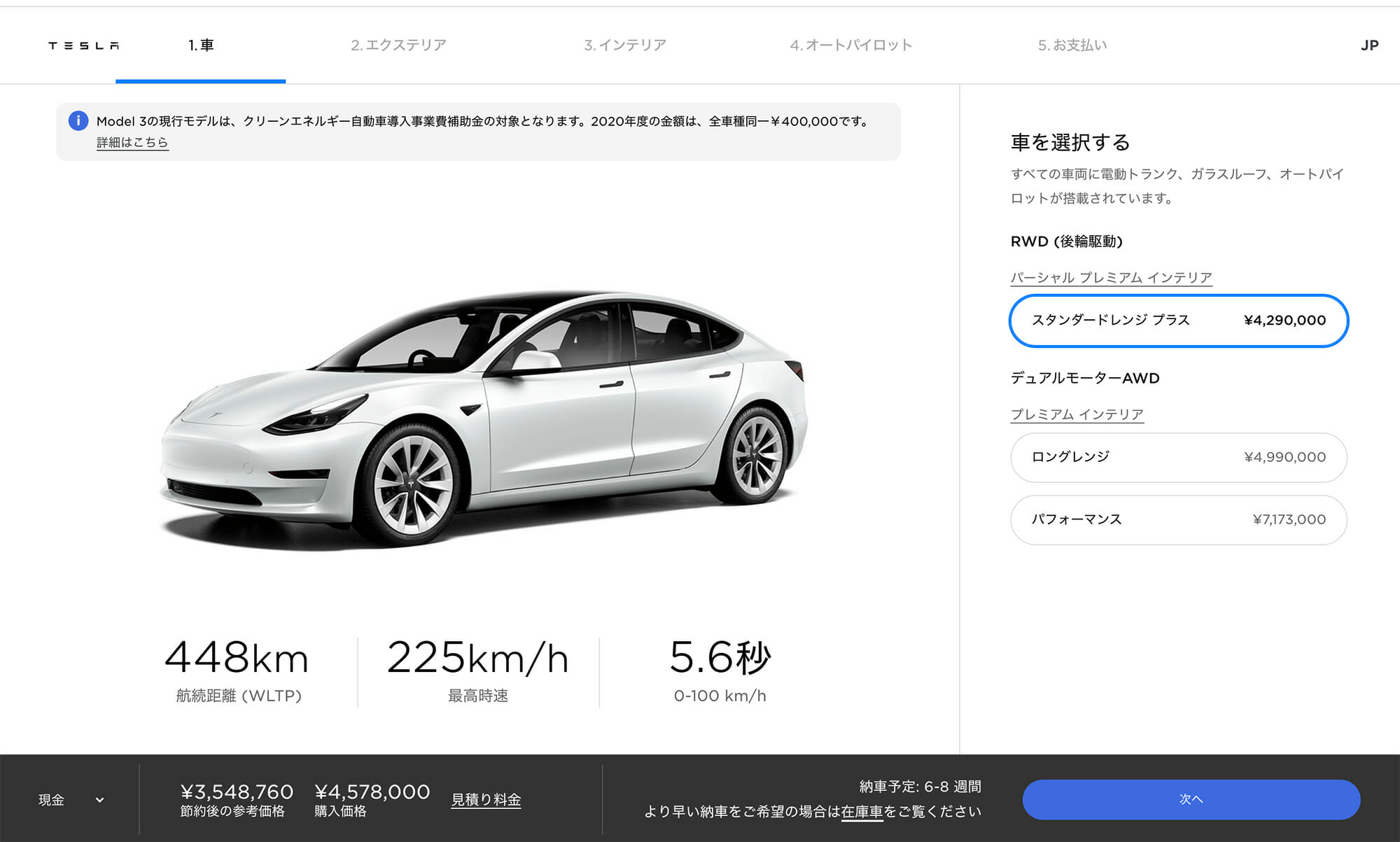 More information was revealed later that day, confirming the discounts for the SR+ and LR models, despite no change in their range or interior/exterior design. The Performance model saw no discount.
【The price difference of a Model 3 in Japan】 (inc. Tax)
Standard Range Plus: 5,110,000JPY (48,447 USD) → 4,290,000JPY (40,673USD)
Long Range AWD: 6,552,000JPY (62118USD) → 4,990,000JPY (47,309USD)
Performance: 7,173,000JPY (68,006USD) → 7,173,000JPY (68,006USD)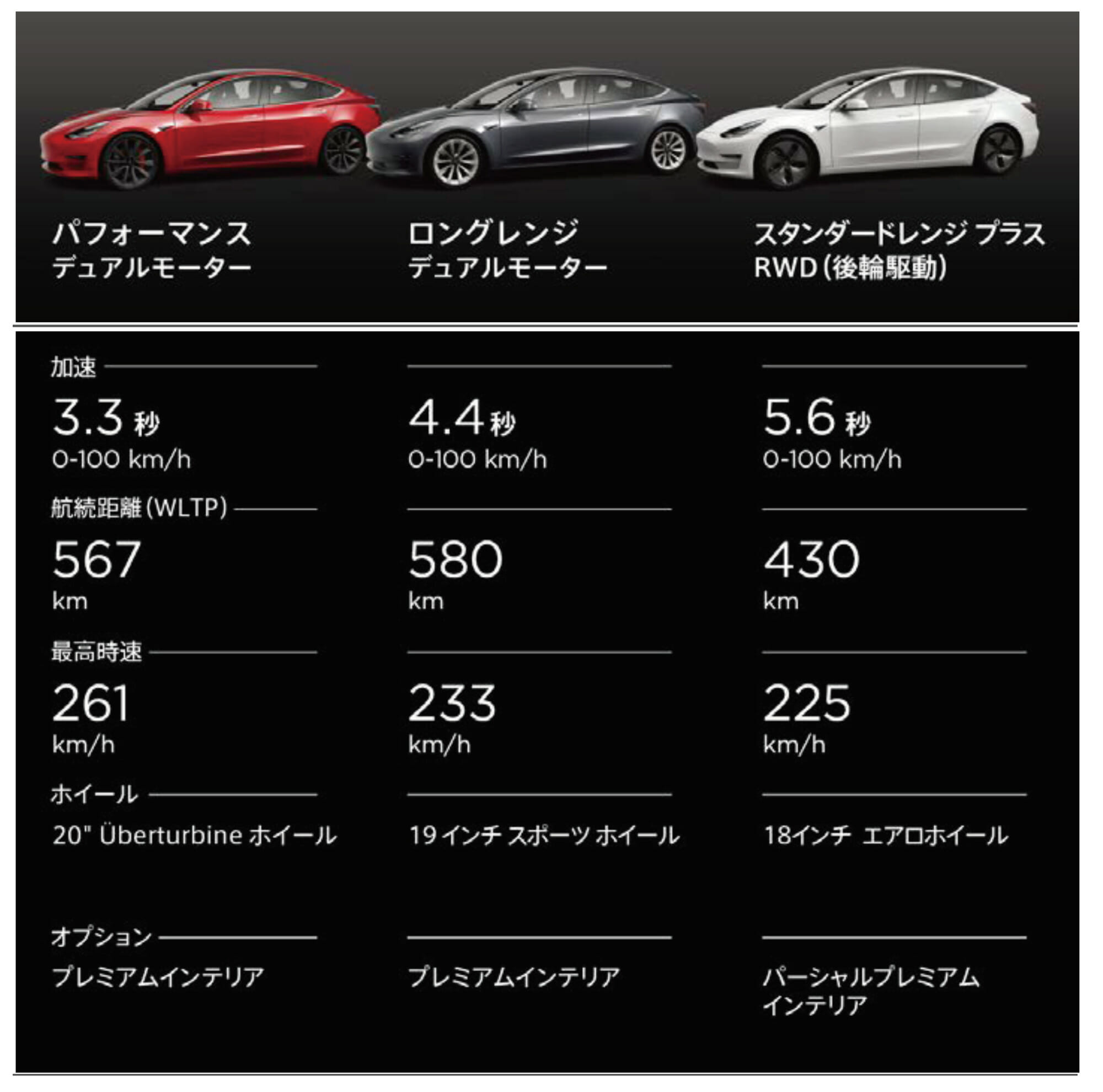 For an interesting comparison, the base price of a 40kWh Nissan Leaf X is 3,800,000JPY (36,027USD). With Nissan's configurator page, I chose the vivid blue exterior colour, black leather seats, pro-pilot and the Around View Monitor set, for a total price of 4,239,400JPY (40,193USD). This is equivalent to the 55kWh model 3 SR+ which has autopilot and heated automatic seats already included in the base price.
The 62kWh Leaf e+ X starts at 4,410,000JPY (41,810USD), and customising the car as above raises the price to almost that of the Model 3 Long Range AWD with dual motors and a superior 75kWh battery.
With this discount, EVs from domestic manufacturers such as Honda or Mazda, lying in the 5 million yen range but with inferior batteries (only 35.5kWh capacity) can no longer be justified.
Furthermore, the similarly priced Model Y, available soon in Japan, will compete directly with the Nissan Ariya (set to release in mid-2021). The Model Y Long Range was released in China this January with a starting price of around 5,400,000JPY (51,196USD), 30% less than the 7,400,000JPY (70,178USD) reported upon its original announcement.
Will the discount apply to pre-existing orders?
At the time of writing, there is no official announcement from Tesla Japan.
There are some reports that the Model 3 SR+ in Japan would have LFP batteries from CATL, rather than the current Panasonic batteries. There is no information about LR AWD, except for a rumour that if those LR AWD available in Japan are also manufactured in China, they would have NMC batteries from LG.
As more information is released, we hope to answer these three major questions:
•Are these Model 3 SR+ and LR both going to be made in China?
•Will the discount also apply to those customers who have already ordered a Model 3 and/or are waiting for deliveries?
•Is there a change in the price of CEV funding (incentives for EVs from the Japanese government)?
Additional information on the 18th of February
Following the original publication of this article, we received a lot of interesting information from our readers.
It seems like both the SR+ and LR will be delivered from the Shanghai Giga factory. As far as I know, these will be the first vehicles to receive regulatory approval in China and then shipped to Japan via official import agencies. (If you have any information regarding this, please let us know.)
For those customers who have ordered vehicles and are waiting for deliveries, the new discount will be applied. There is no official information regarding those customers who have received their order since the start of 2021. If you are in this bracket, some comments would be appreciated as well.
Tesla often makes small design refinements and additions, on a daily basis, without an announcement. However, we are surprised with the lack of publicity and information surrounding this major discount.
I think legacy automakers will struggle to offer a similar discount for their current models. However, if they want to survive in the growing EV market, they must compete with Tesla's ability to innovate, improve efficiencies and appeal to customers.
Honda or Mazda cannot be considered a viable competitor to Tesla in the Japanese EV market, given the small expected sales volume of their EVs, but Nissan will have to discount their Leaf or Ariya by at as much as 500,000 ~ 1,000,000JPY (4,732 ~ 9,465USD) to compete with the Model 3 or Y. At least, that is my hope.