Japanese version is here.
Only a few exhibitors were present in Detroit
After a more than three-and-a-half-year hiatus (45 months, to be exact), the North American International Auto Show, aka Detroit Auto Show, returned to the Motor City.
With a new timing (better weather), new format (outdoor events and experiences), the world's largest rubber duck, many dinosaurs, lack of product debuts and not a single major EV reveal, let's just say this year's show in Motown was "different" than what it used to be in its hay day.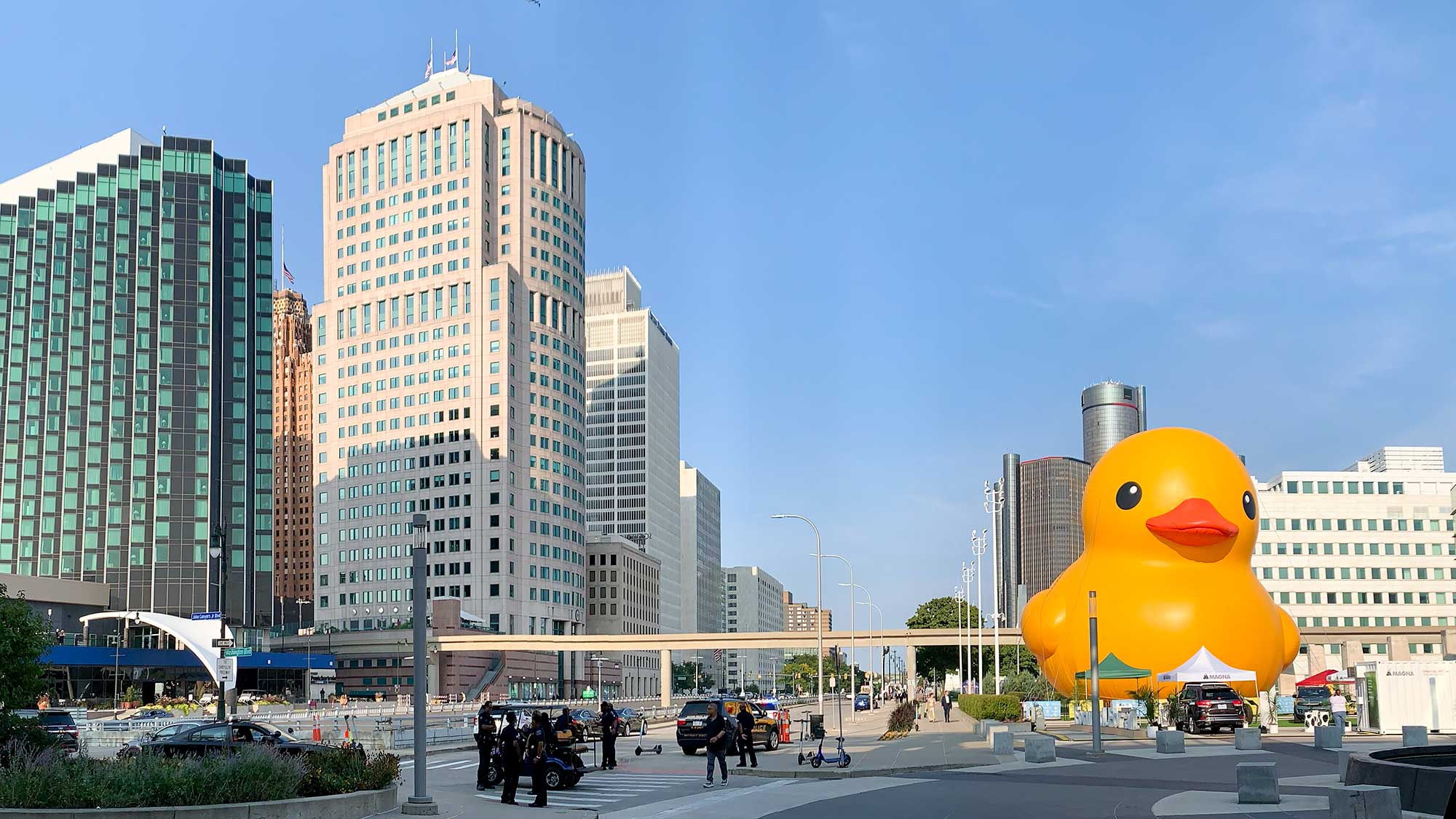 Just a handful of automakers and brands attended the show, and they were mostly brands from the American Big 3 of GM, Ford and Stellantis. The only other brands that had a relatively big presence were Toyota and Subaru. Out of these brands, only Chrysler (300C), Jeep (Grand Cherokee 4xe 30th Anniversary Edition, Wrangler Willys 4xe) Chevrolet (Tahoe RST Performance Edition) and Ford (7th-gen Mustang) had press conferences revealing new models, with the Mustang debut getting the most attention as it's the last generation of the iconic American sports car model powered by internal combustion engines.
The way it went, you might as well call it the Ford Motor Show or the Mustang Motor Show, given the way Ford set up the event by inviting owners and enthusiasts of the Mustang and having them participate in a vehicle convoy called The Stampede that ultimately ended up at the reveal event right in front of GM's global headquarters.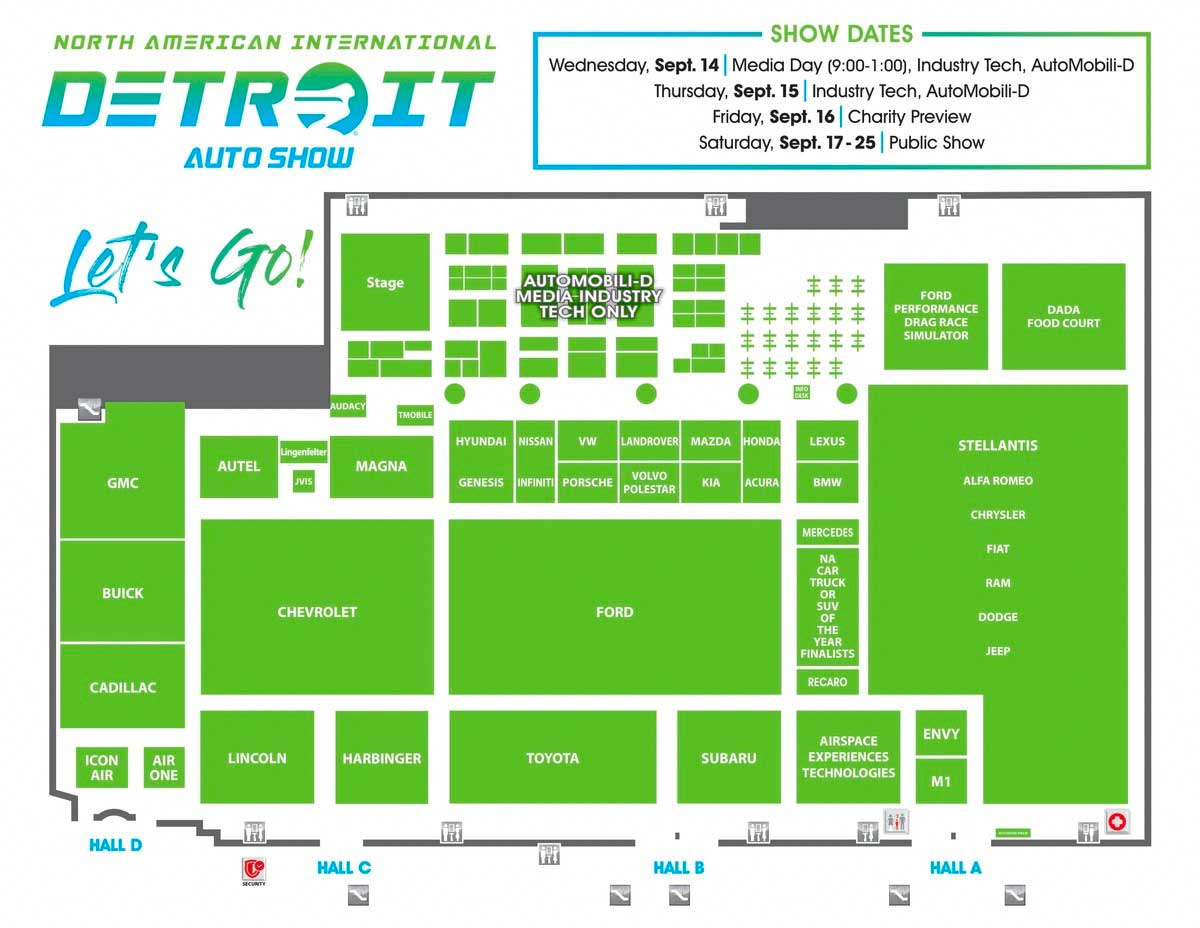 Notable EVs and concepts that did make it onto the show floor that debuted well before the show included the Chevrolet trio of Silverado EV, Blazer EV and Equinox EV, Cadillac LYRIQ, GMC Hummer EV pickup & SUV, Buick Wildcat Concept, Lincoln Star and Model L100 Concepts, Ford F-150 Lightning and Mustang Mach-E and Dodge Charger Daytona SRT Concept.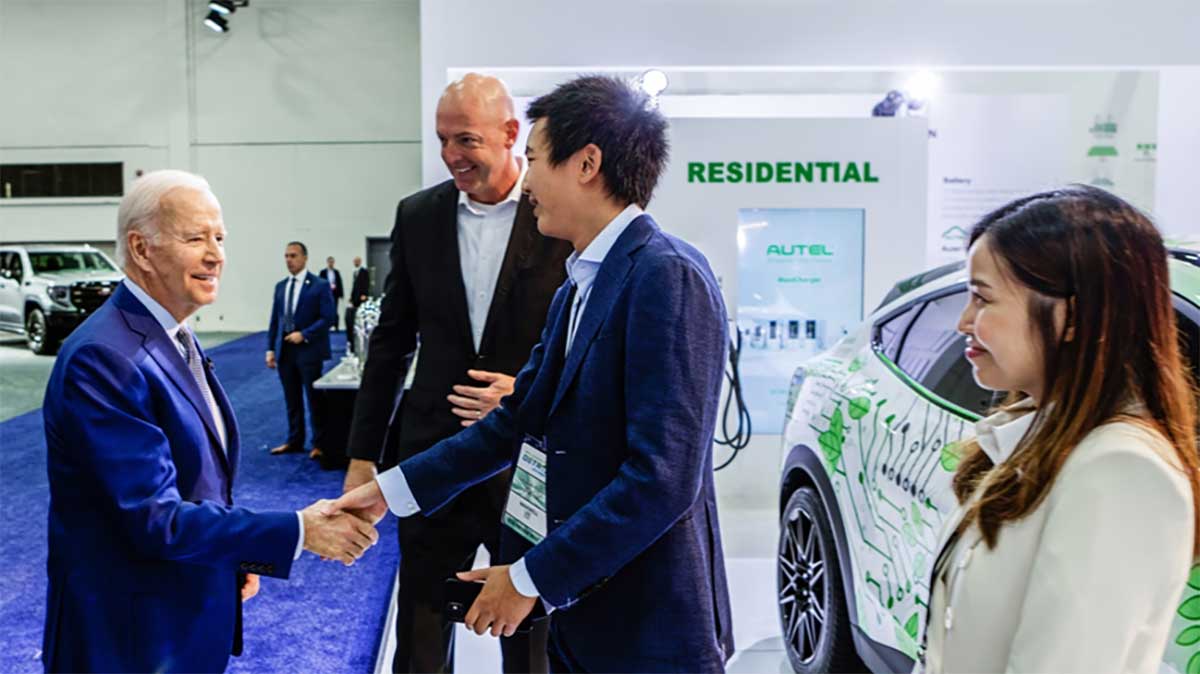 The big spotlight that stole the show away from the media was a special visit by U.S. President Joe Biden and Secretary of Transportation Pete Buttigieg, who got a VIP tour of the show and praised American automotive ingenuity. Biden even test drove the LYRIQ on the show floor and joked about driving away the Chevrolet Corvette Z06.
Speaking of driving away, it's certainly one of the aims of the Inflation Reduction Act (IRA) that was recently signed into law in the U.S. when it comes to China's dominance on battery and upstream raw materials/minerals, as reflected by the percentage requirements on raw materials and components that will kick into place starting in 2024.
CATL has delayed an announcement for a North American manufacturing plant due to the recent geopolitical turmoil between China and U.S., although Ford is giving the leading Chinese battery supplier cover fire by announcing a major sourcing deal just a few weeks before the auto show. And most recently Gotion was reported to invest $3.6 billion in a battery manufacturing plant in western Michigan.
The Chinese are coming, it seems, one way or another, no matter the headwinds. Some of them are already here, sort of.
Just a week before the auto show, Mobileye announced that it had started testing of Level 4 autonomous vehicles equipped with Mobileye Drive™ in Detroit, using a fleet of NIO ES8s. The surprise announcement essentially marks the "entry" of NIO into the U.S., though via Mobileye, an entity owned by American company Intel. Yes, it's different than having cars on the market that consumers can buy, but nevertheless, NIO has made it to the stateside. Did Mobileye deliberately do it ahead of the auto show to create buzz? We don't know but it certainly made headlines leading up to the show that lacked any headlines itself.
Though there were no Chinese OEMs exhibiting, two Chinese companies did make it to the show.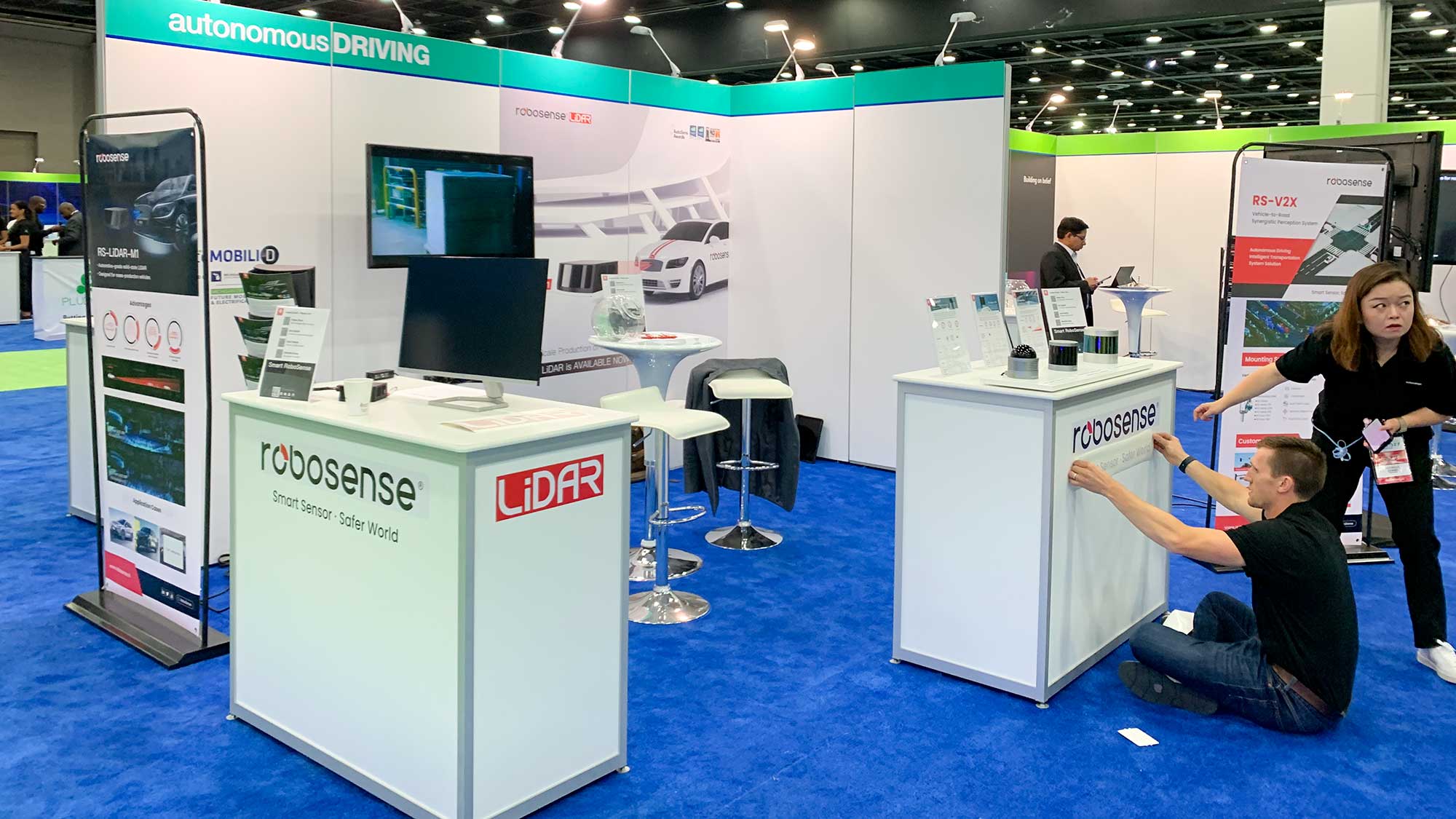 One is Chinese LiDAR startup RoboSense, which recently celebrated its eighth anniversary and was featured as the LiDAR supplier for the Xpeng G9 that was just launched. Though it's the first time RoboSense is exhibiting in Detroit, it's no stranger to the U.S.: it's already supplying U.S. smart EV startup Lucid and has exhibited at CES for several years running. It is also expanding its presence in the U.S., it will open an office in Plymouth, Michigan, to the west of Detroit in October.
Speaking of LiDARs, I also met and spoke with Dr. Jun Pei, co-founder & CEO of the six-year-old San Jose-based LiDAR startup Cepton, which recently opened an office in Troy, Michigan and has a commercial win with GM supplying LiDARs for the automaker's Ultra Cruise program. Dr. Pei immigrated to the U.S. from China in 1989. And speaking of Chinese Americans, the first person I bumped into on the first day of the show was Linda Zhang, chief engineer of the Ford F-150 Lightning, who like me came to the U.S. at a very young age and is an inspirational story for all women and Asian Americans.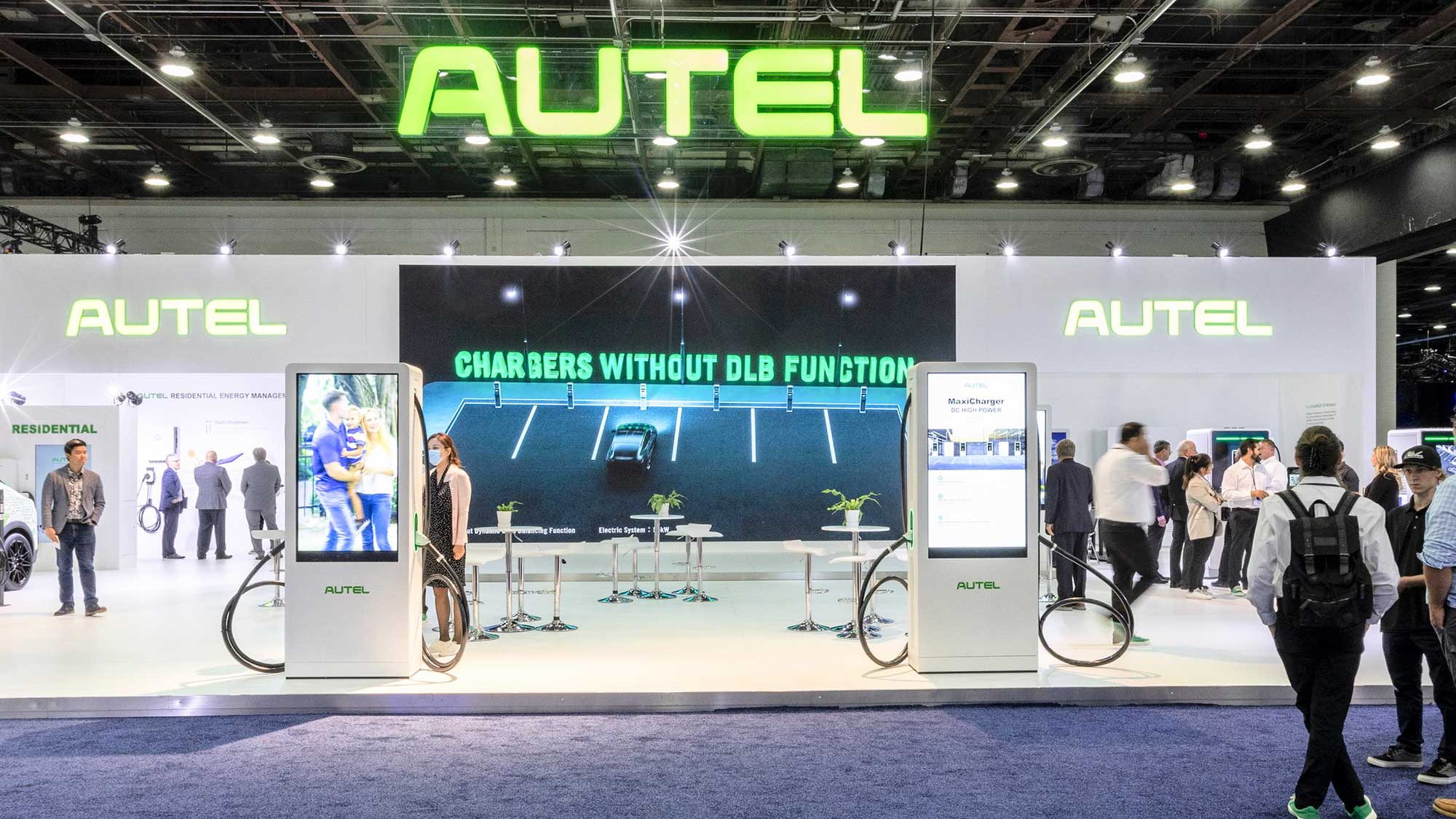 The other is Autel Energy, the U.S. subsidiary of Shenzhen-based automotive diagnostics products supplier Autel, which unveiled its MaxiCHARGER suite of home and commercial AC and DC charging solutions at the show. The way it was presented, you wouldn't know that it's a Chinese brand. The MaxiCharger DCV2X, Autel claims, is the most intelligent bi-directional home charger allowing an EV battery to turn into an energy source. The company even got a special visit from President Biden, who announced at the show of the initial $900 million flowing into 34 states and Puerto Rico to build out a national charging network, which is certainly favorable to companies like Autel.
Lacking Chinese OEMs at the show, I asked Gary Witzenburg, who as president of the North American Car, Truck & Utility Vehicle of the Year (NACTOY) Awards announced the semifinalists for the 2023 edition on September 14, when he expects Chinese models to show up. "It's hard to say," he said. "If the Chinese vehicles, if their quality, durability, all those factors, value for money, performance, handling, all of that, are competitive, that's when they'll become semifinalists. If they are better than everyone else, they could be a winner."
For now, that becoming a reality might also rest on the wellbeing of U.S.-China relations, which is not at its best in history. One person that's trying to mend that is Chinese Ambassador to the U.S. Qin Gang, who also made a surprise appearance at the show, spending a considerable amount time at the Lincoln stand checking out the two concept models and speaking with senior management. I got a chance to speak to Ambassador Qin and thanked him for what he is doing to bridge U.S.-China relations. As it turned out, he later met with Ford CEO Jim Farley and Executive Chair Bill Ford Jr., which prompted a tweet from Farley that said "Ford has a long history in China, the largest auto market in the world. Continued strong commercial relations between the U.S. & China are important for the economy."
Automotive diplomacy is certainly on full display here.
Two other interesting people I met at the show were James Tobin, former president of Magna Asia (now retired) and Sandy Munro, founder of Munro & Associates. I last met James in 2017 in Shanghai, when Magna formed the e-axle joint venture with HASCO, the parts unit of SAIC Motor, to supply SAIC-Volkswagen for the MEB-based EVs.
His first question to me was what I thought of ARCFOX, the high-end brand from BAIC BJEV, which Magna is helping to produce at a contract manufacturing JV in Zhenjiang, Jiangsu Province. My response was that obviously Magna's reputation is at stake and I don't doubt the quality of the vehicles, but ARCFOX is facing some headwinds in terms of branding and marketing. Munro, on the other hand, famous for his outlet's analysis of EVs based on teardowns, is one of the most vocal and bullish people out there when it comes to China EV Inc. He recently said that "China will basically eat GM and Ford's lunch in the EV segment," and still thinks many legacy OEMs are "sleeping" when it comes to EVs.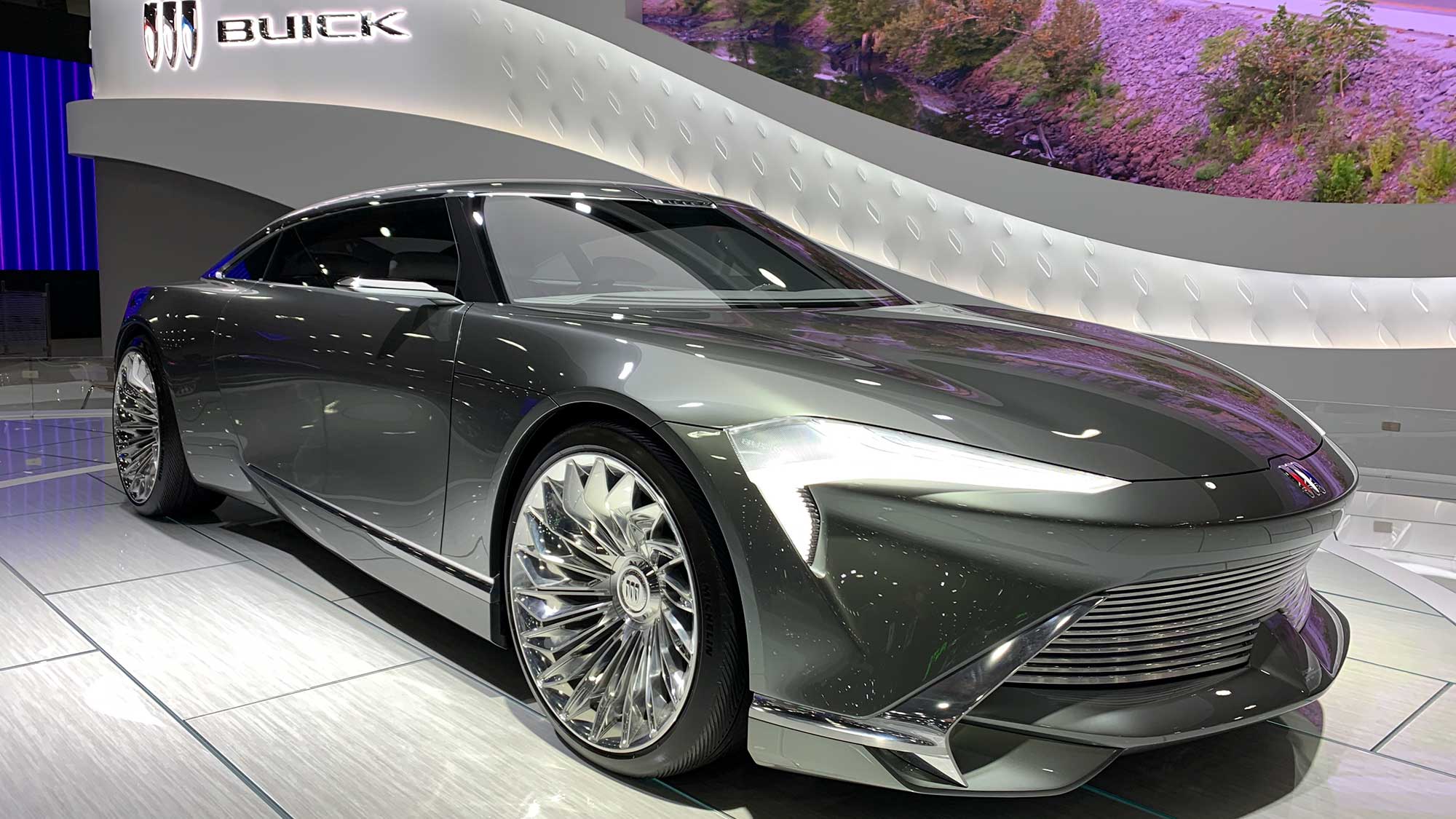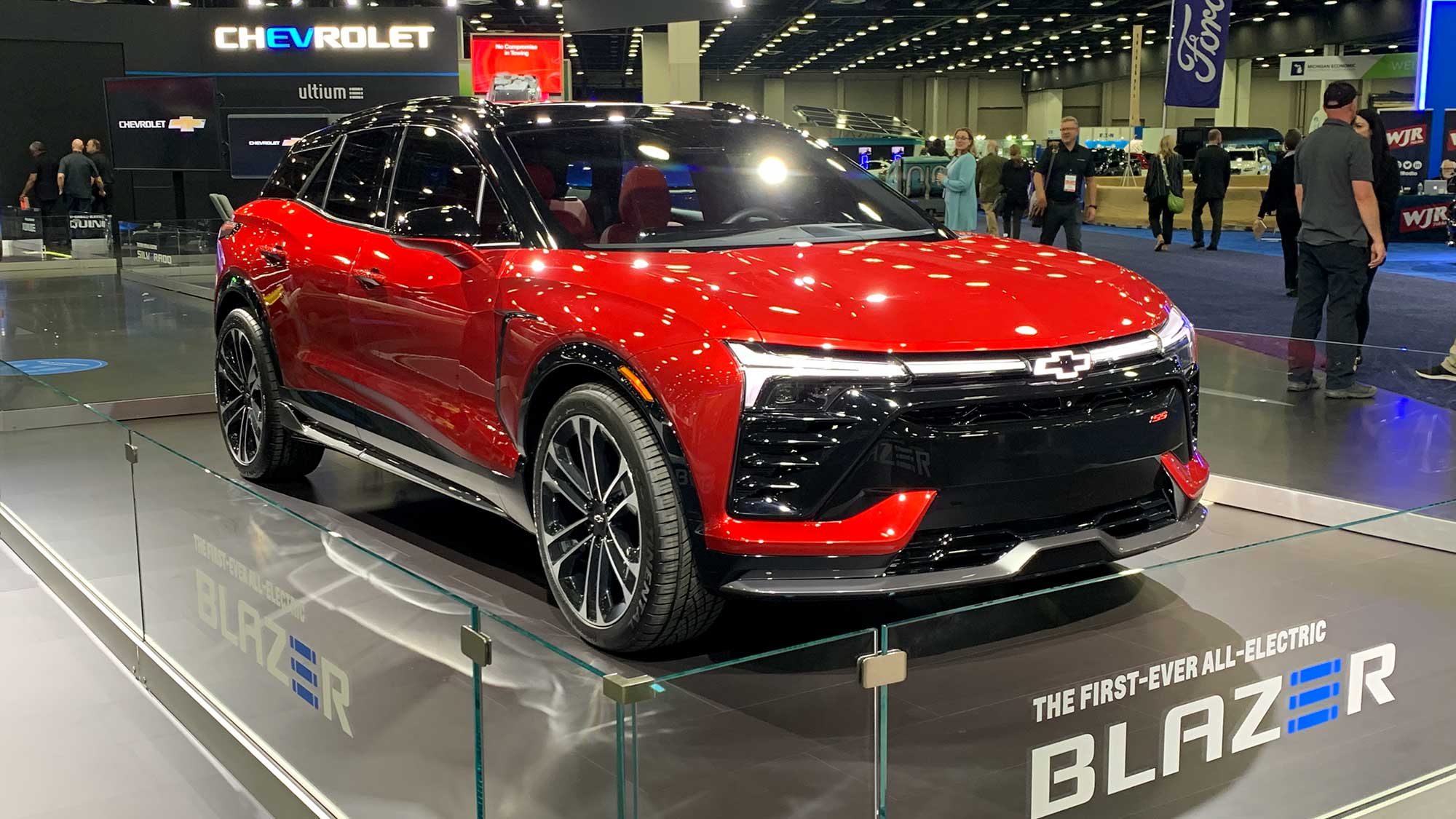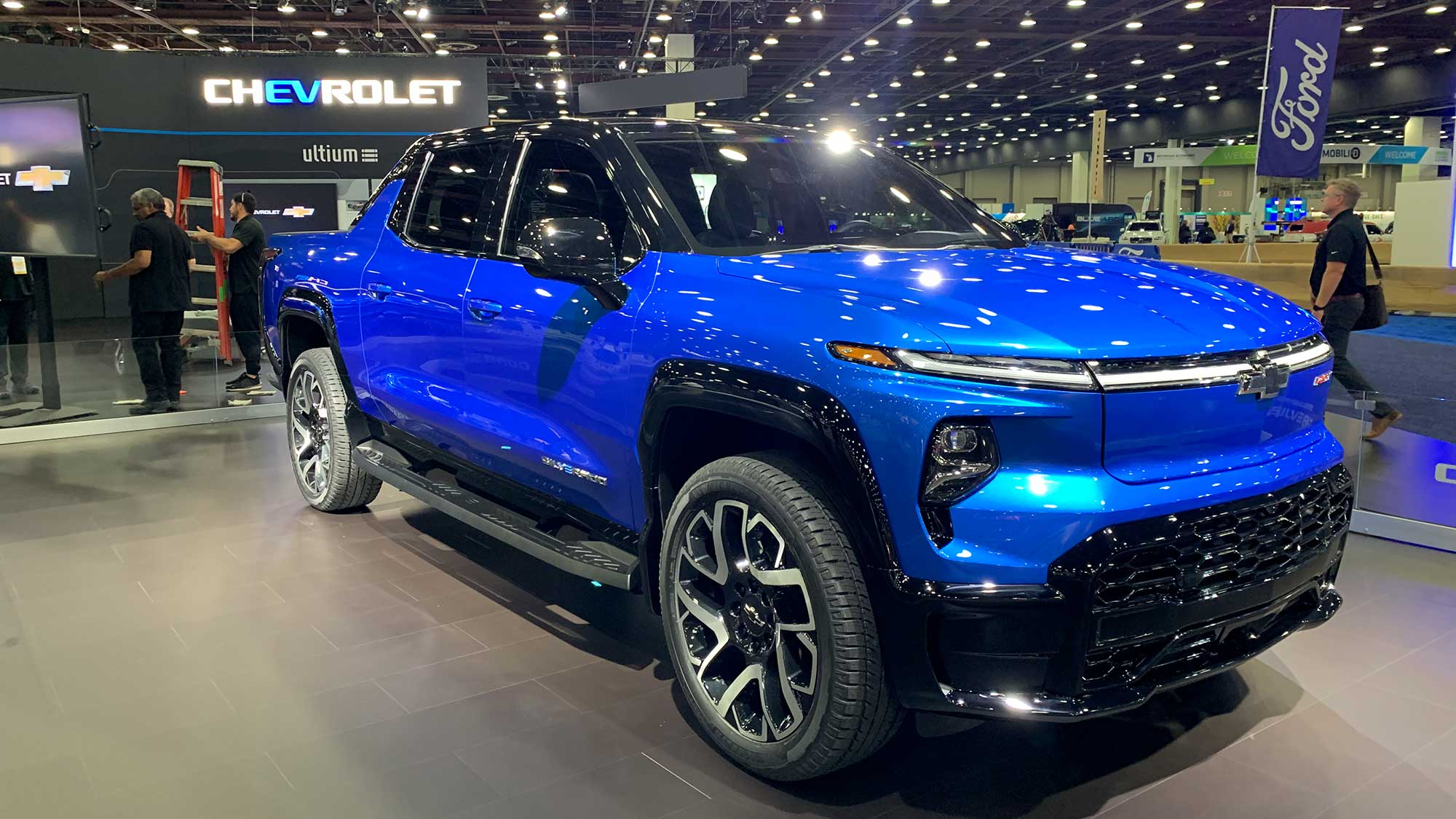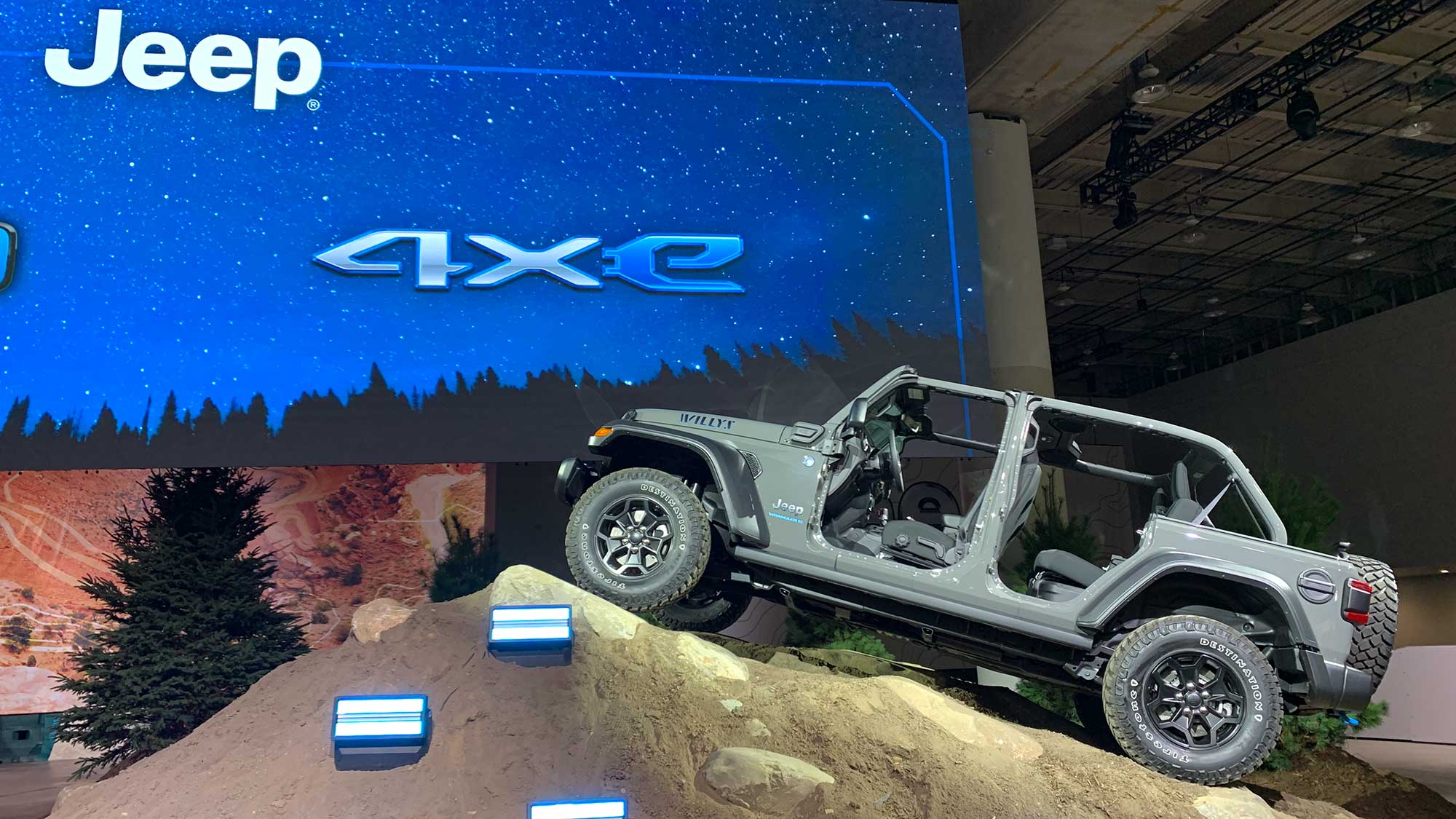 The Battery Show was a great success
No one was "sleeping" at The Battery Show, the other major industry-related show that was held concurrently in Novi, Michigan, to the northwest of Detroit. In fact this show had much more buzz and "electricity" than the Detroit Auto Show, with many more exhibitors and people attending. It was a showcase of all technologies and innovations up and down the battery value chain.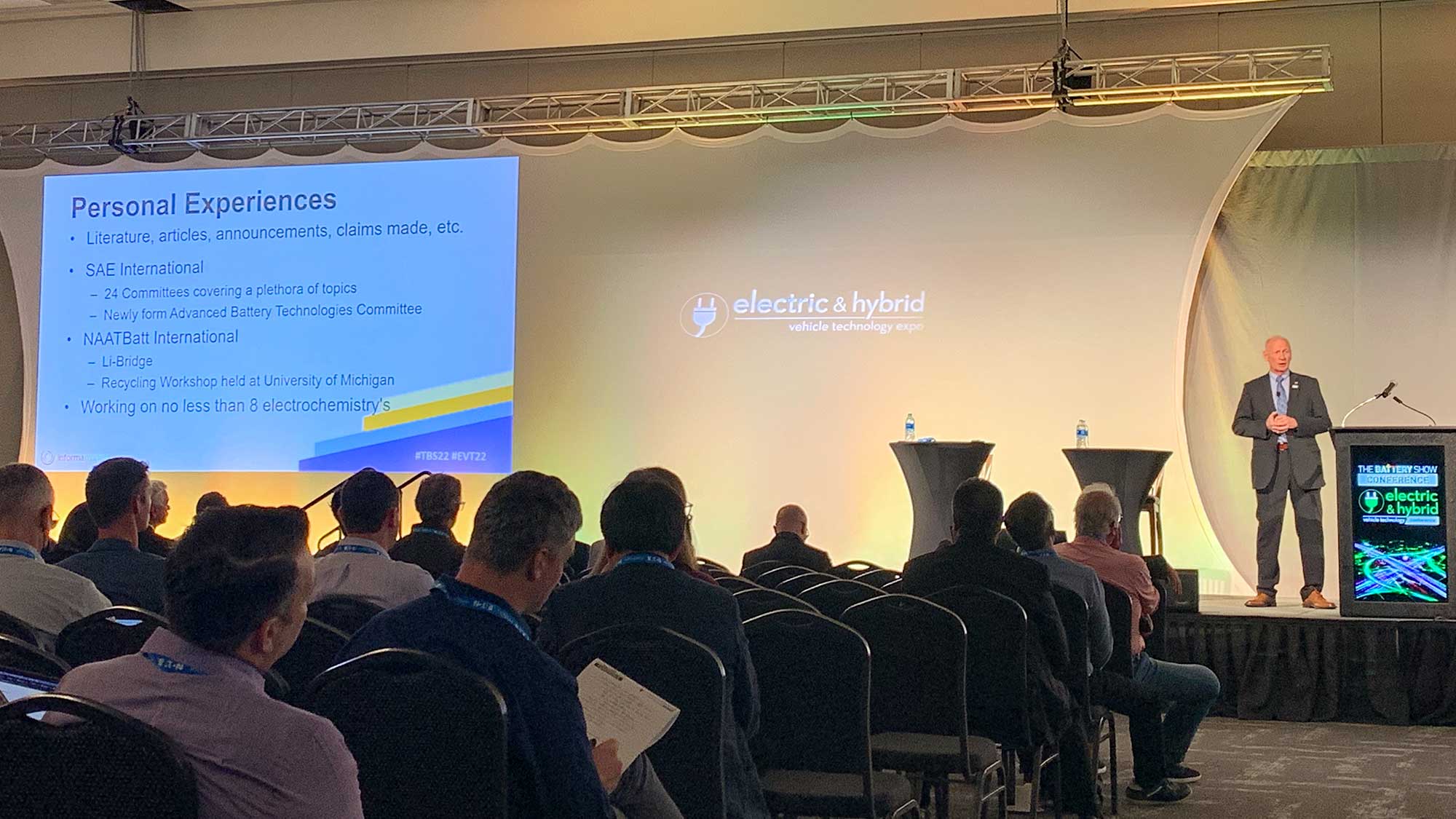 Again, there were no major Chinese battery companies exhibiting but the show was abuzz and there were a lot of excitement in the air exactly because of IRA, which is opening doors of opportunity especially for battery cell and components manufacturers in North America. One prominent expert in the space I got to talk to and reconnect with was Bob Galyen, former CTO of CATL and currently Chairman Emeritus & CTO at NAATBatt International, who gave a keynote on the state of the battery industry and cautioned the U.S. on being too aggressive when it comes to "squashing China" in trying to catchup in the battery race.
Two American startups to watch in the space who'll likely benefit from the IRA are Our Next Energy (ONE) and Intecells.
The former unveiled a 1,007 Wh/L, 240 ah prismatic large-format anode-free cell that will be paired with LFP cells in the company's Gemini dual-chemistry battery pack, which will be demonstrated in a BMW iX prototype by the end of the year. When compared to conventional nickel cobalt batteries in the market, Gemini will have 75% less nickel and 75% less graphite while eliminating cobalt by 100% and allowing EVs the ability to achieve a range of 600 miles.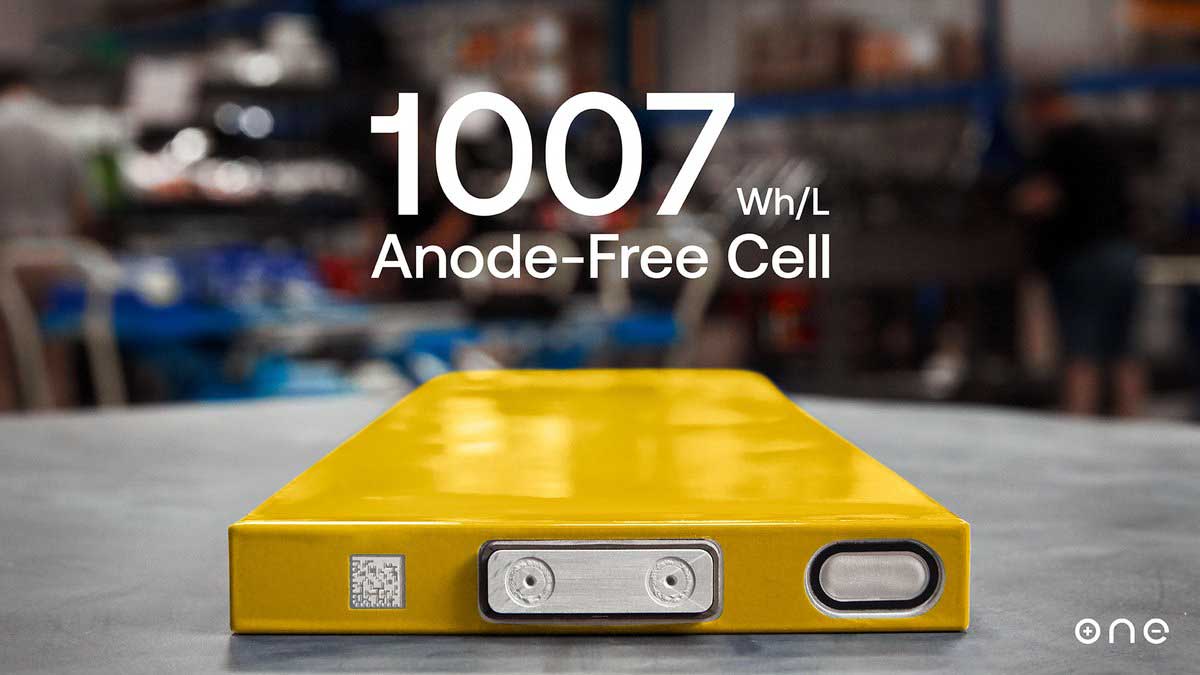 The latter, on the other hand, exhibited its proprietary cold-plasma-based printing process creating batteries with 3D topologies that offer flexible battery cell shapes and configurations. The technology doubles energy and power density of battery cells, offers a 10X increase in electrode coating adhesion, and reduces manufacturing costs by 93%, according to co-founder and CEO Dr. Xiaohong (Shawn) Gayden, who previous spent more than two decades at GM including GM China in Shanghai.
These are the type of "Davids" that will likely go up against the goliaths of CATL, BYD and Gotion in the battery race. Do they have a chance? Time will tell.
There you have it, all the sights and sounds at the Detroit Auto Show and the Battery Show, with the China factor in mind. There will be question marks on some of the recent and upcoming announcements due to the geopolitical climate, but the Chinese are coming to North America, one way or another.
Report by Lei Xing.