CES has become a "Car Electronics Show"
Vehicle technology has increasingly dominated the narratives at CES over recent years, so much so that the world's biggest consumer technology trade show has become a "Car Electronics Show" rather than the Consumer Electronics Show its acronym is based on.
Though there have been memorable debuts like the Chevrolet Bolt, Byton M-Byte, Xpeng G3 and Sony VISION-S at the annual event in years past, electric vehicles in general have not been synonymous with CES.
Until this year.
The number of EV debuts – either concepts or production vehicles, presented offline or online – went well into the double digits at CES 2022, probably the most ever in the history of the event. Though I had to cancel my trip to CES 2022 at the last minute due to omicron concerns and watched many press conferences online, CES 2022 was actually one of the most memorable CESs that I've attended in person or online since 2016, thanks in part to these EV debuts.
Several factors contributed to the "EVs galore" at CES 2022. One is obviously the timing and influence of the show itself, and following the announcement last summer that it would be returning as an in-person and online hybrid event after going all-digital in 2021, lots of OEMs had plans for big reveals and announcements at the event.
Two is obviously with the Detroit Auto Show that's usually held in January now in obscurity (the last was held three years ago) driven in part by the success of CES, OEMs have embraced Sin City as the new "Motown." Third, OEMs, especially the American ones, have accelerated their electrification efforts since the pandemic and obviously had more products in the pipeline they wanted to announce and show. Finally, the emergence and maturation of EV startups in the U.S. and elsewhere meant that CES 2022 was an important venue to show off their latest offerings.
Here's a recap of 10 newsworthy EV debuts at CES 2022, including those from traditional legacy OEMs like GM, Stellantis, Mercedes-Benz and BMW, startups like Fisker, VinFast and TOGG, as well as Japanese electronics giant Sony which came back with yet another "Easter egg."
Mercedes-Benz goes to the extreme on efficiency with the EQXX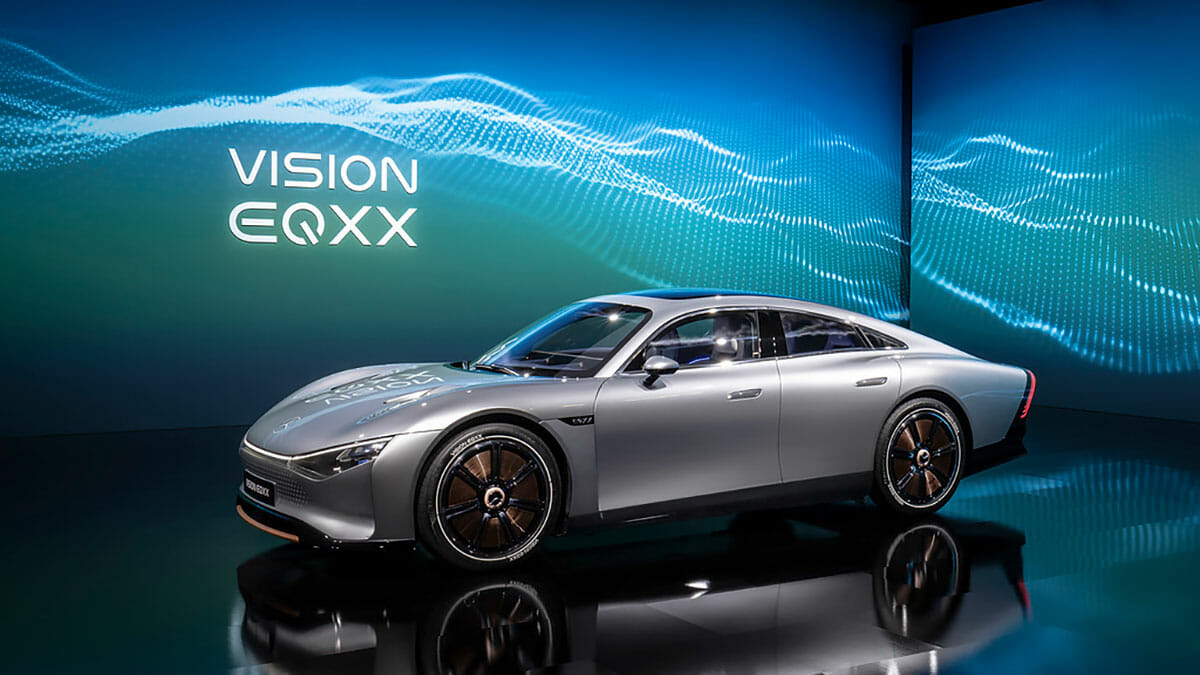 Mercedes-Benz had the whole industry talking two days ahead of the start of CES 2022 when it unveiled the Vision EQXX on January 3 with a coefficient of drag of just 0.17, lower than that of the EQS (0.20) and an American football (0.18-0.20).
With a range of more than 1,000 km on a single charge, 95 percent energy efficiency from battery to wheels, a 100-kWh battery pack (equivalent to 10 kWh/100 km or 6 miles/kWh) that has 50 percent less volume and is 30 percent lighter than that on the EQS while offering a density of 400 Wh/L, the EQXX is the most efficient Mercedes ever made. Including the battery (495 kg), the EQXX has a gross vehicle weight of just 1,750 kg.
The project went from white paper to completed vehicle in a record 18 months. It drew talent not only from Stuttgart but also from Formula 1 and a diverse array of start-ups, partners and institutions from around the world into a cross-functional, multi-disciplinary team. Lots of lightweighting, structural technologies and natural materials, including mushrooms, cactus and bamboo fibre, as well as recycled materials from PET bottles, were used on the EQXX to achieve the final efficiency numbers.
The EQXX will not make it to production, but some of the technologies and materials used on the concept could be used on future production vehicles.
BMW iX M60: the best of i, X and M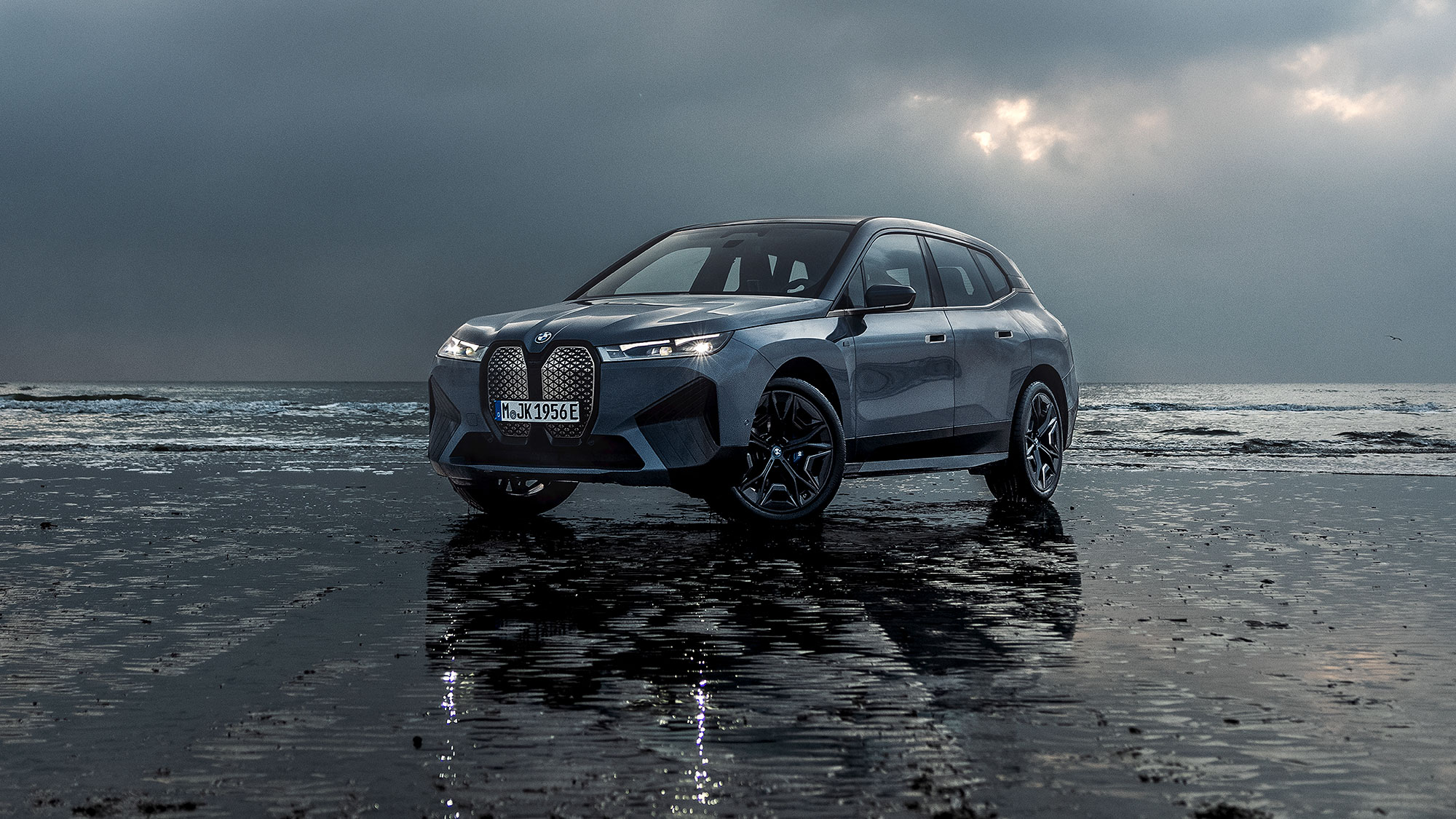 The third and most powerful variant of BMW's technology flagship was somewhat overshadowed by the viral iX Flow that could change its exterior color using E Ink and electrophoretic technology. Nevertheless, the iX M60 embodies the best of three worlds of BMW i, the BMW X models and BMW M GmbH.
It is the first performance vehicle from BMW M GmbH developed specifically for all-electric mobility, providing system output of 455 kW from two electric motors, max torque of 1,015 Nm in Sport mode or 1,100 Nm when Launch Control is active, zero to 100 km/h acceleration of just 3.8 seconds and a WLTP range of 566 km. It is the most powerful and the fastest production EV from BMW and the first BMW model ever with peak torque of over 1,000 Nm.
The model is already available in China at an MSRP of RMB996,900.
GM brings out the whole EV shebang led by the Chevrolet Silverado EV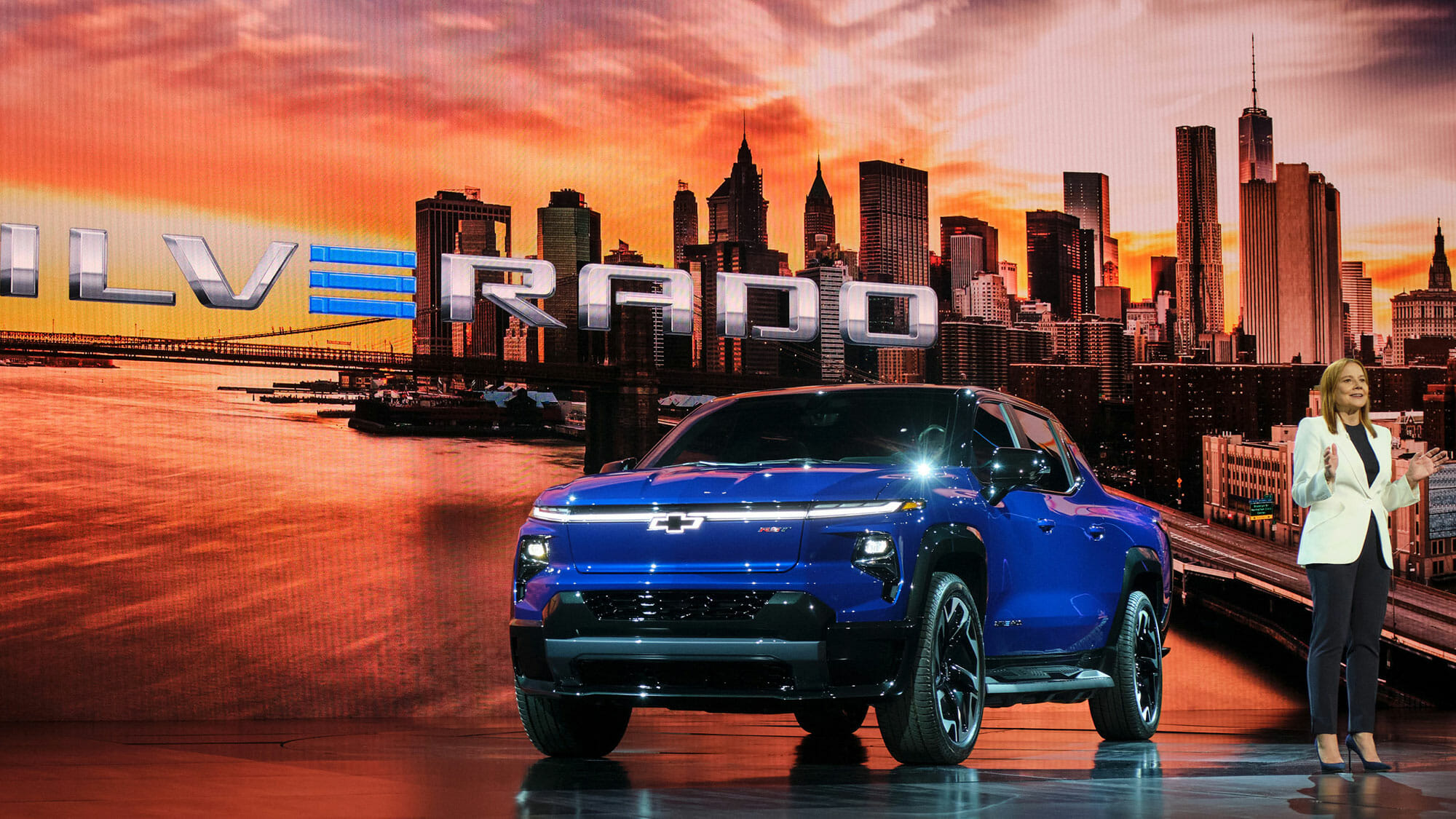 The much-anticipated F-150 Lightning challenger was finally unveiled to great fanfare, headlining a slew of announcements from GM's various brands revolving around the company's Ultium EV platform.
The 2024 Chevrolet Silverado EV full-size pickup will be available in two configurations, an RST First Edition and a fleet-oriented WT model – offering an expected GM-estimated 400-mile range on a full charge along with 10.2kW of offboard power, available four-wheel steering, fixed-glass roof, Multi-Flex Midgate with a load floor of up to 10 feet, 10 inches when combined with the Multi-Flex Tailgate, a large, 17-inch-diagonal LCD freeform infotainment screen, and the latest vehicle technologies that can evolve over time.
Chair and CEO Mary Barra also announced the Chevrolet Equinox EV SUV with an estimated MSRP starting around $30,000 in the U.S. as well as a larger Chevrolet Blazer EV SUV, both available in 2023. In addition to the three new Chevrolet EV models, GM's EV portfolio now includes its BrightDrop electric vans, Bolt EV and EUV, GMC Sierra EV, GMC HUMMER EVs and Cadillac LYRIQ and CELESTIQ.
Speaking of BrightDrop, FedEx announced additional orders while Walmart came on board as well for the EV600 electric van.
On the autonomous driving side, GM and Cruise are working to deliver the first personal autonomous vehicle as soon as mid-decade; Super Cruise remains on track to be available on 22 models across GM brands by 2023, while Ultra Cruise, which will enable door-to-door hands free driving, enters production in 2023, with the CELESTIQ sedan being among the first models to be equipped with the technology.
Cadillac's Halo Concept Portfolio welcomed the InnerSpace and OpenSpace autonomous vehicles, following the PersonalSpace e-VTOL and the SocialSpace personal autonomous vehicle unveiled at CES last year, illustrating a potential future for multimodal luxury travel.
Chrysler "Airflows" into 2028 all-electric future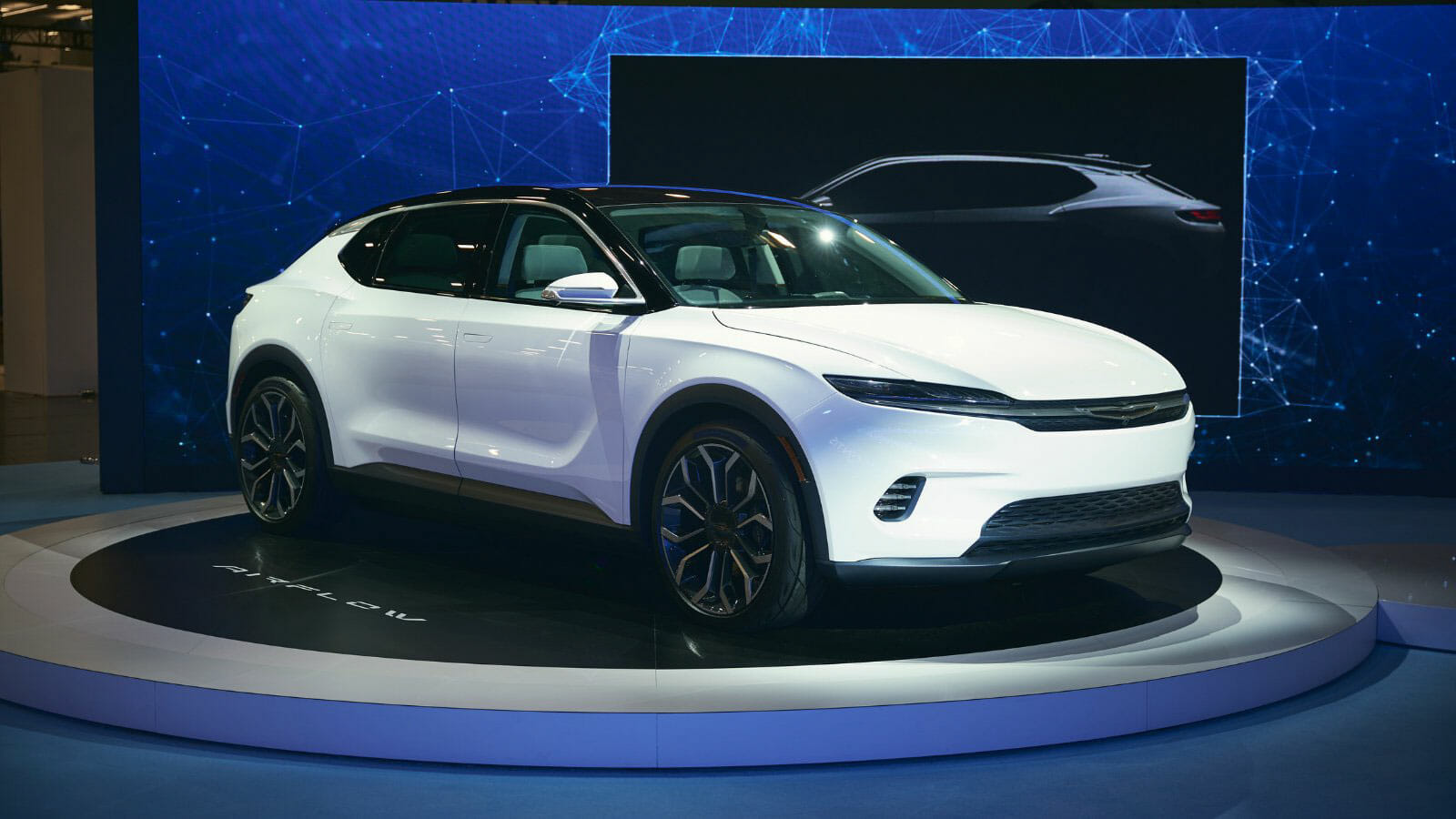 The Chrysler Airflow Concept, which made a cameo appearance at parent company Stellantis Group's Software Day back in December, was officially unveiled at CES 2022.
But the bigger surprise was Chrysler's announcement that it plans to have a full battery electric portfolio by 2028, three years after launching its first battery electric vehicle (BEV), which will be based on the Airflow Concept, by 2025.
The all-electric Airflow Concept integrates leading-edge drive-system technology with intuitive AI and connected vehicle technology that delivers 350- to 400-mile range and fast-charging functionality. It embodies Chrysler's new contemporary, technology-forward design, featuring an elegantly dynamic profile and LED-illuminated Chrysler wing logo on the cross-car grille/light blade, complimenting the Airflow's sleek, silent electric-powered ride.
Airflow's seamlessly connected STLA SmartCockpit, powered by STLA Brain, enables an extension of digital, work and home environments, all in sync to create a personalized experience for every passenger, with screens that can be simplified and grouped to individual needs and interests.
Modern and spacious interior, accented by light from a panoramic roof and a calming color palette, evokes an open, airy lounge area that delivers a comfortable space away from home and work. Its STLA Brain platform is fully over-the-air (OTA) capable, designed to quickly deliver new and upgraded features and functions that enhance and improve the vehicle over time.
It also includes STLA AutoDrive to deliver Level 3 autonomous driving capabilities, which will also be upgradable via OTA updates.
Fiat's "quiet" and all-electric New Fiat 500 is designed for the "next decade"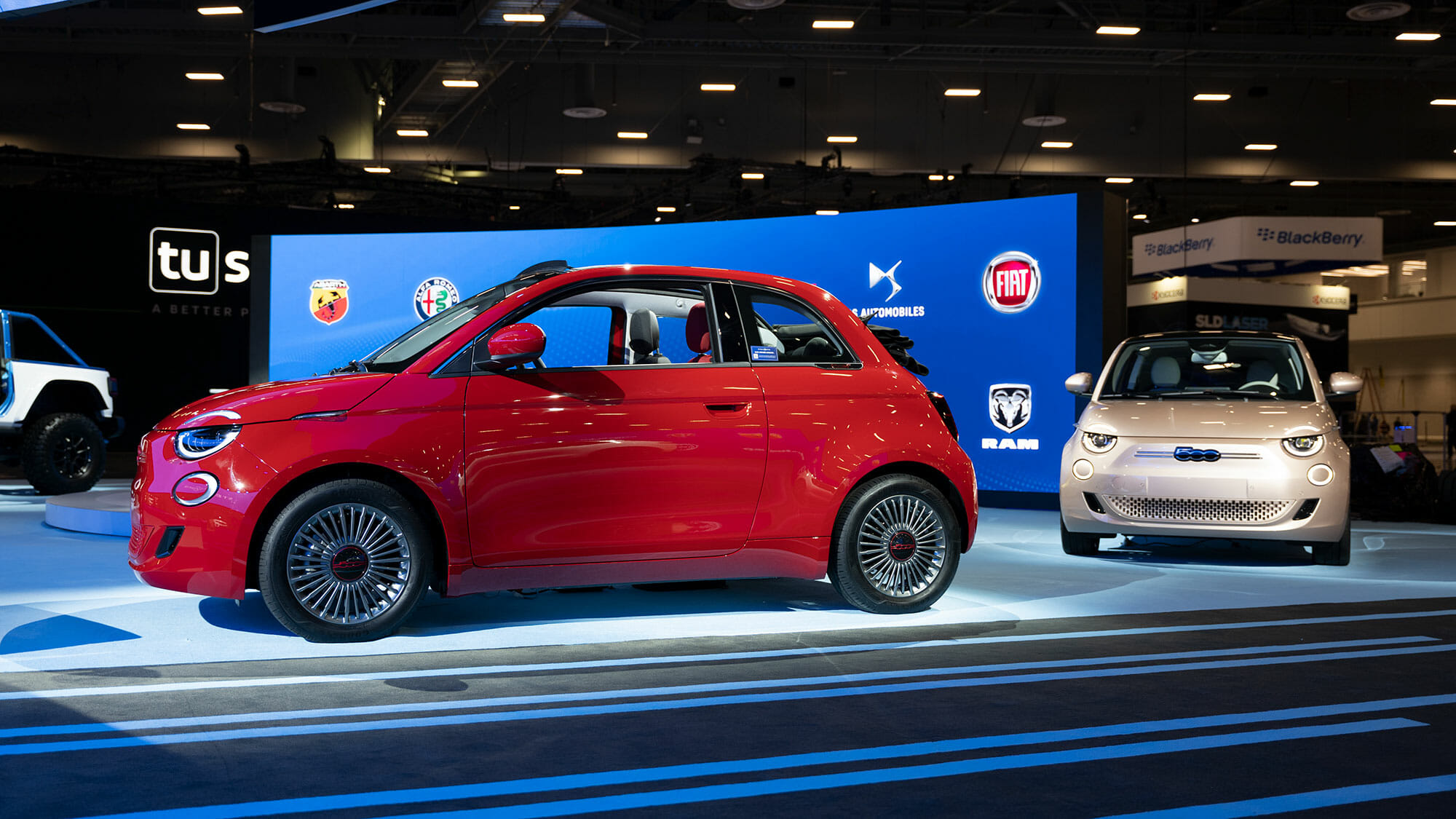 The Fiat 500e EV, perhaps best known for legendary former Fiat Chrysler CEO Sergio Marchionne's comment "I hope you don't buy it, because every time I sell one it costs me $14,000" eight years ago, is now the New Fiat 500 3+1 and New (500)RED in its latest reincarnations.
Fiat said in a press release that the Italian icon in its two new versions has become totally new, fully-electric, electric alone, and is "designed for the next decade and to suit the needs of electric mobility in the city centers of the future."
The New 500 is entirely developed, engineered and produced in Turin, Italy where the 500 was born and has become the company's best-selling BEV. Besides, the New 500 is available in Europe, Israel and Brazil, with its launch in Japan planned for 2022.
It now has a range of up to 320 km WLTP, increasing to 460 km in the urban cycle alone and faster charging times with the 85-kW Fastcharge as standard. It is the first city car with Level 2 Assisted Driving, as well as the availability of three different bodies: hatchback, cabrio and 3+1.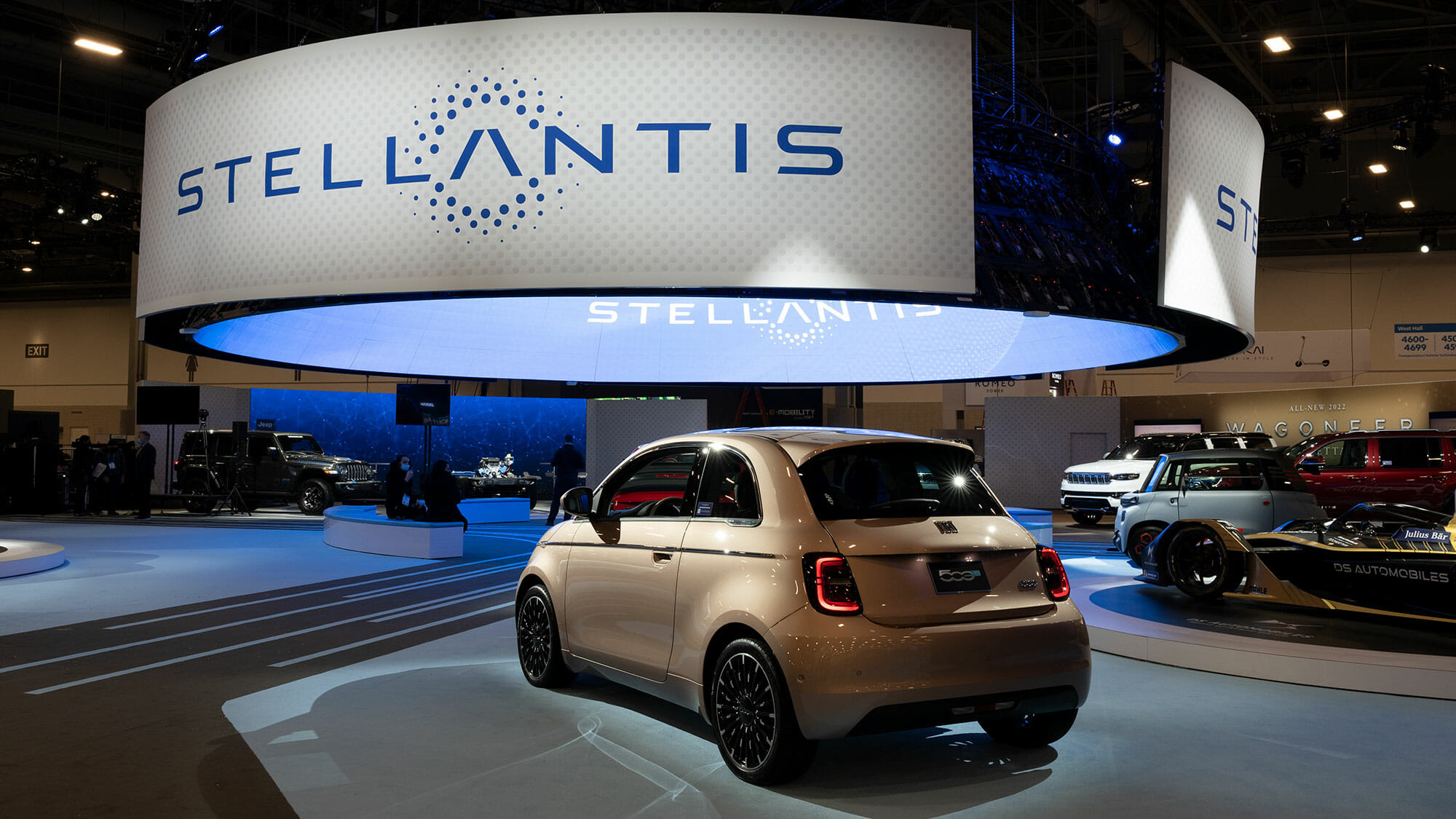 The New 500 3+1 is the most "versatile" New 500, featuring a unique "magic door" to make it easier for the passengers to get in, while the New (500)RED is "Made for the Planet, Made for its People" offering ethical content courtesy of the partnership with (RED) – the organization founded by Bono and Bobby Shriver, committed to combating pandemics for over 15 years.
Concept Recharge provides glimpse into Volvo's upcoming XC90 electric SUV with LiDAR, Ride Pilot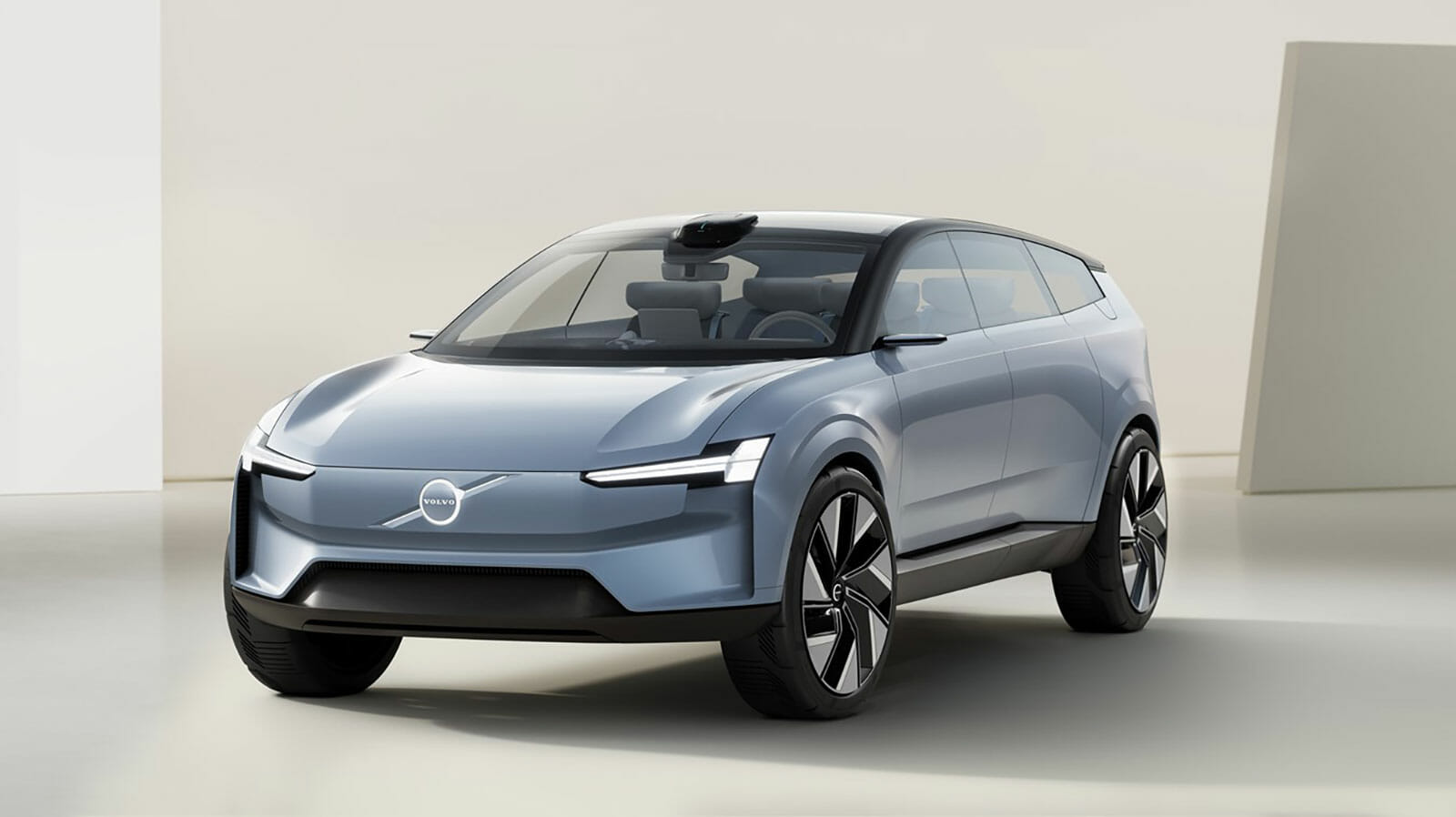 Volvo Cars did not officially participate at CES 2022 but piggybacked off of U.S. partner Luminar, which showcased the Concept Recharge with the Luminar Iris LiDAR seamlessly integrated into the roofline. Making its North American debut, the Concept Recharge previews Volvo's upcoming next-generation XC90 flagship electric SUV which will come standard with Luminar's LiDAR complemented by five radars, eight cameras and 16 ultrasonic radars.
The two partners jointly announced that the flagship SUV, to be revealed later this year, will offer an unsupervised autonomous driving feature called Ride Pilot, essentially a Level 3 automated driving feature like the Drive Pilot on the Mercedes-Benz S-Class, on highways especially in traffic jams or heavy traffic. In those situations, drivers will be able to free up time while driving, and spend it on secondary activities like reading, writing, working or socializing, hence the term "unsupervised."
Ride Pilot is planned to be available in California first as an add-on subscription once it has been verified as safe for use on highways. As part of this verification process, Volvo Cars is already testing autonomous driving functionalities on roads in Sweden and collecting data across Europe and the US. By the middle of this year, the company intends to begin testing on roads in California, where the climate, traffic conditions and regulatory framework provide a favorable environment for the introduction of autonomous driving. After California, Ride Pilot is expected to be gradually rolling out in other markets and regions around the globe.
VinFast moving fast with all-electric plan and U.S. entry with 5, 6, 7, 8 and 9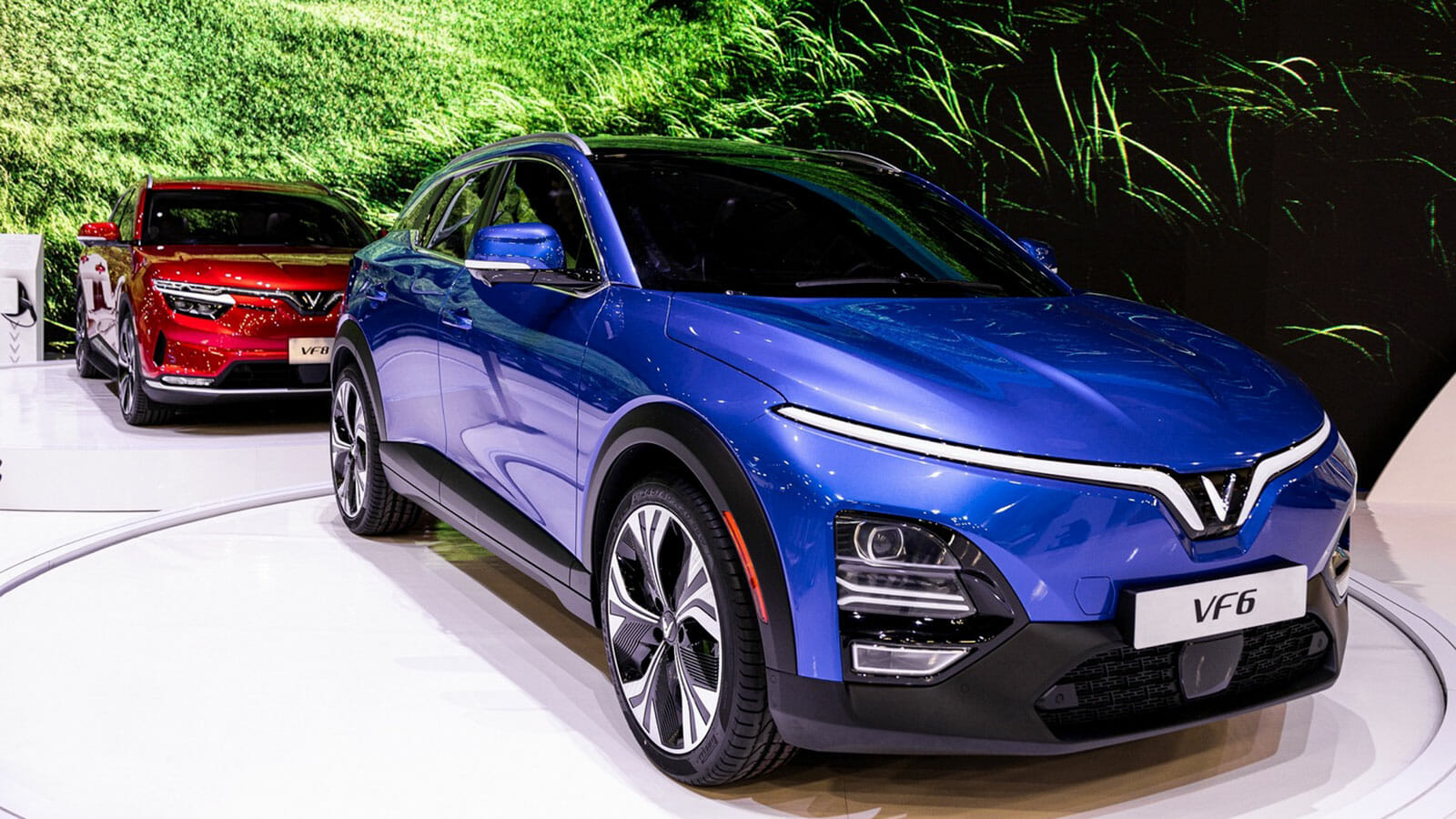 Having already made headlines at AutoMobility LA less than two months earlier with its intent to enter the U.S. market and the unveiling of the VF e35 and VF e36 electric SUVs, Vietnamese automaker VinFast came back with three additional new models, new model naming conventions, an all-electric plan and a host of other announcements.
The VF e35 and VF e36 became just the VF 8 and VF 9, respectively, while the smaller VF 5, VF 6 and VF 7 made their debuts. This exclusive electric SUV lineup, which covers the A, B, C, D and E segments, were designed by Italian design houses Pininfarina and Torino Design. The VF8 and VF9 will be equipped with L2 autonomous driving features for the Eco and Plus versions and L3/4 for Premium versions, according to VinFast. They will also have smart features including Smart Home, Mobile Office, In-Car Shopping and In-Car entertainment.
The initial prices for the VF 8 and VF 9 are $41,000 and $56,000 respectively in the U.S., and each comes with a warranty of 10 years or 200,000 km. Reservations began on January 5 and VinFast is applying blockchain technology to receive orders and confirm ownership. VinFast is also offering subscription plans through a battery lease program charging a fee for 300 miles a month.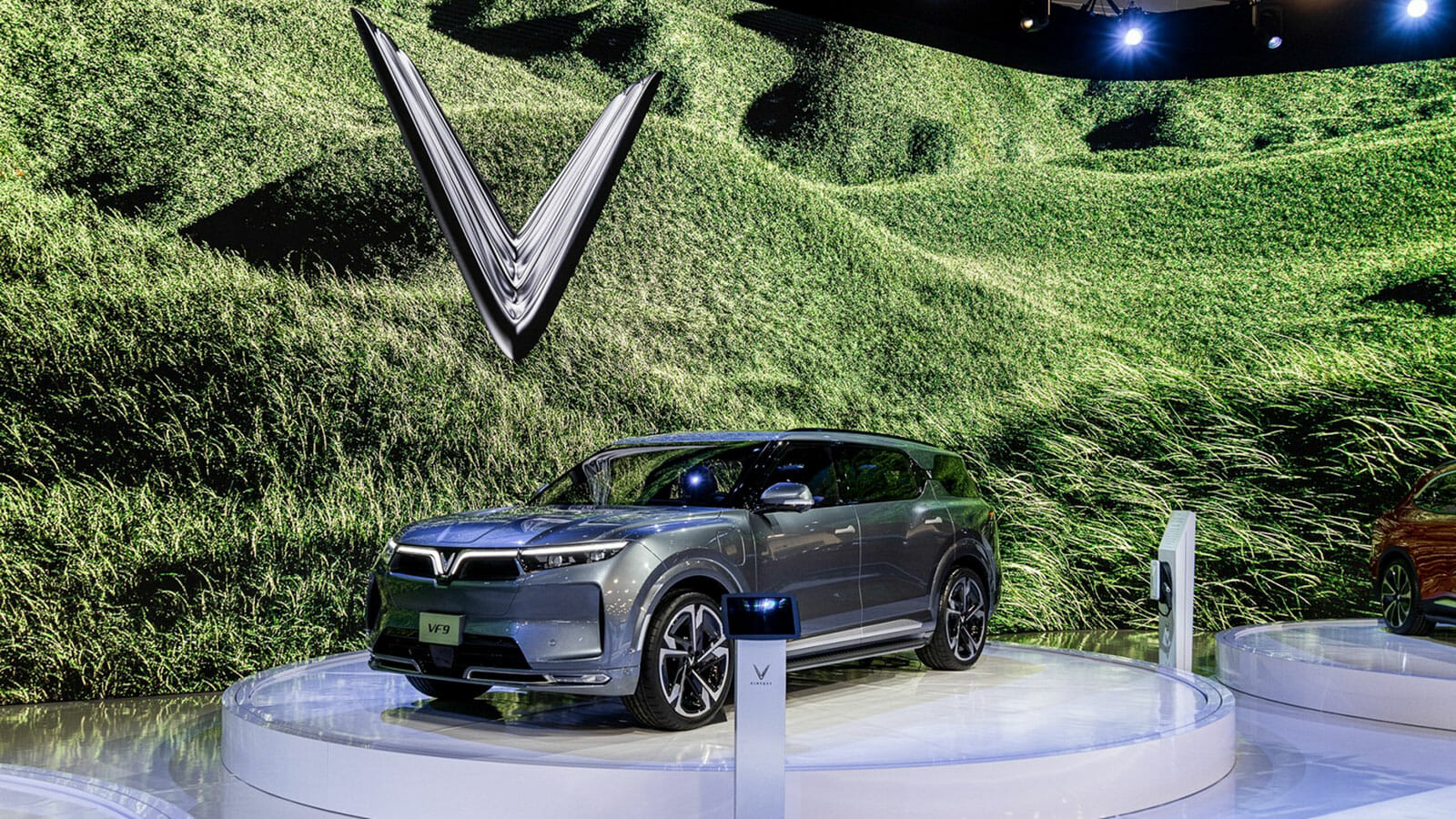 The big announcement at CES was the ceasing of production of ICE vehicles and the transition to all-electric vehicle production from late 2022. That was followed by collaborations with ZF and Cerence on advanced automated driving and cloud connectivity features, intention to build a manufacturing facility in Germany, cooperation with HERE and what3words on navigation and location-based services, first fleet customer in the U.S. and a partnership with Applus+ IDIADA in EV safety testing.
As of January 8, VinFast has received 24,308 reservations for the VF 8 and VF 9 models globally, according to the company. U.S., European and Vietnamese customers pay $200, 150 Euros and 10 million VND refundable reservations fees, respectively.
Fisker reveals world's first digital radar and introduces Intelligent Pilot for the Ocean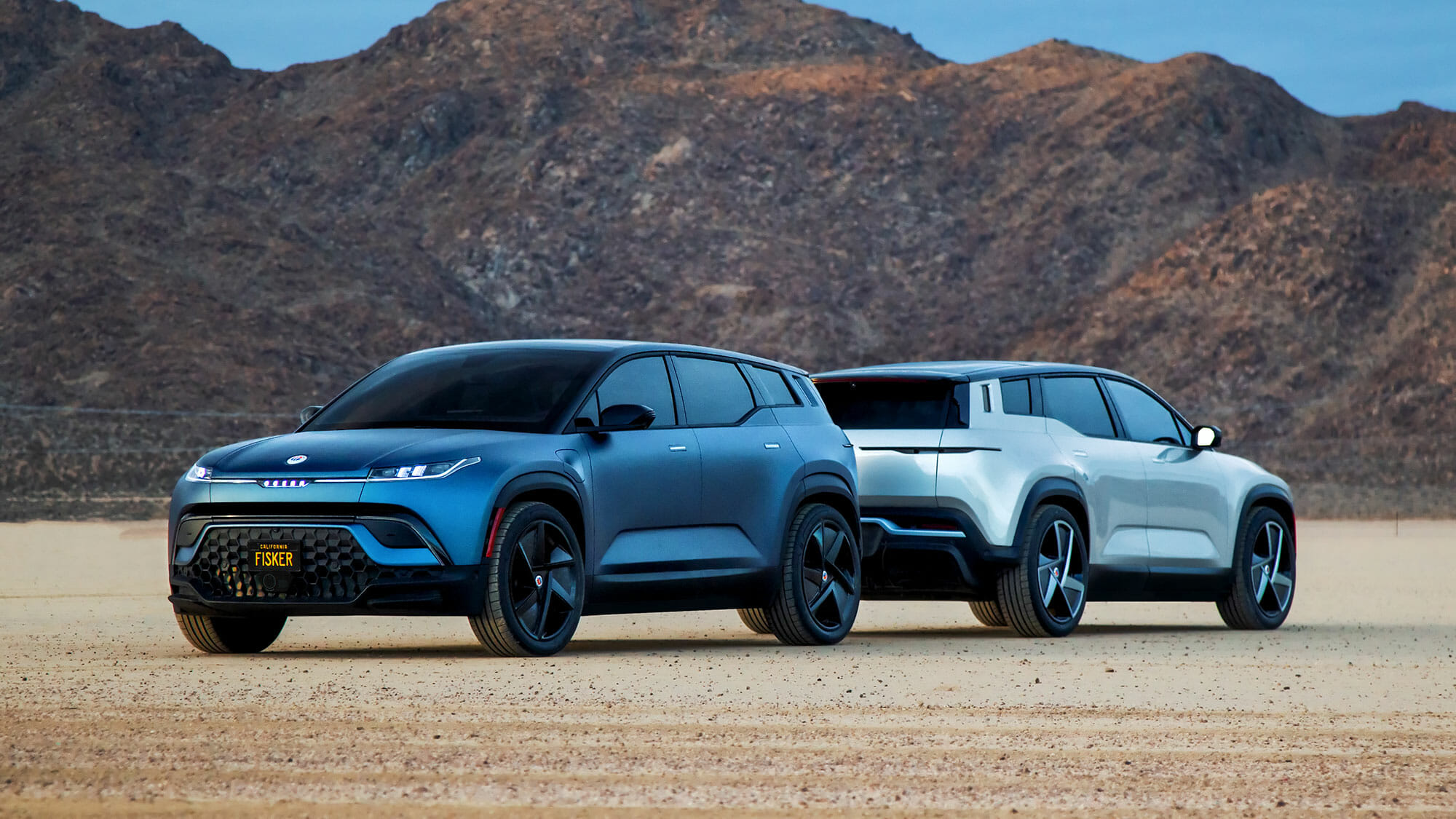 Fisker, like VinFast, already enjoyed the limelight previously at AutoMobility LA with the global debut of the Ocean electric SUV.
At CES 2022, the announcement was the reveal of what Fisker claims as the world's first digital radar in a production vehicle as well as the Intelligent Pilot automated driving system.
The 4D imaging radar is supplied by startup Uhnder in collaboration with Magna, which is contract manufacturing the Ocean at the Canadian supplier's Graz-Austria production facility with production slated to begin in November. A total of five will be equipped on the Ocean, part of the sensor suite that make up the Intelligent Pilot that will come standard on the $68,999 Extreme and One launch editions, but all trim levels will be equipped with the digital radars.
They can locate vehicles at 200 meters (656 feet) and pedestrians at 80 meters (262 feet) away.
In addition, they can separate objects from backgrounds and detect low-lying roadway obstructions.
Turkish EV startup TOGG makes splash with Pininfarina-designed Transition Concept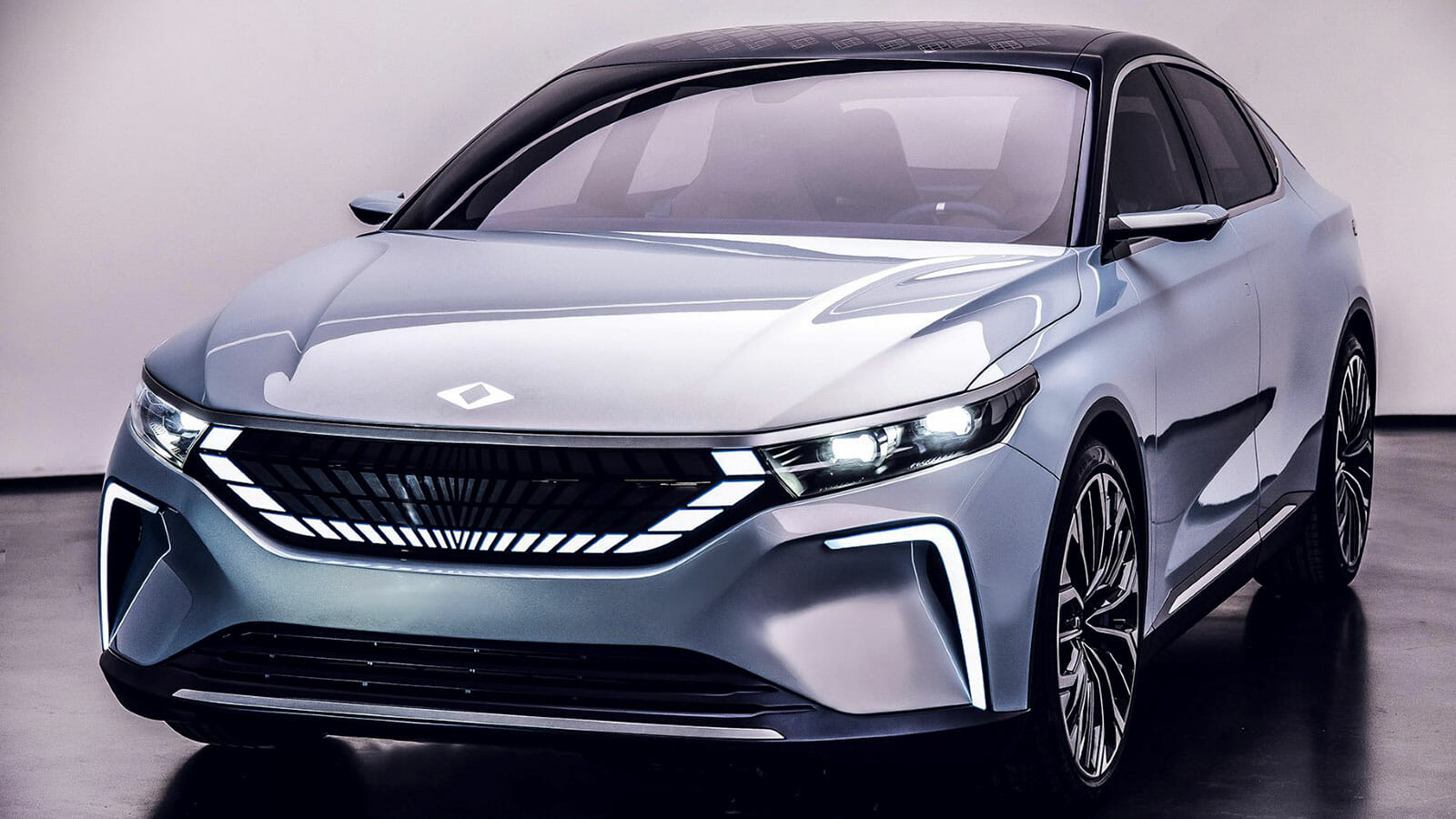 The mysterious EV startup and the first indigenous automotive brand from Turkey debuted its brand and the Transition Concept, calling it a smart device.
Designed under the direction of TOGG Design Team led by Murat Günak in collaboration with Pininfarina as a strategic partner, the Transition is a dynamic and innovative fastback that maintains TOGG's DNA stylistic features. The styling concept for the smart device is based on a line that runs from the top to the side of the vehicle, beginning with the muscular rear design and headlights, which are already present in the upcoming model C-SUV 2023, which was previewed in Turkey in December 2019.
TOGG claims that it's presenting not just a vehicle but a whole set of products & services, an entire mobility ecosystem to support a broad range of mobility solutions which is called USECASE Mobility®.
TOGG previously had plans to build its vehicles at a factory in the Gemlik district of northwestern Bursa province starting early this year.
Sony's trifecta: VISION-S 02, mobility company & EV market entry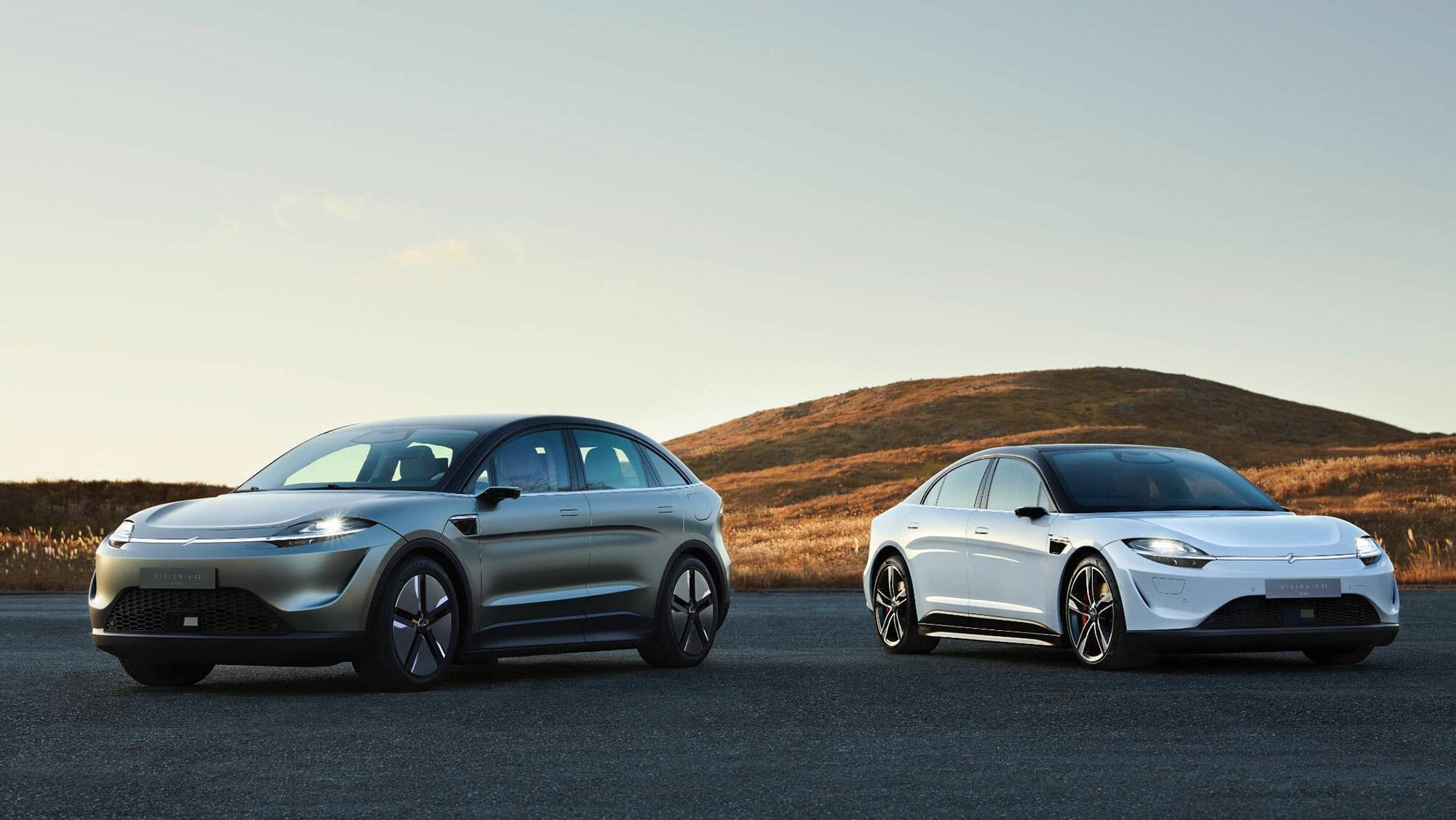 After the VISION-S "Easter egg" two years ago at CES 2020, Sony "saved the best for last" again at CES2022 and came back with yet another "Easter egg:" the VISION-02.
Not only that, Chairman, President & CEO Kenichiro Yoshida announced at Sony's press conference that the Japanese electronics giant will establish an operating company called Sony Mobility Inc. in the Spring of 2022, through which the company intends to explore entry into the EV market.
That's pretty much a semi-official declaration of Sony's intention to enter the EV business once and for all following two years of rumors, as a "creative entertainment company that will redefine mobility," in the words of Yoshida. Magna Steyr, which helped build the VISION-S prototypes, could play a key role if Sony decides to launch production vehicles to market derived from the prototypes.
The VISION-S 02 SUV prototype vehicle uses the same EV/cloud platform as the VISION-S 01 sedan prototype, which is being tested on public roads. By offering entertainment experiences utilizing the large interior space and variations of a 7-seater, the VISION-S 02 will, together with VISION-S 01, continue its aim of evolving mobility to be even closer to people, while developing technologies centered on safety and security, adaptability and entertainment. Lot of Sony proprietary technologies are featured on the VISION-S including its CMOS image sensors, remote operation and communication control, 360 Reality Audio, BRAVIA CORE for VISION-S and the ability to play PlayStation® games through a remote connection to a console at home.
Report by Lei Xing