A link to Japanese translation is here.
IAA Mobility 2023 was a great success
IAA Mobility 2023, simply known as the Munich Motor Show and formerly known as the Frankfurt Motor Show, was awesome.
And quite overwhelming for me.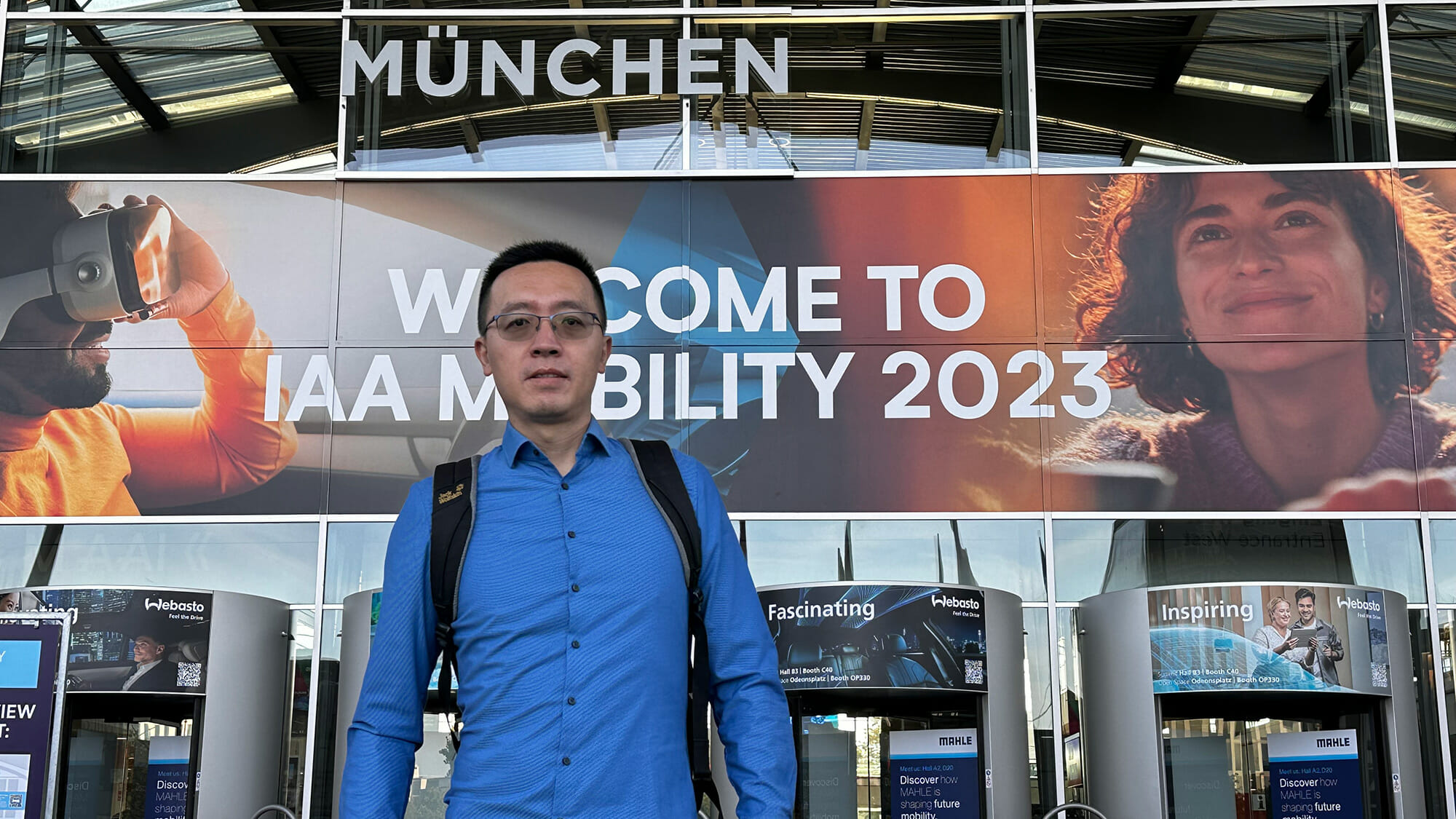 It's been some time since the event took place in the home of BMW, Bayern Munich and Oktoberfest in early September, but I haven't been able to stop thinking about the sights & sounds, the experiences, the conversations and interactions I've had with so many people, products and technologies throughout my full eight days in this Bavarian city and the surrounding vicinity in southern Germany.
Not to mention the perfect weather (it was sunny with blue skies every single day during my stay), the beer (I've had it every single day during my stay, more on some nights than others), the food (bratwurst, schnitzel, schweinshaxe, kartoffel and sauerkraut, and all kinds of German breads), the lovely people, the beautiful historical and modern landscape, and everything else this 865-year-old city had to offer.
Yes, from the moment I touched down on the morning of September 1 to the moment I took off the morning of September 9, I experienced a bit of everything, some planned and some by chance.
Without a doubt, this was one of the most memorable auto shows I've attended in recent memory, and one of the best I've attended in my 20+ years of covering the Chinese auto industry and attending various auto shows around the world. It's unlikely that any show will top Auto Shanghai 2023 back in April, which brought the world back to the party in China and China EV Inc. shocked the world (mostly foreign legacy autos). But IAA Mobility 2023 brought the auto show mojo back to Germany along with China EV, AV, battery and chip Inc. thanks to a reimagined format and well-organized event.
I would now rank Munich second only after Beijing/Shanghai in terms of being an influential A-class global auto show post-pandemic (sorry Paris, Tokyo and Geneva). The week I spent in Munich trumped the fantastic week I had in Detroit last September for the 2022 North American International Auto Show (sorry Motor City). For the second September in as many years, I had an incredible week in a city steeped in automotive history.
Here's why I think IAA Mobility 2023 was a great success and so memorable for me, if not many of the more than half a million visitors and 3,700 journalists from 82 countries that attended, according to the organizers.
First, the Germans have outdone themselves in reimagining what an auto and mobility show could be like (not the same can be said of their EV transition, but we'll have more on that later). Kudos to the VDA and Messe München for turning the IAA Mobility 2023 into two shows in one: the IAA Summit in a traditional exhibition hall style setting for professionals at the Messe München to the east of the city, and the IAA Open Space in a street festival style setting at various plazas and even inside museums in Munich's downtown area free to the general public. Both were very effective in attracting relevant crowds and engagements from them.
Second, Munich has a unique city landscape and infrastructure that made the new format work that otherwise isn't possible in Shanghai, Beijing or Detroit. The Marientplatz, the Königsplatz, the Max-Josef Platz and Ludwigstrasse where all the brands had their booths were within walking distance from each other and had tons of open space for crowds to mingle. The Messe München, the venue for the IAA Summit, was about a 25-minute U-bahn ride from the Open Space. Munich also offered diversified mobility options to get around: by foot, bus, tram, metro, scooter, bike or car. I bought a weekly travel card for 20.2 Euros that allowed me to take unlimited trips on any form of public transport at any time during normal operation hours, and I took full advantage of it. The IAA Mobility and Deutsche Bahn apps worked nicely when I needed to get a ticket online or know where to go.
Third, both the IAA Summit and IAA Open Space offered visitors the chance to test drive EVs and e-bikes in addition to other experiential and family friendly activities. Over 8,500 EV test drives and 4,000 bike rides were conducted over the course of the event, according to the organizers. I took a spin or ride in several EVs.
Fourth, IAA Mobility 2023 represented the first major global auto show held in Germany with normal attendance from people around the world since the Frankfurt Motor Show in 2019. It was also the first time since the pandemic where a large quantity of Chinese exhibitors and media could go out of China and attend a major global auto show. You could feel people's enthusiasm, excitement, and fervor. It was equally eye-opening for the local public to experience China EV tech as it was for the Chinese media and exhibitors to experience a innovative German auto show.
Fifth, the World New Energy Vehicle Conference (WNEVC) was held concurrently for the first time outside of China. It was great to have the CEOs of German automakers as well as their counterparts at leading Chinese EV, AV, battery and chip Inc. all under one roof. "The whole gang was there," was how Tu Le, my co-host on the China EVs & More podcast, described it.
Finally, my full itinerary during my 8-day stay was the icing on the cake.
Here's a quick rundown of what I did:
September 1: Visited the recently opened NIO Hub and test drove the EL7 SUV (aka the ES7 in China). It was my first time putting a Chinese smart EV to its paces on a German autobahn, going at nearly 190 km/h. My random stop for lunch happened to be right next to a huge Tesla delivery center in Parsdorf. Later that afternoon I went to the IAA Summit and the IAA Open Space to get a sense of the scale of the exhibition as well as direction and timing.
September 2: Got a sneak peek of the Mercedes Concept CLA Class, test drove the New E-Class PHEV and checked out the VOYAH FREE at a popup display put out by Swiss sales & service partner NOYO Mobility at the Funf Hofe shopping center in Marienplatz. And of course, I test drove the VOYAH FREE in the streets of Munich. It turned out that I was the first person to do so!
September 3: Visited Residenz München, where Mercedes had their "cube" display inside the famous museum, and interviewed CEO Ola Källenius and sales & marketing chief Britta Seeger, before witnessing the global debut of the Concept CLA Class later that evening.
September 4: Press day at the IAA Summit where I attended press conferences of Volkswagen Group, CATL, BYD, Xpeng, LeapMotor, Magna, AVATR and ECARX, among others. It was a day for China to shine. The evening was capped off with a ride in a NIO ET7 on loan to a dinner with some NIO friends. And yes, on this day alone, I met so many industry friends old and new, some of whom I haven't seen in years.
September 5: Spent the morning at the Mercedes "cube" to learn more about charging, followed by a bus ride to Stuttgart and a visit to the Mercedes-Benz Museum (must have been my fourth or fifth time there).
September 6: Visited Factory 56 (where the S-Class and EQS, among other Mercedes top-end luxury models are made), part of the Mercedes Sindelfingen production complex. Test drove the AMG GT 63 S E Performance from Sindelfingen to Affalterbach, home of AMG, and toured the famous "One Man One Engine" production shop. Took an ICE train back to Munich from Stuttgart later in the evening.
September 7: Spent additional time at the IAA Summit and checked out more China EV, battery, chip and AV Inc. Test drove the XEV YoYo electric two-seater that has become popular in Italy and test rode in a HiPhi Z which had monitors showing live point cloud from the Hesai LiDAR equipped on the vehicle, not to mention the many more conversations with industry acquaintances old and new. Attended WOW Day 2023 organized by Europe's biggest online car market place carwow, finally met the former founder & CEO James Hind and current carwow Germany CEO Philipp Sayler von Amende, both of whom appeared on recent MAX series of the China EVs & More podcast. And it was special to reconnect with Dr. Daniel Kirchert, founder of NOYO Mobility, former co-founder and president of Byton and one of the most prominent automotive executives having lived in China for more than 25 years.
September 8: Recorded a podcast episode in the NIO ET7 while on the way to the airport dropping off my co-host Tu, then drove to the BMW Welt where I not only visited the BMW Museum but also did a livestream on IAA Mobility 2023 with a Chinese media platform, followed by a visit to the IAA Open Space along with some industry friends. My final night in Munich and an amazing trip was capped off with a nice dinner of pork knuckle and beer at a restaurant right across from the BMW/MINI booth in the Max-Josef Platz.
And on the morning of September 9 before boarding my flight leaving Germany, I passed by the HiPhi showroom that just opened earlier in the week right outside the Munich airport terminal and saw some HiPhi Zs and Ys parked on a square outside the terminal.
If I were to pick one phrase to sum up what transpired at IAA Mobility 2023 on top of my own full itinerary, it would simply be "China Germany on a collision course."
The Germans owned the spotlight and headlines prior to September 4: before the Press Day even began, BMW Group, Mercedes-Benz and Volkswagen Group took care of business by successively unveiling key EVs on their transformational path toward e-mobility: the battery electric MINI Cooper and Countryman, the Concept Neue Klasse, the Concept CLA Class, the ID.GTI Concept and the Cupra DarkRebel Concept. Audi also unveiled the interior of its upcoming Q6 e-tron based on the PPE platform. The China factor you ask? Well, many of these models will go into production in China come 2025 or 2026.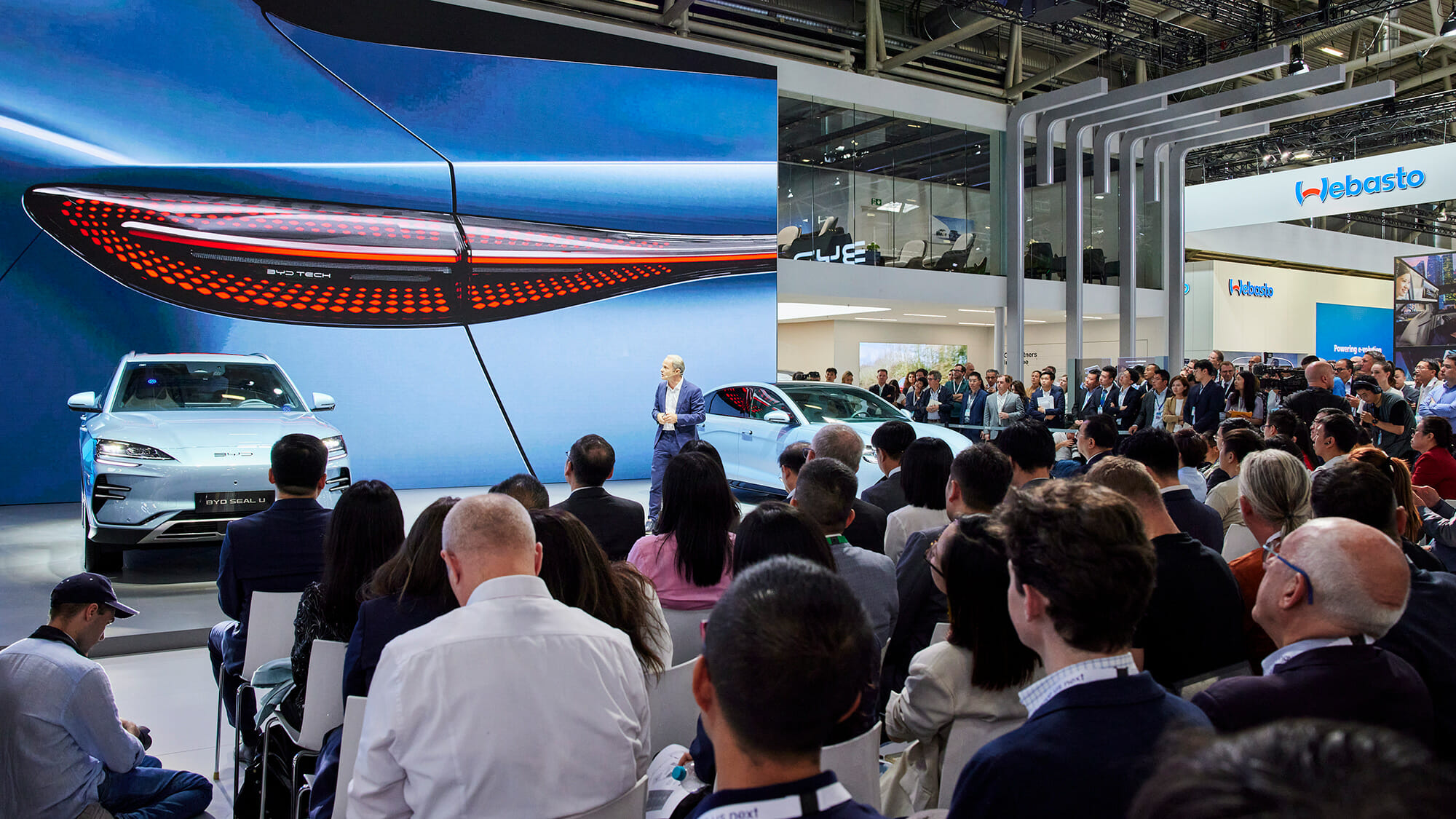 Once September 4 came around, it was time for China EV Inc. to shine: BYD launched the Seal to the European market at 44,900-50,990 Euros before subsidies, unveiled the Seal U SUV and showed the Denza D9 MPV outside China for the first time; LeapMotor unveiled the C10, it's first global model based on the LEAP 3.0 architecture as well as its "Four-Leaf Clover" EV platform which Volkswagen Group's JETTA and Stellantis Group have been rumored to possibly utilize; Xpeng formally announced their plans to enter Germany and additional European markets next year including the arrival of a right-hand drive G6; AVATR held a standalone event not far from BMW Group headquarters for the global debut of the upcoming AVATR 12 four-door coupe (this was probably the first ever global reveal event from a Chinese smart EV startup in Germany that I attended); Dongfeng Forthing revealed their new U-TOUR V9 flagship plug-in hybrid MPV and also teased the brand's first battery electric family sedan due out in 2024; SERES, already selling in Europe, announced the European debut of its first battery electric SUV S1; and MG, the leading Chinese (and British) EV brand selling in Europe, showed the upcoming Cyberster convertible that they plan to launch in Europe as well as the MG4 Electric XPOWER and the larger Marvel R electric SUV. Furthermore, BYD had big booths at both the IAA Summit and the IAA Open Space attracting big crowds, and Xpeng and AVATR attracted local crowds at their booths at the IAA Open Space.
It wasn't just the China EV Inc. that were in the spotlight, many of the world's top 10 battery suppliers from China, CATL, EVE, Sunwoda, CALB, Farasis and REPT, among others, showed their latest products. CATL in fact brought over the recently unveiled Shenxing superfast charging battery based on LFP chemistry and announced that it'll be available for the European market, while EVE showed their upcoming 46XX battery cells for BMW's Neue Klasse.
And besides the EVs and battery companies, there were other buckets of Chinese companies present: powertrain company Aurobay that was formed by Geely and Volvo now under a bigger parent company formed by Geely and Renault; AV and smart driving startups including DeepRoute, Qcraft and Zongmu; chip companies including Horizon Robotics, Black Sesame and ECARX, another Geely-affiliated company; LiDAR companies including Hesai and Liangdao, and smart cockpit/cabin startups Sense Auto and Pateo.
In total, more than 50 Chinese companies exhibited at IAA Mobility 2023, more than twice the number for the pandemic-affected IAA Mobility 2021, and more than the number of German companies present.
And the moments that reflected this China Germany collision course were countless. Be it BYD Chairman Wang Chuanfu standing a few feet next to me while listening to Volkswagen Group China CEO Ralph Brandstatter talk about China speed and Xpeng collaboration at the Volkswagen Group press conference, the huge crowd at the BYD press conference where German Design Chief Wolfang Egger talked about the Seal, the representatives of leading German and European suppliers standing with LeapMotor leadership at the smart EV startup's unveiling of the C10 global vehicle, the throngs of the German public checking out BYD, Xpeng and AVATR vehicles at their booths at the IAA Open Space, seeing BYDs, Xpengs, SERES, NIOs, MGs and VOYAHs on the streets of Munich while test driving many of them myself, hearing German Chancellor Olaf Scholz give reassurance to German automakers on competing with China and Källenius stressing that Mercedes will not put a three-pointed star badge on a vehicle based on Chinese platform, or seeing former Chinese Minister of Science & Technology and "godfather" of the country's EV industry Wan Gang give a roadmap of how China has gotten to where they are on EVs at the WNEVC.
So many jarring images have stayed with me that it's hard to list them all.
And all of this preceded Chinese battery supplier Gotion beginning production of batteries at their first European production facility in Gottingen, Germany and the formal launch of an EV anti-subsidy probe on Chinese EVs by the EU Commission.
There is no doubt that China needs Germany and Germany (and Europe, for that matter) needs China when it comes to EVs, whether in terms of technology supply or market consumption. Case in point is German automakers' reliance on Chinese battery suppliers as well as Chinese EV companies' reliance on German technology (ZF, for example, exhibited its steer by wire technology that will go into upcoming models from NIO first). Many of the new concepts and new products that the German automakers revealed more likely than not had influence from Chinese smart EV startups from a design, UI, UX and feature point of view. And many more of the Chinese tech companies that exhibited at IAA Mobility 2023 are trying to make inroads into Germany and Europe at large.
If all the foreign automakers had that initial shock at Auto Shanghai 2023, then IAA Mobility 2023 in Munich provided an additional reckoning moment back home. That reckoning moment is recognizing the competitiveness of the Chinese granted that subsidies have played a major role in growing the EV market in China. Volkswagen Group CEO Oliver Blume said it best in a recent interview with Stuttgart Zeitung: protectionism would only lead to more protectionism. The Chinese, on the other hand, should also understand it's not easy to make inroads into the European market with the expectation that regulatory pushback will happen.
Something's got to give.
Report by Lei Xing.