Record sales that shatter expectations
China's new energy vehicle (NEV) sales in 2022 are going to hit 6.8 million units.
I made this prediction back in early November when China Association of Automobile Manufacturers (CAAM) announced October production and sales. I predicted then that NEV sales in the fourth quarter would likely exceed 2 million units due to seasonality and the expiring subsidies, and that it was foregone conclusion that full year sales would hit 6.8 million units with a 25% penetration.
And going back a little further to July, I had predicted that China would sell 6 million NEVs in 2022 (see Despite disruptions, China will sell 6 million NEVs in 2022).
The final tally came on January 12 when CAAM announced the official full year data. Lo and behold, NEV sales hit 6.887 million units, representing a year-on-year growth of 93.4% and penetration of 25.64%! Fourth quarter NEV sales alone reached an all-time high of 2.314 million units, with October, November and December sales hitting 714,000, 786,000 and 814,000 units, respectively. Sales hit new records pretty much every month after April following the Shanghai lockdown.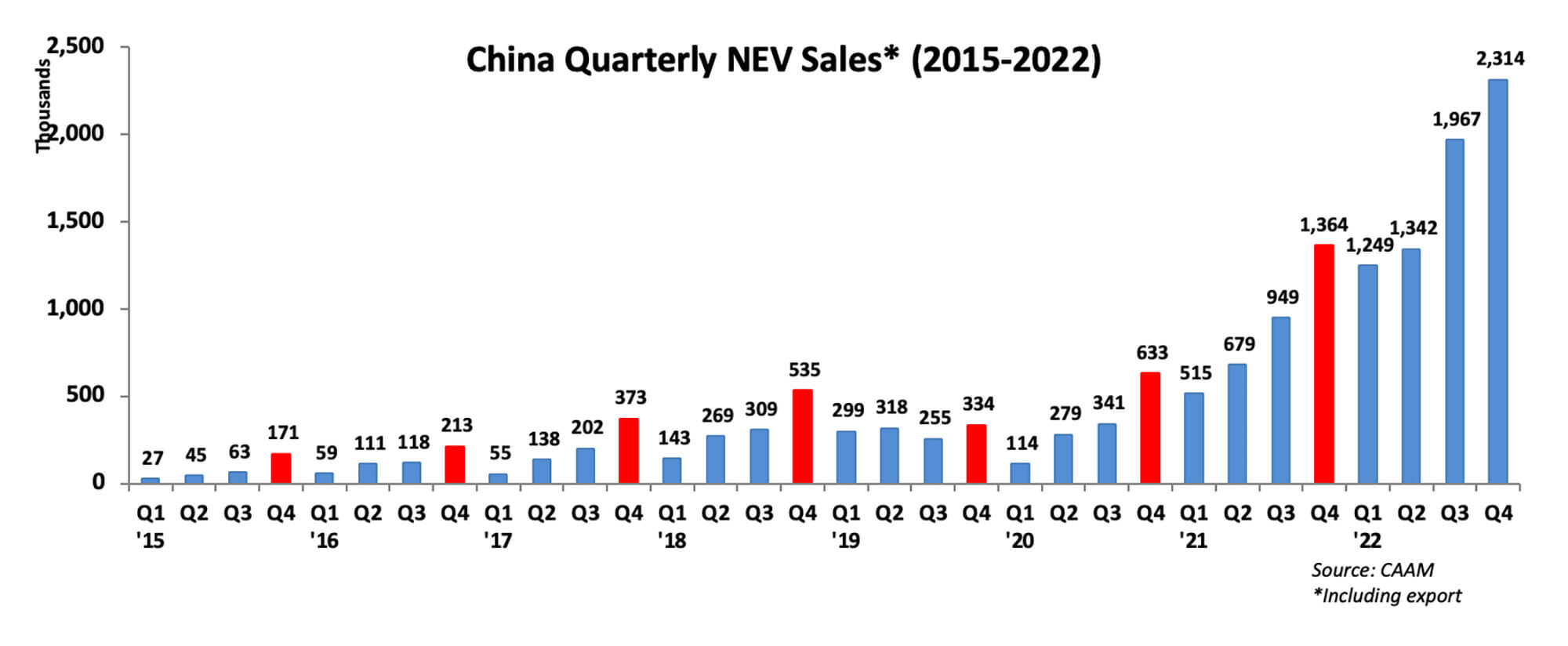 The last two years have been nothing short of remarkable for China's NEV market as sales nearly doubled for two consecutive years, from just under 1.37 million units in 2020 to over 3.52 million units in 2021 and then again to nearly 6.9 million units in 2022. All of this were accomplished in a global pandemic, supply chain crunch, chip shortage, rising battery raw material prices and worsening geopolitical climate. Especially in 2022, when China confronted all kinds of "black swan" events including the Shanghai lockdown, COVID outbreaks in multiple regions and energy crunch limiting electricity supply. It was an unprecedented year, to say the least, that sales were able to nearly double again.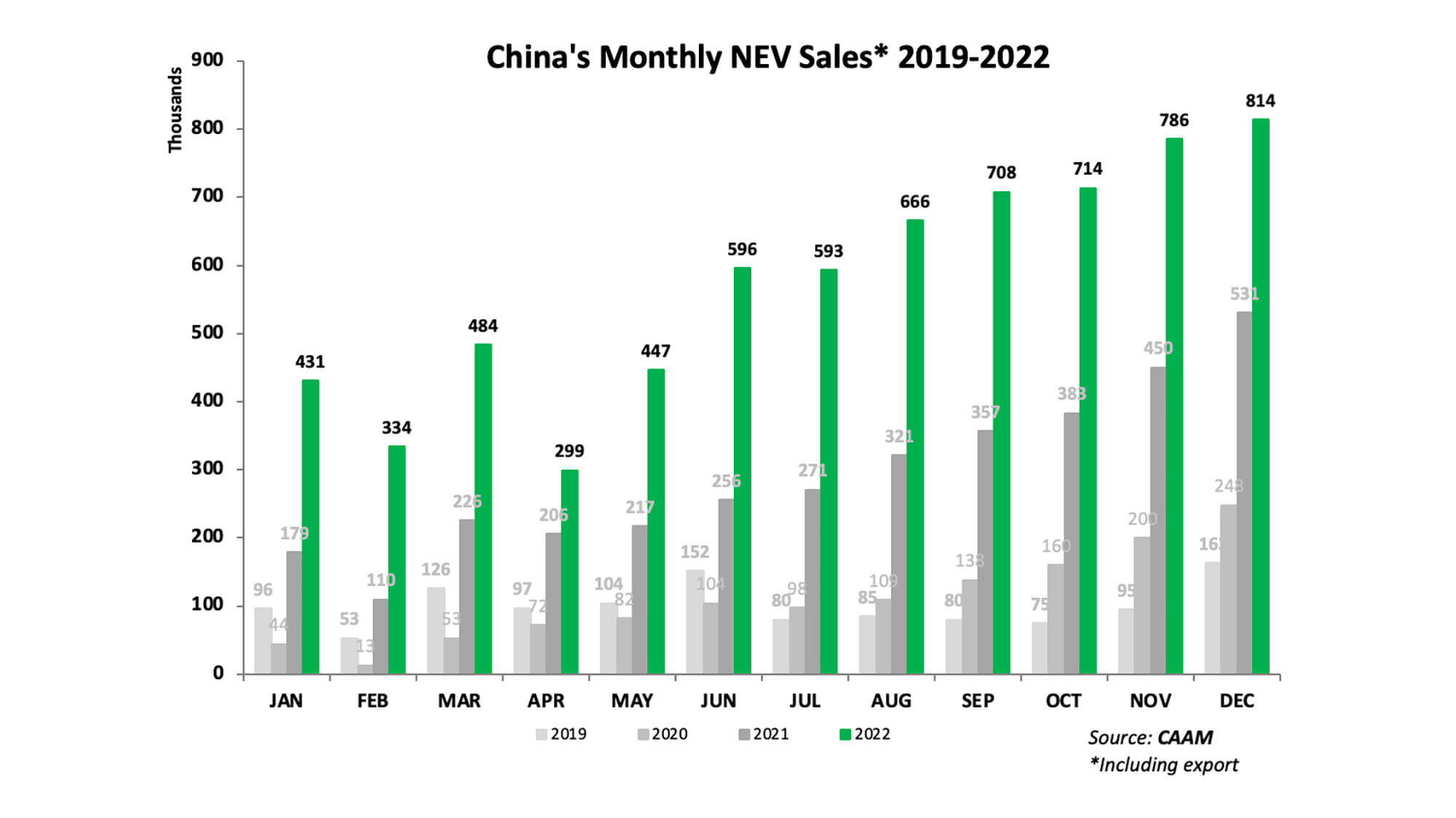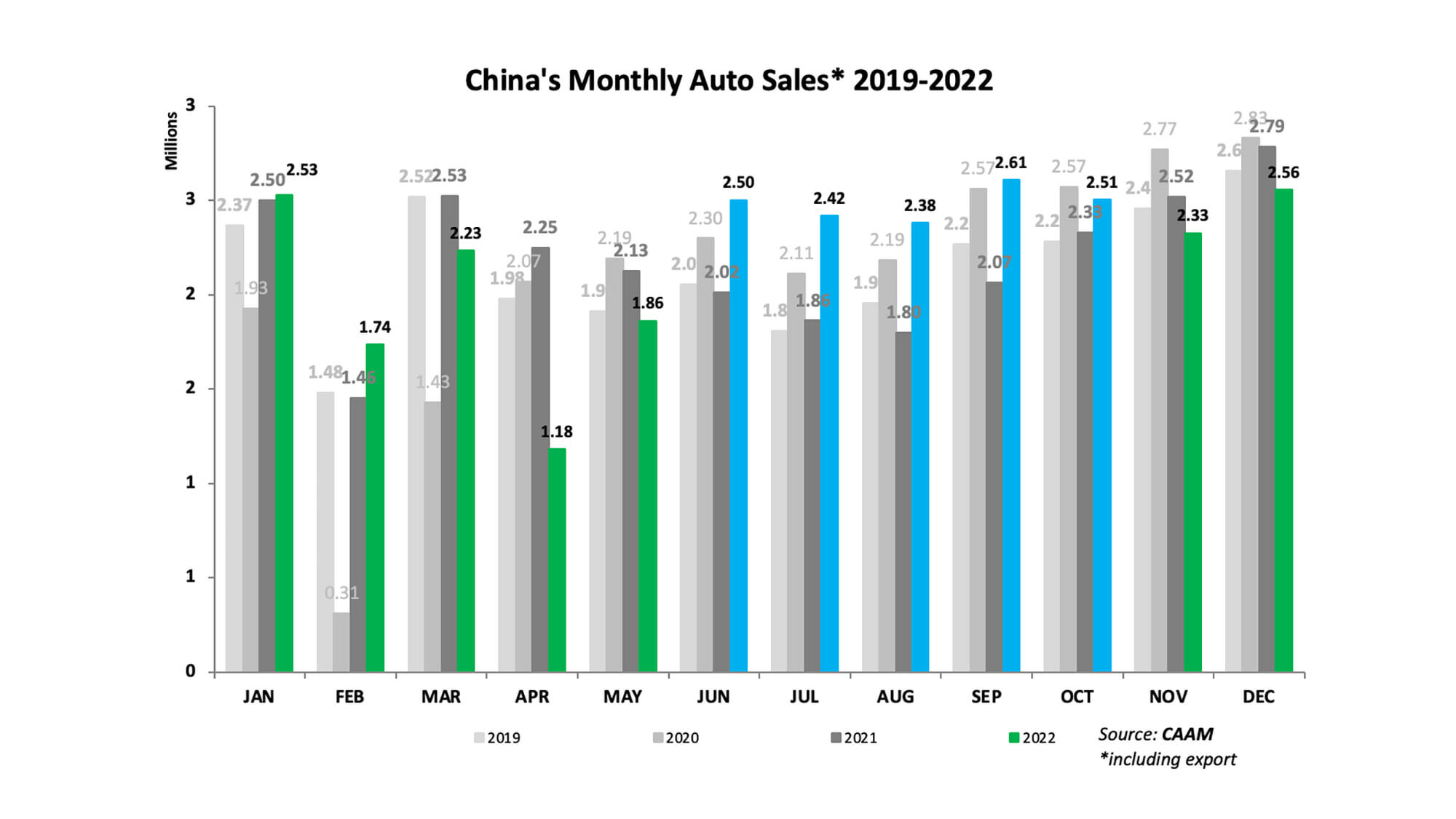 To put these numbers in perspective, let's compare China with the U.S.
According to Motor Intelligence, the U.S. sold 807,180 fully electric vehicles in 2022, up nearly two-thirds from 2021 with a penetration of 5.8%, out of total light vehicle sales of 13.7 million units, which is roughly half of the number of vehicles China sold in 2022 (26.864 million units).
In other words, China sold as many NEVs in one month as did the U.S. did BEVs in an entire year, with an NEV penetration rate that is more than four times higher. The 814,000 NEVs China sold in December is more than the 777,000 NEVs the country sold in 2017, and the 2.314 million NEVs sold in Q4 were nearly one million units more than the number of NEVs sold in 2020. Sales in 2022 alone were 1.3 million units more than the combined sales over the entire decade from 2010 to 2020!
Of course, the big caveat is that CAAM sales numbers represent wholesale, which include export and inventory, not actual domestic end-user sales. For that, we turn to China's Ministry of Public Security (MPS). Data released by the Traffic Administration Bureau of MPS on January 11 showed that 5.35 million NEVs were registered in China last year, up 81.48% year-on-year, accounting for 23.05% of 23.23 million vehicles registered during the year. In addition, data released by China's State Taxation Administration based on motor vehicle sales invoices showed that NEV sales reached 5.681 million units, up 70.6% and accounting for 23.5% of all vehicles sold, slightly higher than registration data as some of these sales will probably get registered in 2023.
But no matter how you look at it, China's goal of NEVs accounting for 20% of new vehicle sales has been smashed three years in advance, and the 40% target for 2030 could very well be reached in 2023. That's China speed, and that's China NEV speed.
China's NEV market continues to grow even after subsidies
I have been observing and opining about China's NEV market from afar for the last three years. There are only two key words that come to mind when I look back at what the market has been able to accomplish over that time: fast & furious, and resiliency.
Let's rewind to January 13, 2020, the day before my family and I left for the U.S. to visit relatives, not knowing at the time that we would be staying for good because of the pandemic.
That day, CAAM announced that China's NEV sales in 2019 fell 4% to just over 1.2 million units, the first time since NEV sales data became available in 2010 that there was a contraction of the market. We did not know of a pending pandemic, but a few days later we all know what happened in Wuhan that changed the world forever.
So what have been the key forces behind the "gushing" growth of the NEV market over the past three years? Was it inevitable? Or did it happen by chance?
To answer that question, we must extend our time horizon a bit: every major "gush" of China's auto market over the last two decades had specific reasons. In 2002-2003, the first round of "gushing" growth happened after China entered the WTO and private consumption of automobiles were encouraged. The second round of "gushing" growth in 2009-2010 followed the global financial crisis and a huge stimulus the country put in to support vehicle purchases such as savings on consumption tax and "cash for clunkers." The auto market soon surpassed 20 million units and gradually matured and stopped having "gushing" growths, as market peaked in 2017.
As that happened, "gushing" growth changed course and moved into the NEV market. The first of which happened in 2014-2015 after subsidies were put into place to spur the market, as annual sales went from tens of thousands of units to hundreds of thousands of units in just a couple of years. The market than grew, albeit at a much slower growth in 2016-2018, pushing annual sales past the million-unit mark. Then it stagnated in 2019 and 2020 at just over a million units due to a weakening of the overall market and the pandemic. Then the second round of "gushing" growth came in 2021-2022 that no one could have foreseen.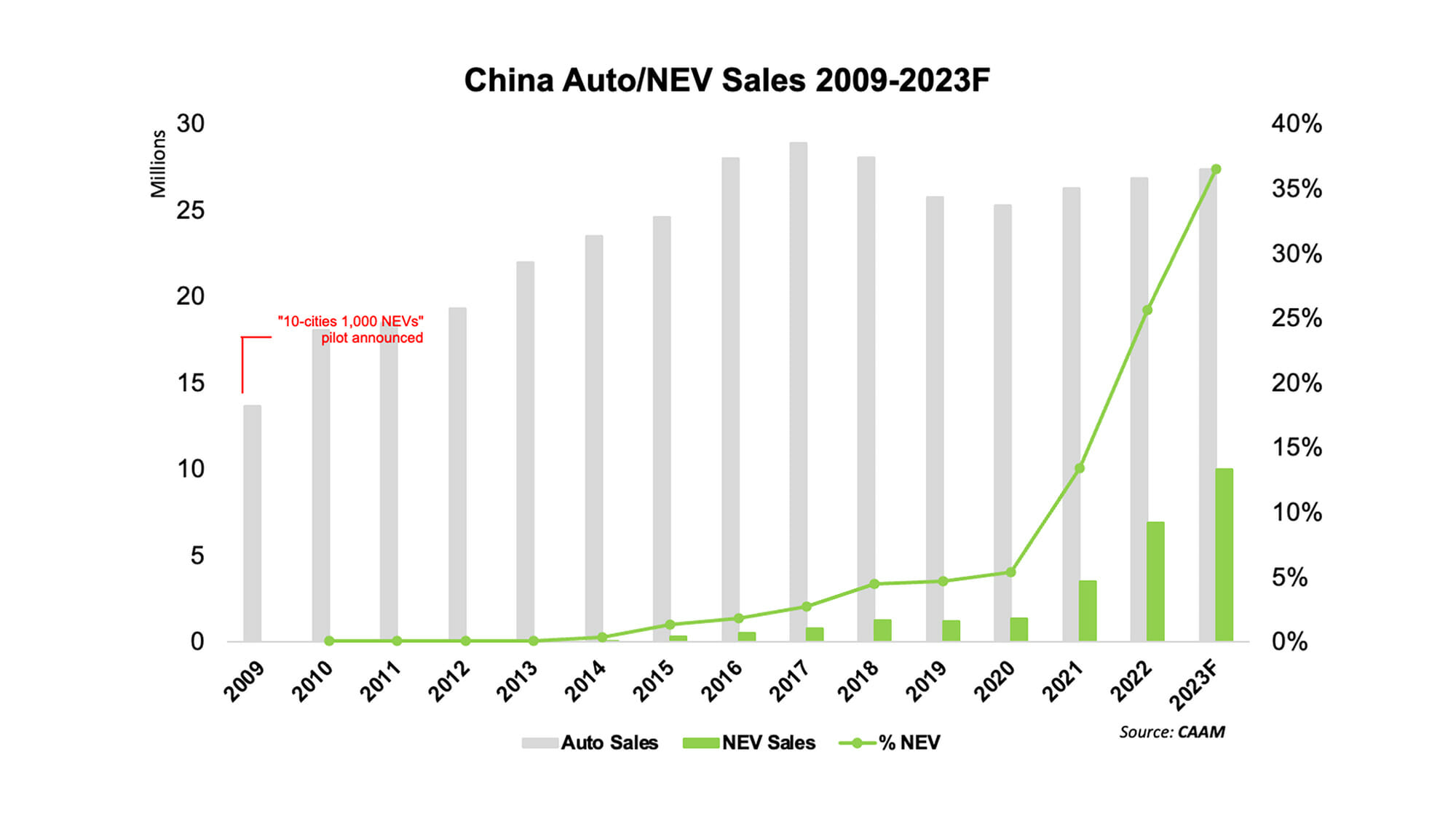 I personally believe there a defining moment in each of the last three years that propelled market growth: the start of the production and delivery of the made-in-China Model 3 at Tesla's Giga Shanghai in 2020, the launch of the Wuling Hongguang MINIEV in the summer of 2021 that completely electrified the micro-EV segment, and BYD's announcement in March 2022 that it had stopped production of pure ICE vehicles and become an all-NEV brand. And it so happens that they have been consistently the top three brands in NEV sales in each of the last three years.
We also must not forget the fact that China's NEV market has been cultivated for well over a decade as infrastructure and service matured, product quality and design improved and features meeting changing customer needs broadened. Through this cultivation as well as competition, Chinese brands including smart EV startup brands have emerged as the front runners in terms of brand equity and tech innovation, beating the traditional foreign legacy automakers that have dominated the ICE vehicle market in their own game with speed and ruthlessness.
I know that the subsidies for NEVs have expired as of the end of last year. But the tipping point has long passed, and there is nothing stopping the NEV market from further growth. It's going to be the "golden decade" for Chinese brand NEVs and some of them are on their way to becoming global brands. Obviously, some will fail and the same goes for foreign legacy brands. Competition in China's NEV market during the post-subsidy age will get a lot more cutthroat.
We are already nearly a month into 2023, it's difficult at this point to predict what the defining moment for this year will be. Maybe it is Tesla's price cut on January 6 dropping prices of the Model 3 and Y to below RMB230,000 and RMB260,000, respectively. Because the dominoes have already fallen and a huge price war is imminent (as of the date of this article, AITO, Xpeng and LeapMotor have already announced price cuts directly or indirectly).
There will be a lot of questions that need to be answered in 2023: will NEV sales top 10 million units? Will BYD sales double again to nearly 4 million units? Who among the smart EV startups can really get past that "production hell" and consistently deliver meaningful volumes per month on a consistent basis? Can foreign legacy brands ever find their mojo in the NEV race that they've so enjoyed over recent decades in the ICE race?
Earlier this month, Zhang Yongwei, vice president of China EV100 predicted that indeed NEV sales will grow about 40% to 10 million units in 2023, with penetration reaching 40%. I tend to agree with him and don't think it's all that radical. My personal prediction is 10 million units and 35% penetration rate.
There are two wild cards this year that will affect the sales trajectory: China's opening up and potential non-subsidy stimulus to support the purchase and use of NEVs. A few days before Chinese New Year, senior government officials from both the Ministry of Industry and Information Technology (MIIT) and the Ministry of Commerce went on the record saying that follow-up support measures are being considered and will be clarified in due course. We probably will get a better feel of what that is after the Chinese New Year and around the annual Two Sessions in early March. On the other hand, China's opening up might be a negative factor for NEV sales as Chinese consumers may shift spending elsewhere such as traveling overseas.
The only thing that is certain is that China's NEV market in 2023 will again surprise expectations.
Report by Lei Xing.