Japanese version is here.
Top photo courtesy of BYD
Chinese NEV sales exceeds expectations
China EV Inc. are now bringing already cutthroat competition at home abroad to mature overseas markets
While BYD is running away with China's new energy vehicle (NEV) sales crown this year, competition, which is already cutthroat, has entered a new phase domestically and is rapidly expanding to mature overseas markets.
The Chinese word to describe this is "juan卷" – being sucked into, or involuted.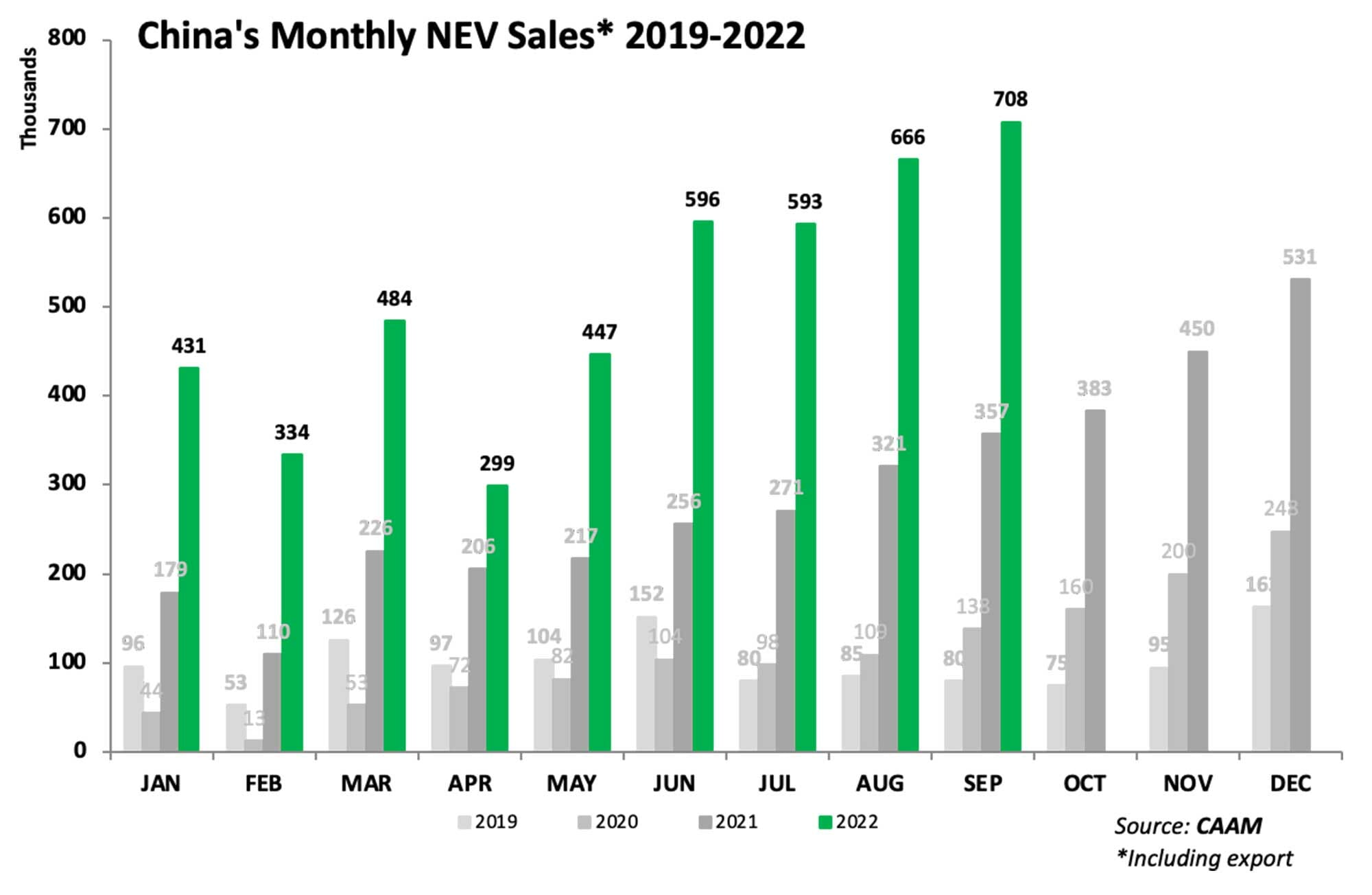 Having sold more than 200,000 new energy vehicles (NEVs) in a single month for the first time in September, BYD is inching closer to that once unfathomable number of 2 million NEVs sold in a single year. I had predicted earlier this year that BYD will sell more than 1.5 million NEVs in 2022 (see Will BYD sell 1.5 million NEVs in 2022?), but even I'm amazed at how BYD has been able to outpace that projection and smash records almost every single month this year. Is it going to sell 300,000 units in a single month in Q4 and will sales get to that magic 2-million-unit plateau, if not surpass it? That's the question, not whether it will sell 1.5 million NEVs.
And with China Passenger Car Association (CPCA) and China Association of Automobile Manufacturers (CAAM) having recently published the latest September and year-to-date numbers on NEV sales (see charts), the wider picture for the NEV market the remainder of the year is that monthly sales will be well over 700,000 units in Q4, which could end up being a 2.5-million-unit quarter following a 2-million-unit Q3. That means full year NEV sales will approach 7 million units in an overall market that's expected to be 28+ million vehicles, or very close to another year of triple-digit growth and a 25% penetration. Even I underestimated when I wrote earlier this year that China's NEV sales will surpass 6 million units (see Despite disruptions, China will sell 6 million NEVs in 2022). And, China's goal of NEV accounting for 20% of auto sales by 2025 will be smashed three years ahead of time.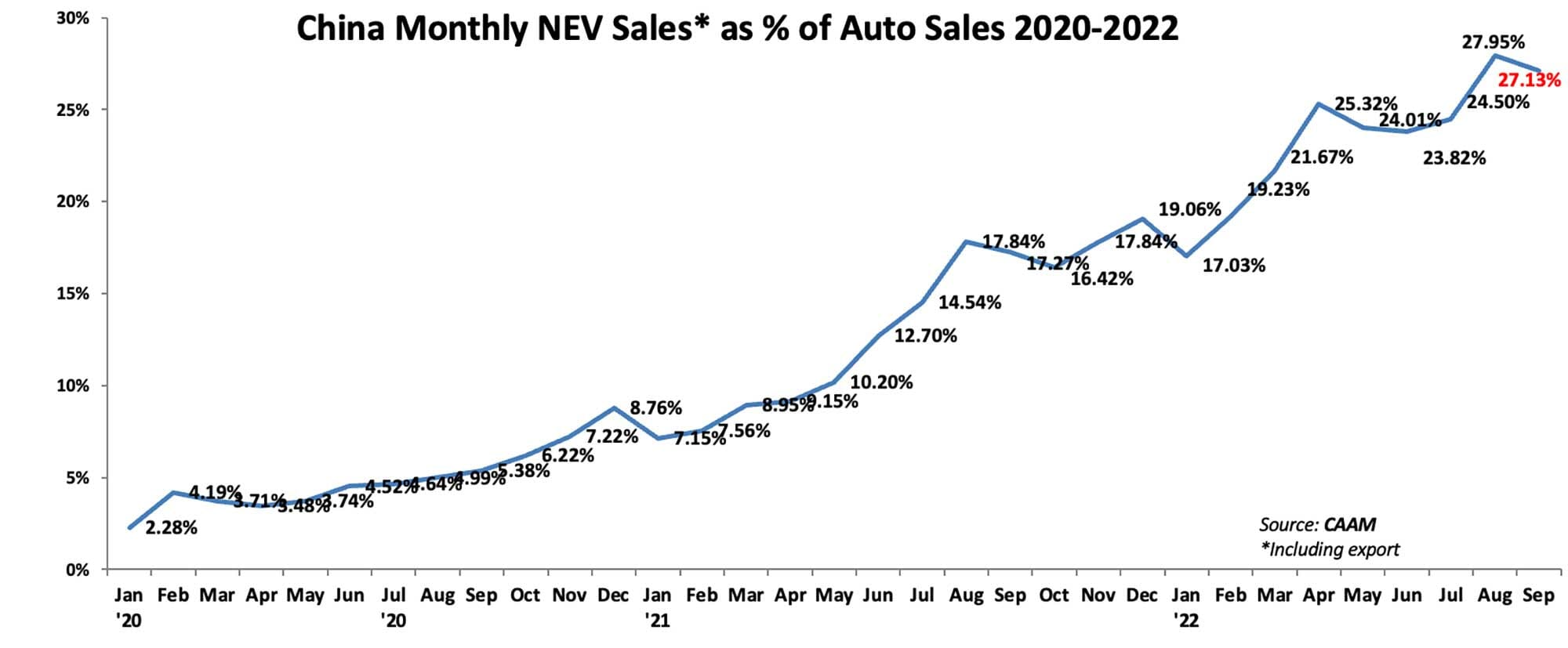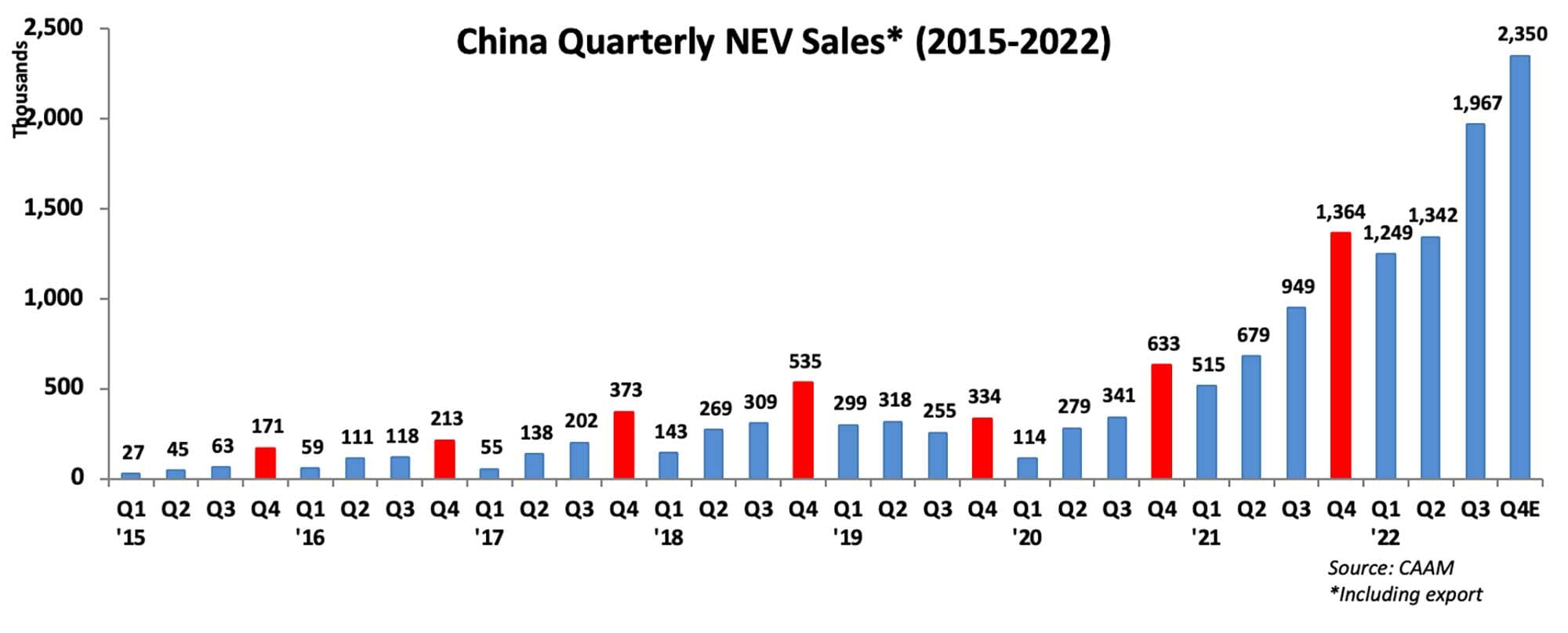 Driving forces behind EV competition in China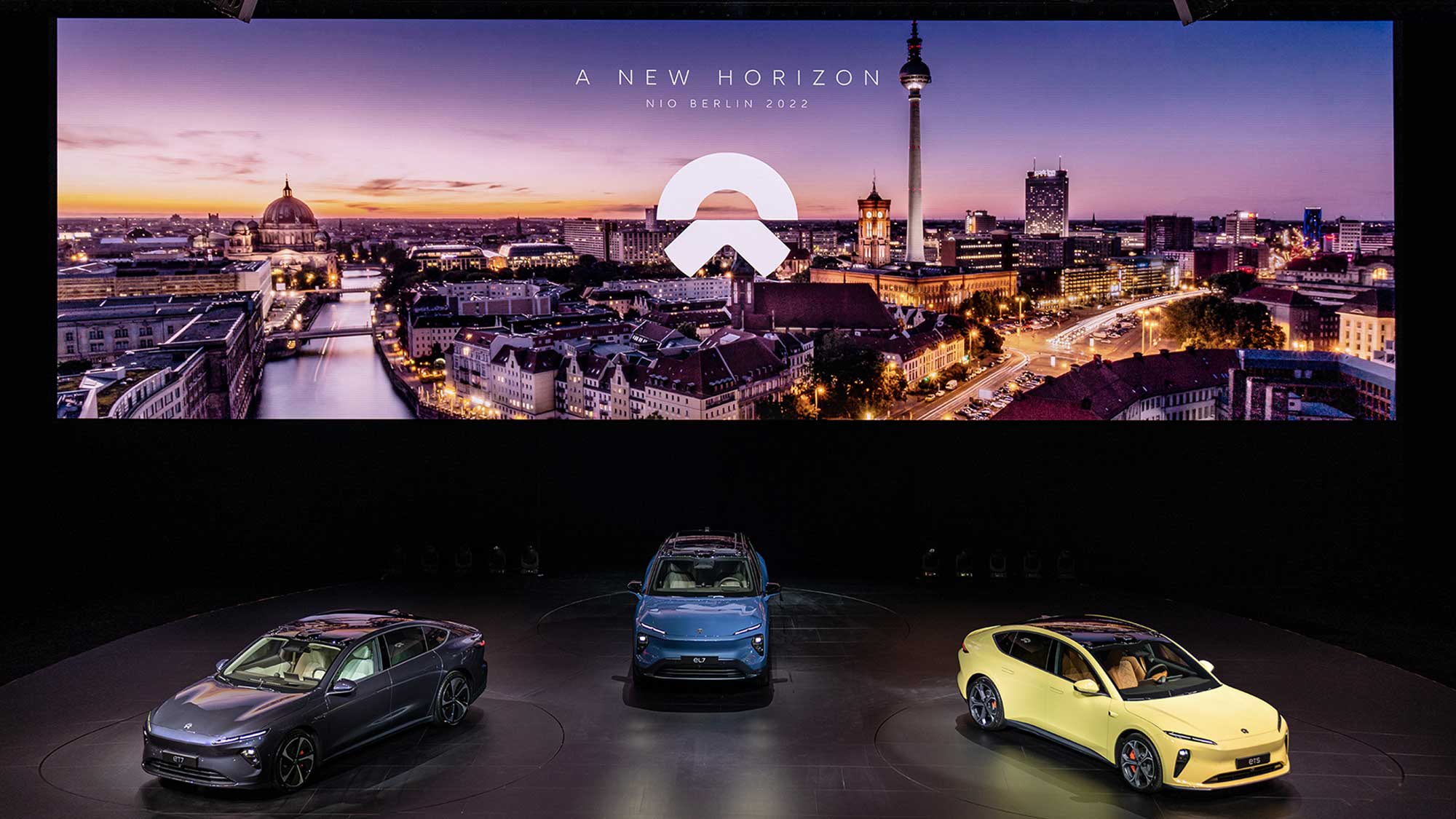 A market approaching double-digit millions in annual sales with the leader of the pack head and shoulders above everyone else, this is the backdrop for a new, evolving competitive landscape.
"Prototypes are easy, production is hard," as Elon Musk would always stress. If that's the measuring stick, BYD and Tesla as of this moment are the only ones that have passing grades when it comes to production of NEVs (in China) in large volumes on a consistent basis. The ability to launch an appealing brand or model into the market and getting tons of reservations, although still very important, is no longer the benchmark gauging success. BYD and Tesla for now are the only ones really enjoying operational autonomy, meaning, they can control their own destiny and upstream/downstream operations minimizing supply chain disruptions, thanks to either better vertical integration or capability to effectively address disruptions. This "operational hell" remains a headache for up-and-coming Chinese smart EV startups and even the "Big 3" of NIO, Xpeng and Li Auto, as they launch additional models (and even brands) at home and abroad and expand capacity.
Second, amid cutthroat competition, Chinese consumers are increasingly becoming picky and sensitive about pricing of smart EVs, especially those in the premium segment priced in the RMB300,000-400,000 range, both on how trim levels are categorized and what you get in terms of features at each of those trim levels. The fiasco of the recent Xpeng G9 launch where Xpeng had to tweak the SKU and pricing of the G9 less than 48 hours after launch following outcry from Chinese consumers is going to create major headwinds for the model as it prepares deliveries later this month. Adding salt to the wound is how Li Auto had immediately "jumped" on the G9 by unveiling the L8 and teasing the L7 soon with a much simpler categorization of the trim levels at competing price points: the Pro and Max, like the iPhone.
Though that is not to say that Li Auto is free of miscues, in fact it might have the dubious distinction of having had one of the shortest-lasting smart EV models on the market: the ONE, which is being replaced by the L8 after just a little over 2.5 years on the market. A model like the ONE could be hot, but it also could fall out of favor very fast if launch cadence is not careful and internal cannibalization will haunt you. More models do not always mean more sales, unless of course, you are BYD. And there is always competition coming that will try to undercut you. Case in point, the recent launch of the NIUTRON NV from the latest smart EV startup kid on the block priced at just under the RMB300,000 mark is directly aimed at models like the G9, L8, L7 and ES7.
Third, China EV Inc. are taking their competitive battle abroad to some of the most mature overseas markets. NIO just had its most ambitious launch yet in Berlin, announcing market entry in Germany, the Netherlands, Denmark and Sweden. The exclusive subscription model was controversial, but at least it got NIO huge exposure, for better or worse. BYD had its own controversy with the Tang and the Han EV priced at EUR72,000 for European markets and followed that up with the blockbuster Sixt deal in which the German rental giant will procure 100,000 BYD NEVs over the new few years to be used on its rental platform in Europe. And, in a span of just a few days, BYD launched its ATTO 3 EV in Thailand, Laos, India and Nepal, during which time Great Wall Motor's Haval H6 PHEV also launched in Thailand.
China ranked #2 for automobile export in the world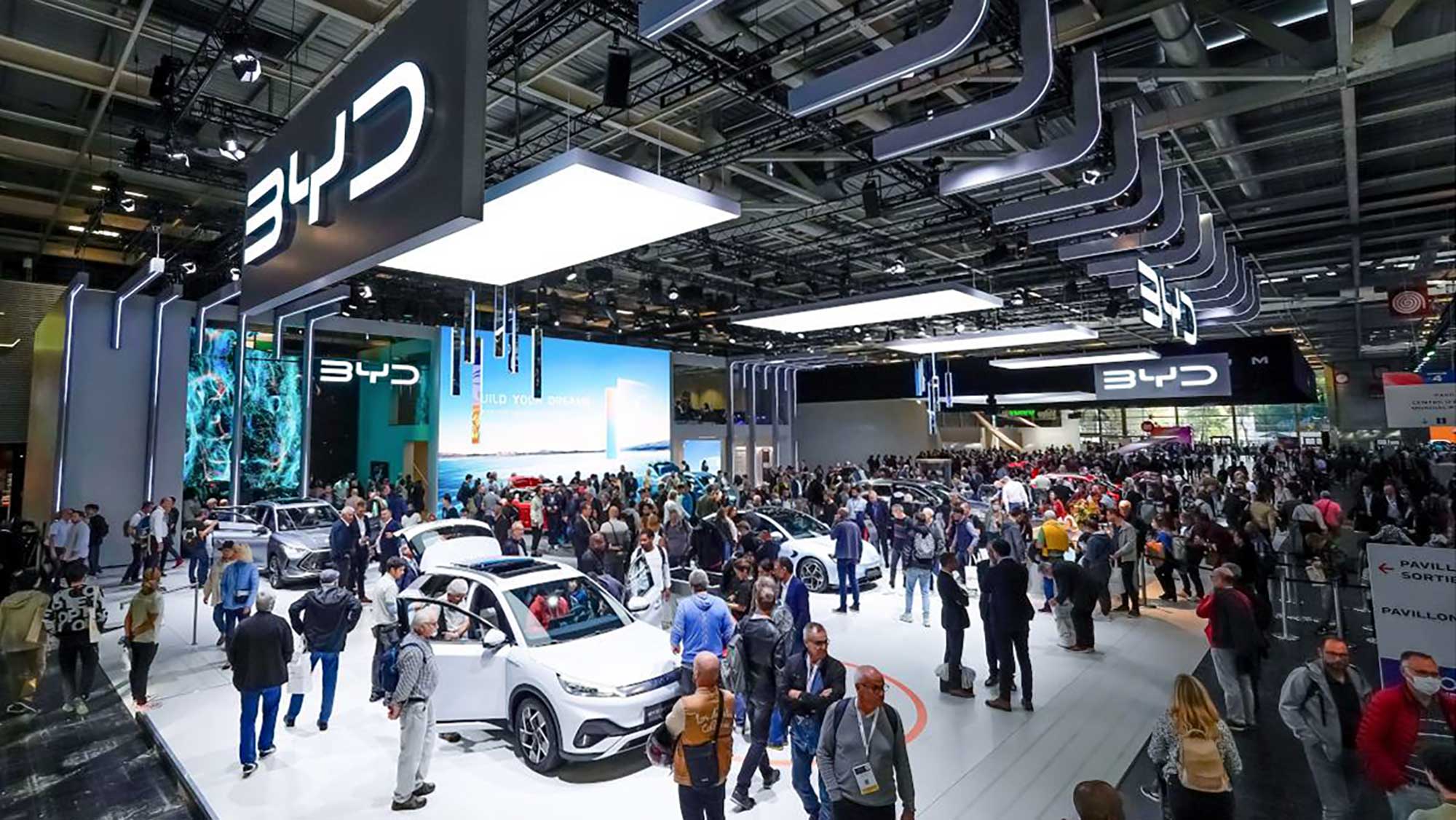 There has been a tidal wave of products from China EV Inc. flocking to the rest of the world this year. According to CAAM, China exported 50,000 NEVs in September, more than double those of the same period of 2021, and January-September NEV export volume reached 389,000 units, also achieving triple digit growth year-on-year. According to the latest General Administration of Customs data, China exported 112,000 NEVs in August and the top three destinations for NEV export during the first eight months of the year were Belgium, the UK and Thailand. At the current pace, China will export well over half a million NEVs to the rest of the world in 2022. And worth noting, China exported 2.12 million automobiles overall in the first nine months of this year, up 55.5% year-on-year, and in the process has surpassed Germany as the world's second largest vehicle exporter only behind Japan.
Is it all smooth sailing? No, far from. Xpeng has had some issues with its export business in Europe due to local homologation issues, so has BYD, which is facing some backlash over the recent warranty issue in Australia with the ATTO 3 and could possibly face a non-compliance issue related to a back seat child seat tether issue there. With BYD, Great Wall Motor's ORA and SERES all having just made a splash at the recent Paris Motor Show (a more detailed recap of their appearance there will be the topic of my next article coming later this month), the reputation of China EV Inc. is at stake.
And it's not just EV products that are hitting overseas markets. Chinese battery giants like CATL, Gotion, EVE, CALB and even BYD are in the process of expanding production outside China, some projects like the recent $2.36 billion investment by Gotion in Michigan have already been announced, and others like CATL's investment in a production facility in Mexico are forthcoming. And at home, these up and coming home-grown startups like Horizon Robotics will be increasingly favored by foreign automakers, as attested to Volkswagen's huge 2.4 billion Euro investment recently, be it geopolitical factors, localization needs or need for speed.
As I would always say on my podcast, the Chinese are coming, one way or another. There is certainly going to be winners and losers in this next phase of competition, but like or not, ready or not, and geopolitically or otherwise, China EV Inc. represented by the BYDs, the CATLs and the Horizon Robotics are only going to influence the rest of the world more.
Report by Lei Xing.