Japanese version is here.
Les chinois sont arrivés!
China EV Inc. are confident and ready to pounce on the European market, as exhibited at the recent Paris Motor Show. They have the design, the quality, the products while Europe has the demand. But it's not going to be all smooth sailing.
What a difference a month makes.
No Chinese automotive brands or automakers exhibited at the Detroit Auto Show, which returned to the Motor City in mid-September after a three-and-a-half-year hiatus (see "China factor" on display at latest international auto shows). But a total of nine (and probably not exhaustive), by my count, exhibited either directly, indirectly or in disguise at the Paris Motor Show, which returned to the City of Love after a four-year hiatus.
The world, in large part, is putting the pandemic in the rearview mirror and returning to normal, and China EV Inc. are on the move and electrifying Europe. They are bringing their latest products to local markets via a variety of different ways, and I saw it first-hand walking the show on the afternoon of the press day on October 17 at the Expo Porte de Versailles. Like the Detroit Auto Show, the Paris Motor Show is not what it used to be, at least not what it was like back in 2016, when I last attended. Automotive brands only filled two halls.
According to the show organizers, the 7-day event from October 17-23 attracted 400,000 visitors, less than half of the one million that attended in 2018, when it was held for 13 days.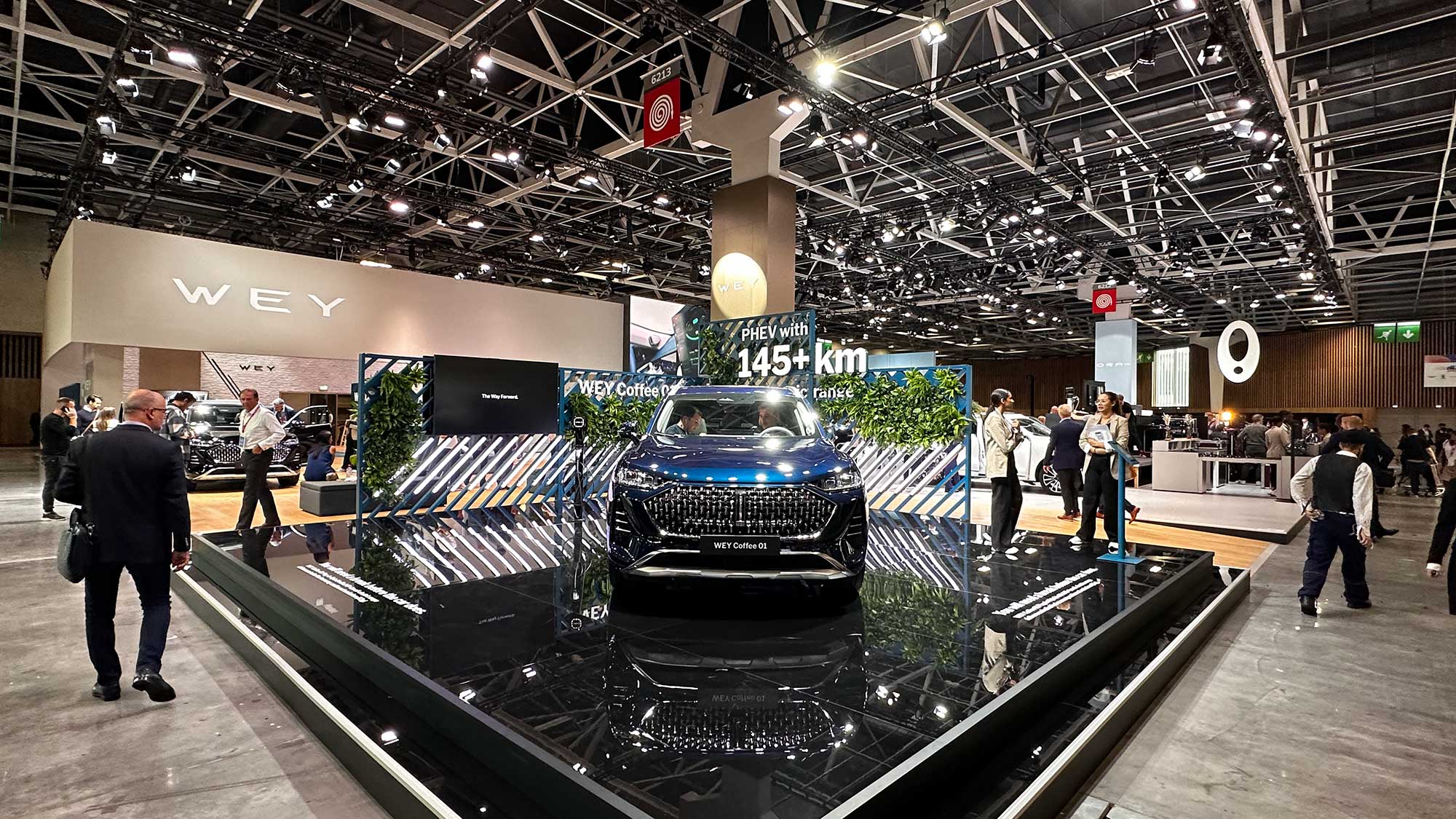 My general expectations going into the show were that it would be dominated by French brands from Renault Group and Stellantis on their home turf, half-dominated by Chinese brands led by BYD and Great Wall Motor (GWM)'s WEY and ORA, with a handful of American (Fisker), Vietnamese (VinFast), French (NamX, Hopium), Swiss (Microlino) and German (e-Go Mobile) EV startups.
BYD, WEY and ORA, having already established presence on the European continent, had confirmed their plans to exhibit well in advance of the show. Just before going to Paris, I found out that XEV, a European-based startup founded by a former JAC design executive was importing manual battery-swappable two-seater micro EVs made in China – called the YoYo – to Europe.
Surprise at the show
But there were five more, as I found out walking the show, which came as a pleasant surprise.
Over at Renault Group's brand booths in Hall 6, the Dacia Sping small electric SUV, which is made at eGT, Renault-Nissan's joint venture with Dongfeng in China, was exhibited right across from the Mobilize LIMO, which is produced by JMEV, Renault's JV with JMC, and now running on the mobility platform of the French automaker.
French distributor EVE (Espace Véhicule Electrique) brought the SERES 5 and SERES 3 as well as the LeapMotor T03 and C11, surprisingly, while the MG Marvel R (badged under the Roewe brand with the same model name in China) was one of several vehicles on display at a booth set up by Crédit Agricole Mobility in Hall 4.
Though Chinese smart EV startups NIO and Xpeng did not exhibit, their senior executives including Hui Zhang, managing director of NIO Europe, and Brian Gu, vice chairman of Xpeng, were seen walking the show and checking out cars from Chinese compatriots.
My afternoon started at the Dacia stand, where the Dacia Spring was on display for Renault Group's entry-level, youthful brand that presented its new brand identity. The Dacia Spring is the sister model to the Renault City K-ZE, which was previously produced at the Dongfeng-Renault JV that was unfortunately dissolved a few years ago. The model, along with sister model Dongfeng EX1, is now made at eGT in Shiyan, Hubei Province primarily for export, and has become one of the most exported EVs from China. According to official data, eGT sold 61,182 EVs in the first nine months of 2022, up nearly 120% year-on-year, with the majority exported to Europe.
Surprisingly, the Dacia Spring is the bestselling EV in France in terms of retail sales (excluding fleet sales), according to Xavier Martinet, SVP of marketing, sales & operations at Dacia. The model was revealed in March 2021, opened orders in June of that year at a starting price of 19,800 Euros, and as of September 2022 had received 94,000 orders, says Martinet. He tells me that it currently represents about 12% of Dacia sales, like the European EV penetration rate, and has a nice conquest from premium brands.
"It has the right content with the right price. You have a premium vehicle as the first car and take this for the mobility in the city as the second car," said Martinet. "We have a lot of conquests with the car: it's like 80% are coming from outside of the brand."
Literally across from the Dacia Spring is the Mobilize Limo, which is based on the Yi produced by JMEV in Nanchang, Jiangxi Province. It is a dedicated model for taxi and ride-hailing purposes on Renault Group's mobility platform in Europe, and recently received a Euro-NCAP 4-star rating. JMEV began exporting the Limo in February of this year and recently received an order for 600 units from Israel. While the Dacia Spring might be a no-frills EV, the Limo looks and feels like a premium, quality-built EV that you wouldn't tell was made in China.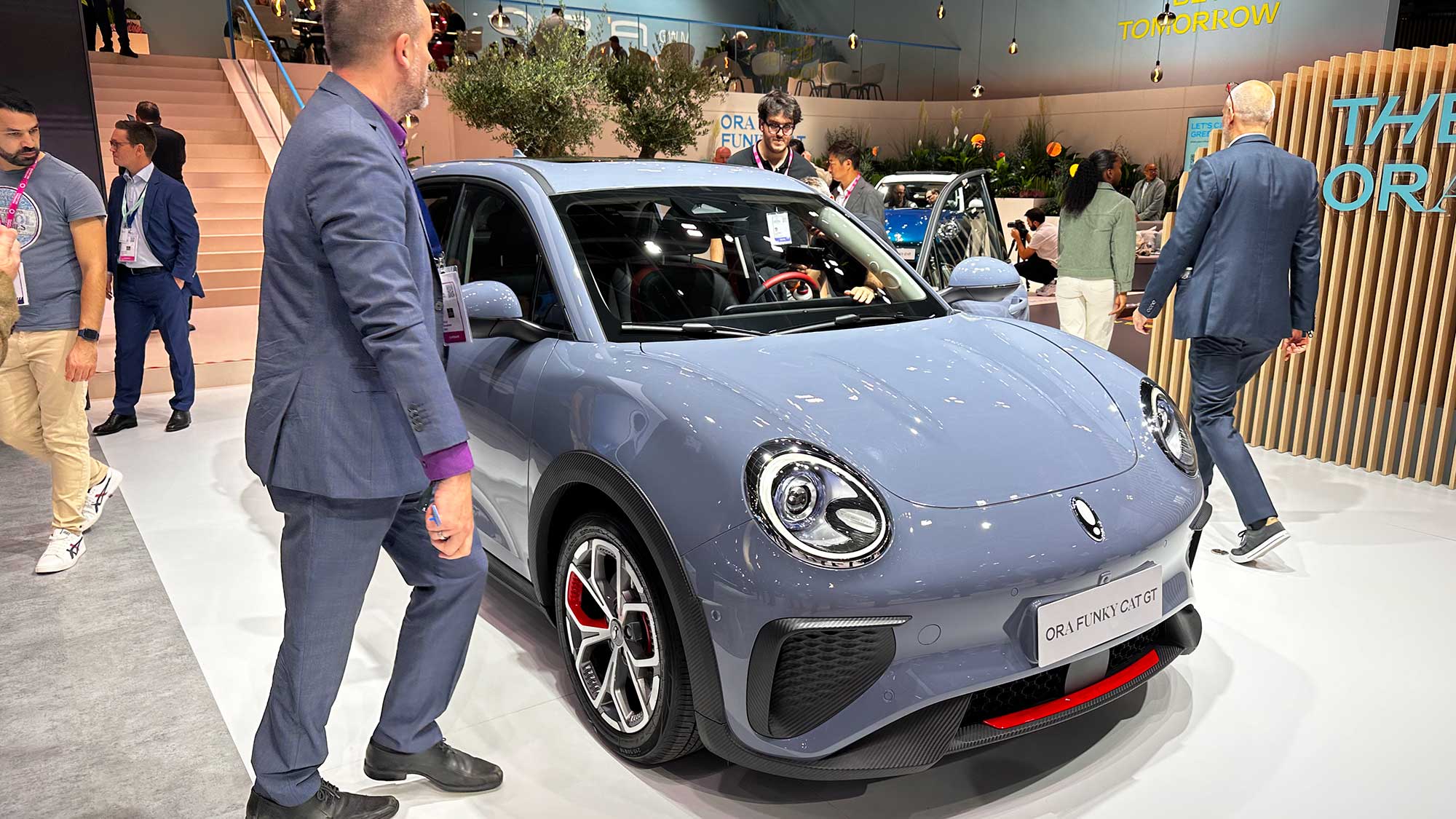 Not far from the Renault Group stands, GWM brought some coffee and cats from the WEY premium SUV brand and the ORA fashionable electric brand at a combined stand, where the WEY Coffee 01 and 02 PHEVs and the ORA Funky Cat, Funky Cat GT and the Next Ora Cat were presented.
"We are delighted to be able to showcase our electrified products at the Paris Motor Show and to be present as a company," said Henry Meng, president GWM Europe at the show. "Europe is the most important market for us outside China."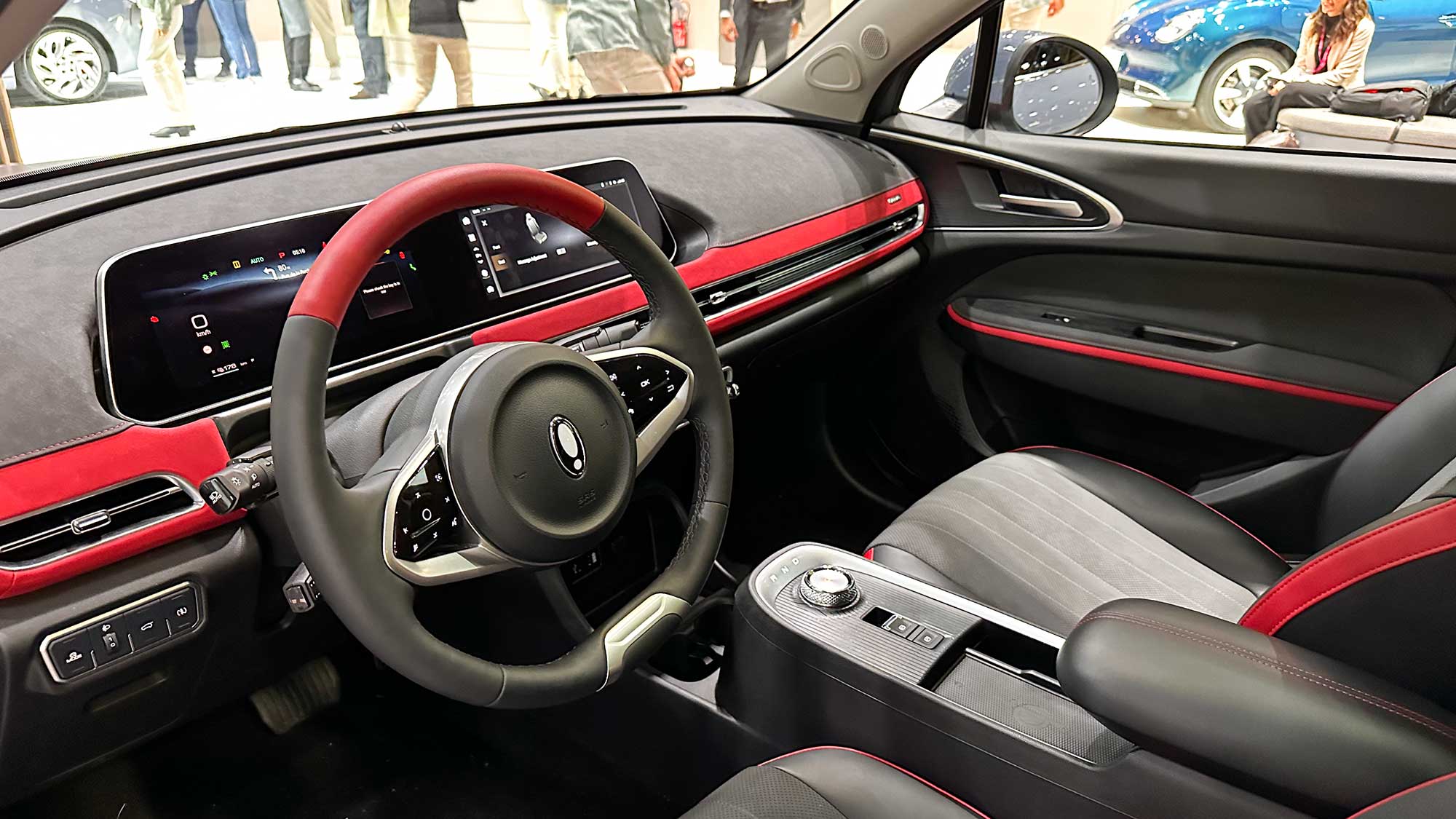 The Coffee 01 (based on the Mocha PHEV sold in China) and the ORA Funky Cat (based on the Good Cat sold in China), both having just received Euro-NCAP 5-star ratings, were officially launched for the European market. The Coffee 01, claiming to have the longest pure battery EV mode range of any PHEV on the market at 148 km (WLTP) and total range exceeding 800 km, will be available in a Premium trim at 55,900 Euros and a Luxury trim at 59,900 Euros for the German market. In the first half of 2023, the Coffee 02, the smaller sibling to the Coffee 01, will be available in Europe in a base 2WD version as well as a 4WD version with similar performance.
GWM has been preparing for market launch for the first European markets since its debut at the IAA Mobility in Munich last year, with an initial focus on the French and German markets. ORA will start delivering the first Funky Cat in Germany in 2022, followed by the UK and Israel. Customers in Germany can already configure their WEY in the My-WEY App, and in November, order systems will be open. At the same time, WEY's retail partner Emil Frey Group will start opening their first points of sale in Germany. By the end of Q1 2023, 60 sales and service outlets across the country will be established, and finance & leasing products will be provided by Santander Consumer Finance.
According to Patrick Reimers, director of fleet, corporate sales & remarketing Europe at GWM, ORA plans to launch 200 sales & service points in Germany in the long term, and in the UK & Sweden, dealer contracts are being signed, with more European markets to follow in 2023.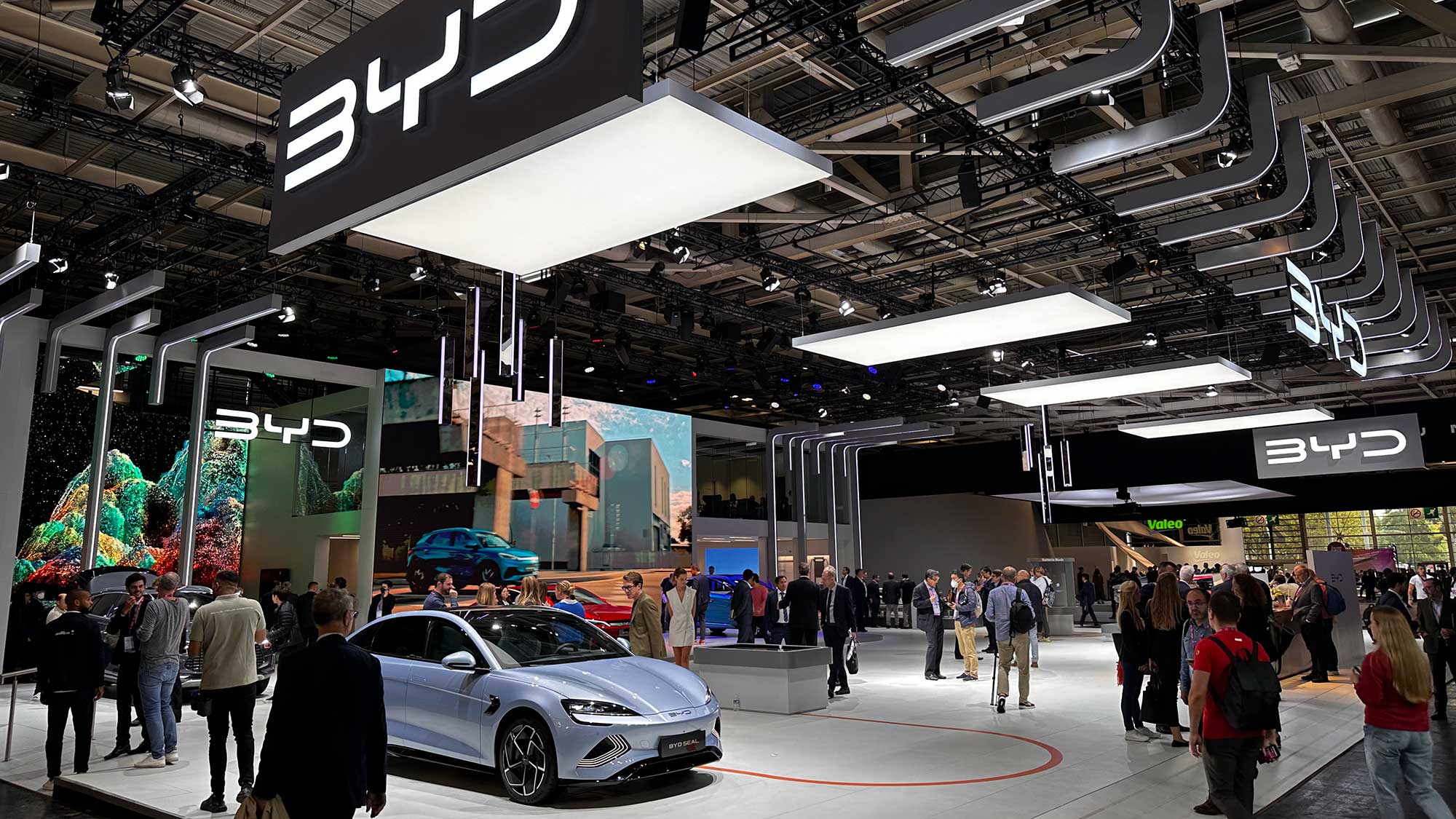 Like GWM, BYD stole the spotlight over in Hall 4 with the Han, Tang and ATTO 3, a special appearance of the Seal as well as a host of other exhibits showing off its vertical integration capabilities. Less than three weeks earlier, BYD had already announced pre-sale pricing of the European passenger car range, with the Han sedan and Tang 7-seater SUV retailing at 72,000 Euros and the ATTO 3 compact SUV at 38,000 Euros. These models will be initially available in Norway, Sweden, Denmark, the Netherlands, Belgium, Luxembourg and Germany with an 8-year power battery warranty. Before the end of the year customers in France and the UK will also have access to these models.
Michael Shu, general manager and managing director of BYD Europe and International Division, stressed the importance of working with local partners to serve European customers well.
"We have high respect for the European auto industry and its ecosystem, including design, R&D, manufacturing, sales, aftersales network, and services. Our strategy is to work with established and respected local dealers who share our vision, to provide high levels of customer service," he said. "Therefore, BYD has prepared the European market entry with care. With our car design, our technology, our services, and our dealer partners BYD will try to stand out from the crowd and offer the best possible experience to European consumers."
At the show, BYD announced cooperation with seven key dealers in Germany forming a nationwide dealership network, which will provide regional sales and aftersales services to customers throughout Germany in late 2022/early 2023. These retail stores will be located in
Munich (Reisacher), Berlin (Stern Auto), Hamburg (Stern Partner), Stuttgart (Hedin), Frankfurt (Torpedo), Koln (Senger) and Ravensburg (Reiss).
"We recognize the significance of meeting the high expectations of customers in Germany and above all, respect the local automobile ecosystem," said Shu. "That is why we place so much value in local cooperation giving consumers access to comprehensive local resources and high levels of customer service. Accordingly, we have carefully appointed established dealers who have extensive market experience and strong consumer recognition, at key locations across Germany."
The highlight of my afternoon was test driving the ATTO 3 in the streets of Paris, and I must say, it's a good-sized EV with quality materials and quirky features perfect for city driving. For customers that get to drive one of these available on European rental platform Sixt later this year through that deal signed in early October – which will see more than 100,000 EVs procured from BYD by 2028 – I'm confident they will be satisfied.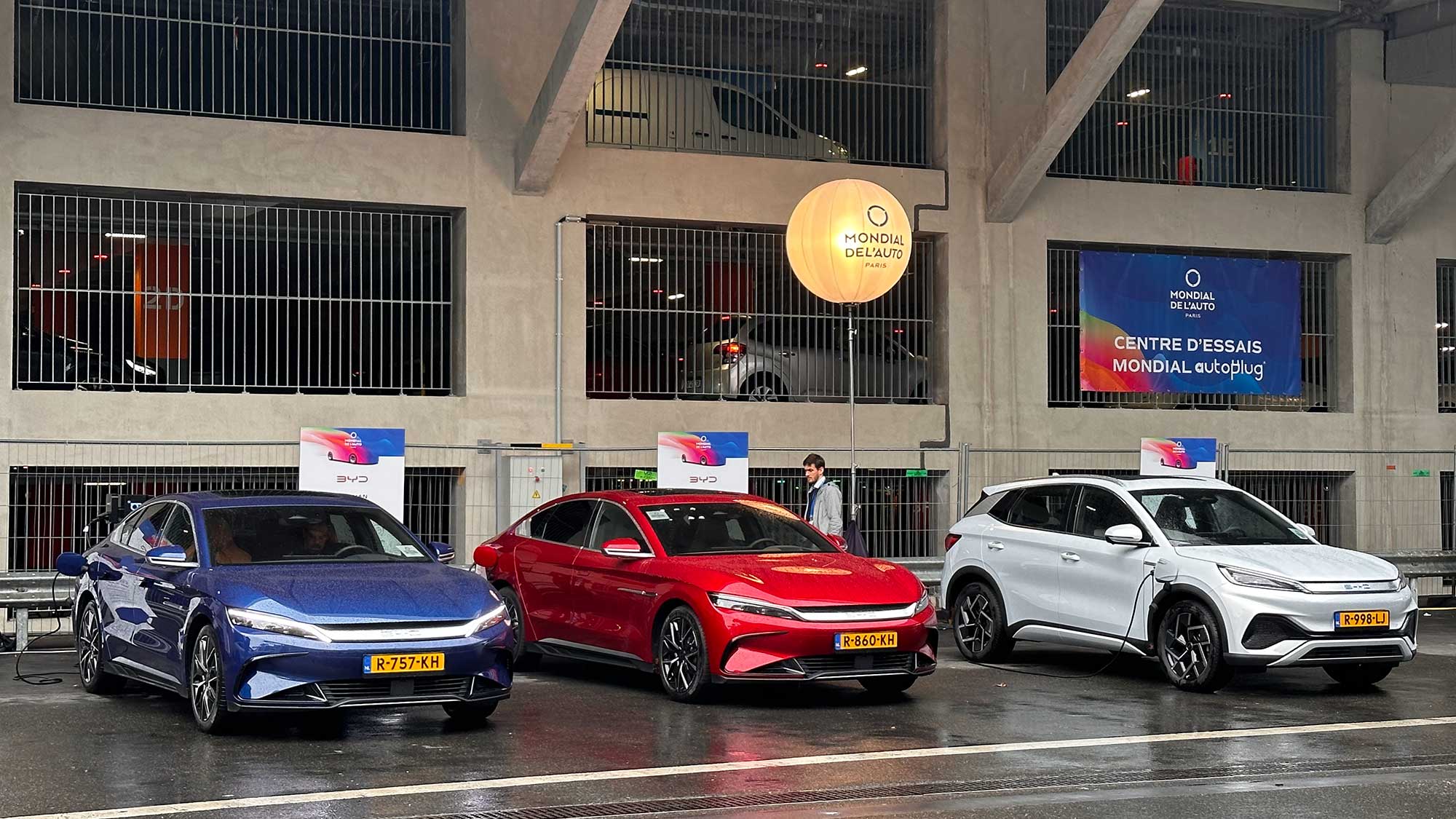 Successful future anticipated for Chinese EVs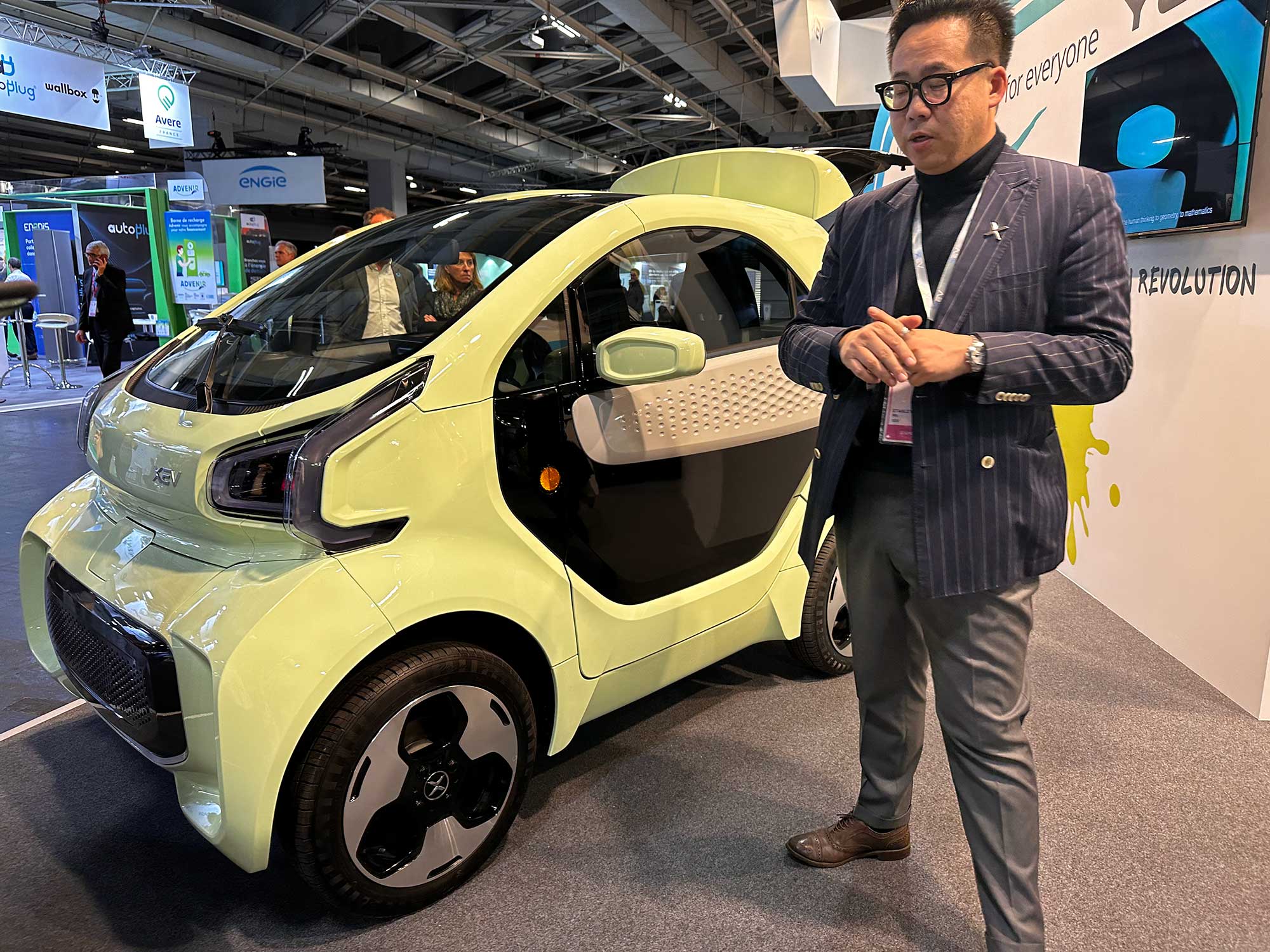 Speaking of quirkiness, the XEV Yoyo two-seater EV equipped with three separate battery packs in the back totaling 10.4 kWh that can be manually swapped is one of the quirkiest EVs on display at the show, not so much of the EV itself but rather the manual battery swapping.
The YoYo is produced at a manufacturing subsidiary in Hefei, Anhui Province wholly owned by XEV, which was started in Turin, Italy in 2018 by Stanley Lu, former head of European design for JAC, hence the Hefei-Turin connection. The YoYo right now is produced exclusively for export to Europe, where XEV and Italian energy giant ENI (similar to China's Sinopec) are working to roll out a network of swap stations to serve time share rental customers. The swap stations will have workers manning the stations to manually change batteries for users, and require only tens of thousands of Euros upfront investment, as opposed to gas stations that often require upwards of one million Euros in investment.
Lu tells me that the smart-sized YoYo only retails for 12,000-13,000 Euros after subsidies and are targeted at the roughly 100 million car owners that are blue collar workers in Europe that may not have the convenience to charging when they switch to EVs. XEV has sold about 10,000 YoYos in Europe and expects sales to reach 30,000-40,000 units next year, according to Lu, who believes the potential is there for XEV to produce 200,000 units a year.
"This is the perfect combination of China's manufacturing prowess and experience in the EV ecosystem, which the traditional European automakers do not yet have," Lu said. "And we'd like to capitalize on that." He revealed that he would like to bring this business model back to China starting in Q2 of 2023.
A few stands away from XEV is the EVE stand with the surprise appearance of the aforementioned SERES and LeapMotor products. Frederic Robert, commercial director of EVE France and previously having worked for Chery International, tells me that EVE is working with dealers to distribute the SERES 3 in France, having already helped SERES parent company DFSK to distribute its electric van. The LeapMotor T03, according to Robert, is expected to launch in France in late 2022 or early 2023 but exact plans have not been made official. "That's why they are in the backstage," he said.
Across from the BYD stand was the Crédit Agricole Mobility stand which displayed the MG Marvel R. Jacky Delorme, head of fleet sales for MG Motor France and one of the very first French employees of MG Europe, tells me that the model has been on sale in France for a year available at 145 dealerships (part of 850+ expected in Europe by yearend), and MG is distributed in a dozen countries throughout Europe. The model on display, according to Delorme, retails for 47,000 Euros before subsidies (which is 6,000 Euros for individual buyers). "The market positioning for MG in France is we are offering premium models, premium quality with mainstream pricing," he said. "We have a 7-year warranty as well."
The one thing that MG has that other Chinese brands don't have is its UK heritage, which may have been a huge plus driving the success of the brand and its EVs in Europe, so far.
And speaking of success, based on what I saw first-hand at least from a product perspective, China EV Inc. have come a long way, even compared with three years ago, and all the ingredients are there to be successful in Europe. Some of them like MG have already established a strong foothold there, while others are entering via a variety of different ways, directly or indirectly, as you can see from above.
But it's not going to be all smooth sailing. They need to get everything right the first time and can't afford miscues in execution, because the reputation of the entire China EV Inc. is at stake. On the other hand, they need to be ready to confront geopolitical backlashes resulting from hostile comments Stellantis CEO Carlos Tavares made toward Chinese companies getting a "free pass" into Europe, and the possibility that protective measures may be implemented against them.
Report by Lei Xing.