【日本語訳記事】
中国で急増するEV大型トラック/2021年の躍進を解説
Drastic increase in electric trucks with battery swapping technology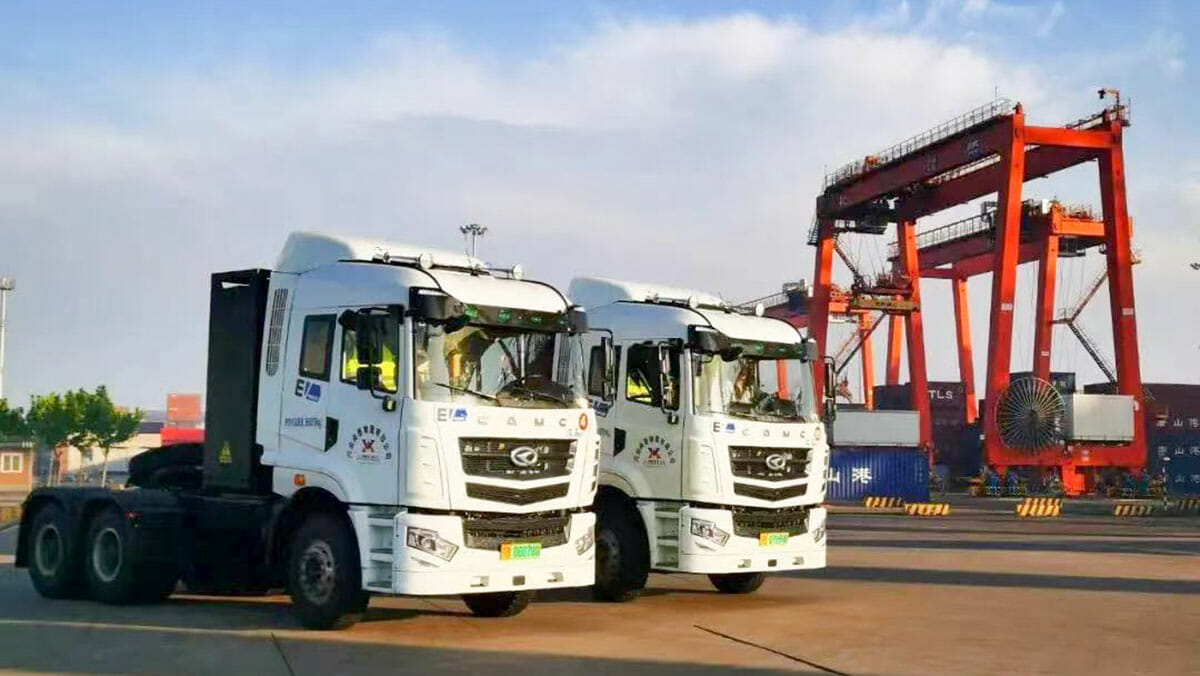 So much have been said of China's phenomenal new energy vehicle (NEV) sales in 2021, which grew by an astonishing 2.5X to over 3.5 million units, more than half of the global total.
Most of the narratives have been focused on new energy passenger vehicle sales led by BYD, Wuling, Tesla and Chinese smart EV startups like Xpeng, NIO and Li Auto. Though new energy PVs accounted for the bulk (roughly 95%) of NEV sales at about 3.33 million units, and the remaining 5% or so (186,000 units) new energy commercial vehicles that were sold grew at only a third of the pace (54% vs. 167.5%), it was new energy heavy-duty trucks that took home the crown as the fastest growing NEV segment.
According to compulsory insurance data (not including military vehicle sales or exports), more than 10,000 new energy heavy-duty trucks were sold in China for the first time ever (see Table 1), growing 4X (298.93%) over 2020. In December alone, sales jumped 867% to more than 3,000 units, following three consecutive months of over 1,000 units in sales. Monthly sales had been on a tear since March, growing at least 100% year-on-year in nine of the 10 months, including average growth of nearly 6X from August to December.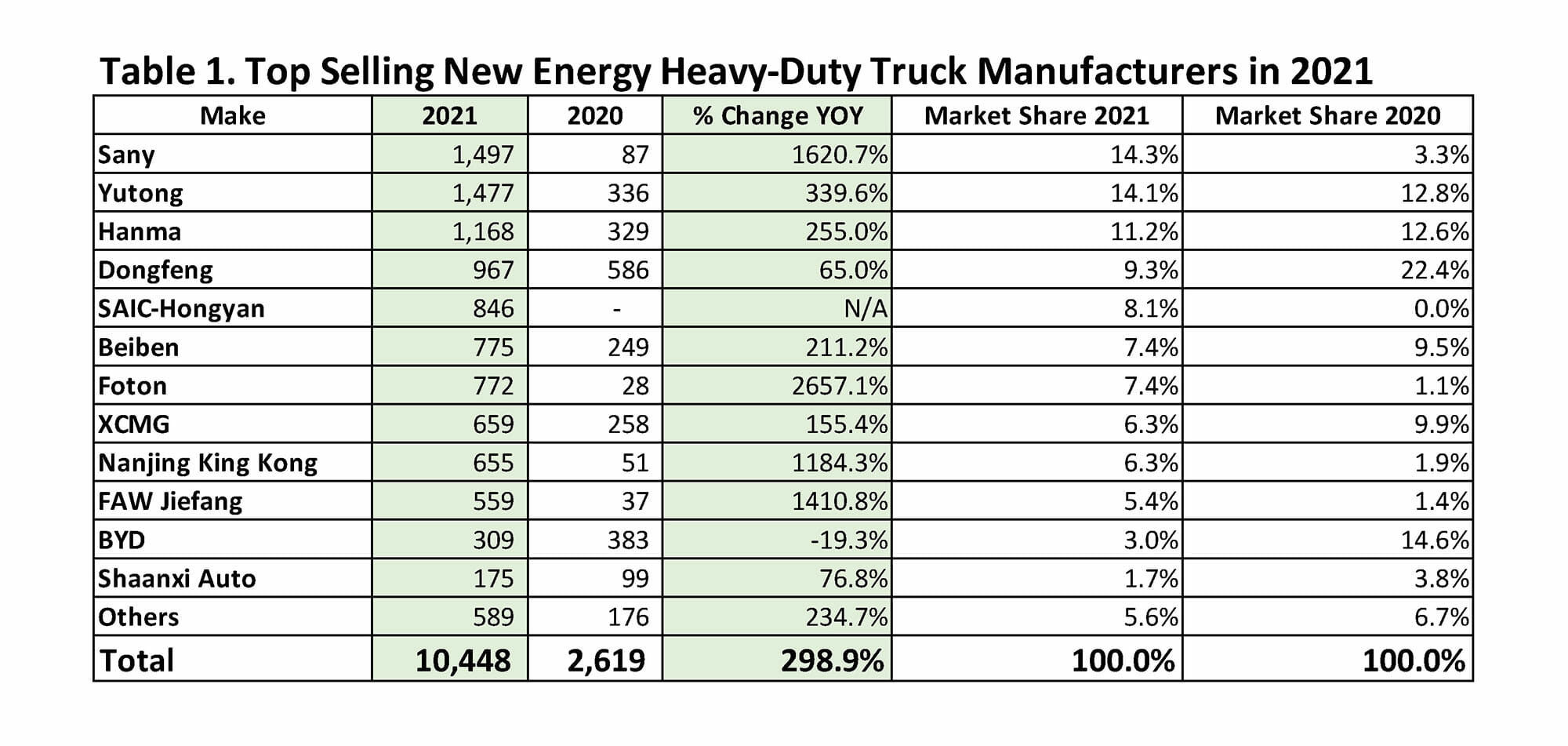 What were some of the reasons for the surprise "gush" in December and as well as most of 2021?
One major reason behind the spurt is the phase out of NEV subsidies, which will be completely gone starting from January 1, 2023. According to plans announced in 2020, NEV subsidies will drop 10%, 20% and 30% successfully in 2020, 2021 and 2022 respectively over the previous year's levels. For the new energy heavy-duty truck segment (excluding environmental sanitation vehicles and others serving the public), that means getting RMB40,000 per truck in 2021 (20% less than the RMB50,000 in 2020) as opposed to getting only RMB28,000 per truck in 2022 (30% less). This discrepancy was big enough to cause a huge pre-buy effect in the last month of the year, as customers looked to register trucks before the last day of the year.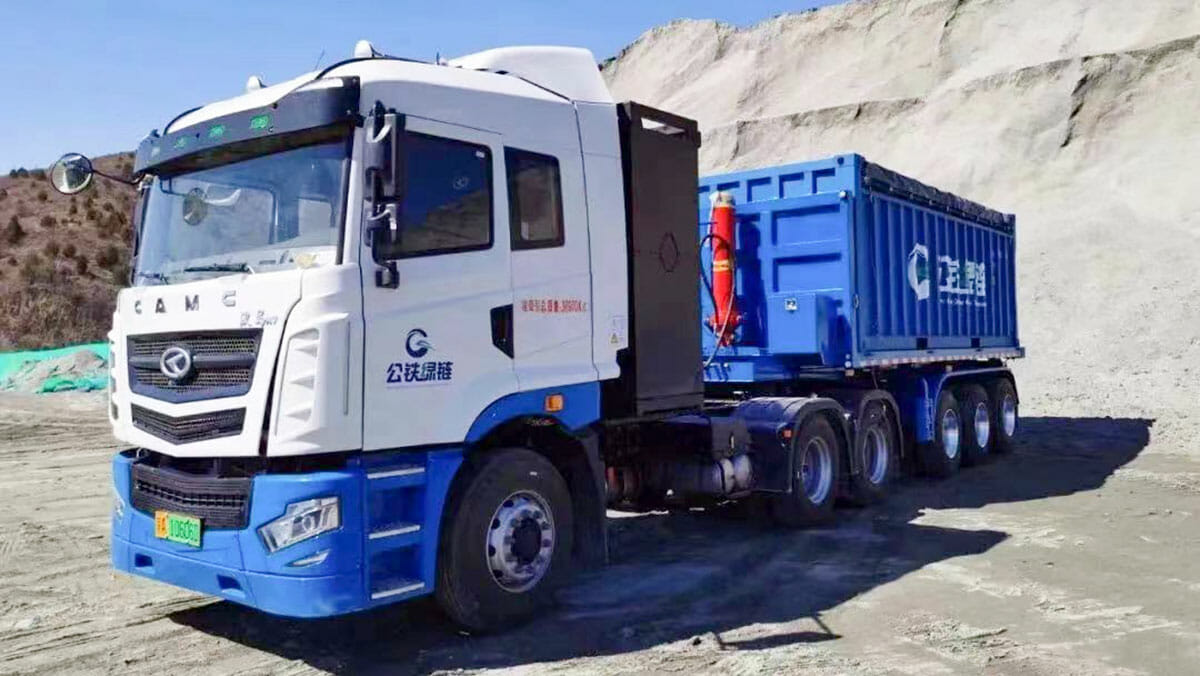 Another big reason for the spike in sales in 2021 is demand for new energy tractors with swappable batteries drastically increased from mines, steel mills, power plants and ports that have fixed operational routes spurred by carbon peaking & neutrality requirements. A total of 5,528 new energy heavy-duty tractors were registered in 2021 (see Table 2), up 8X over 2020, and accounting for more than half of the total new energy heavy-duty trucks registered.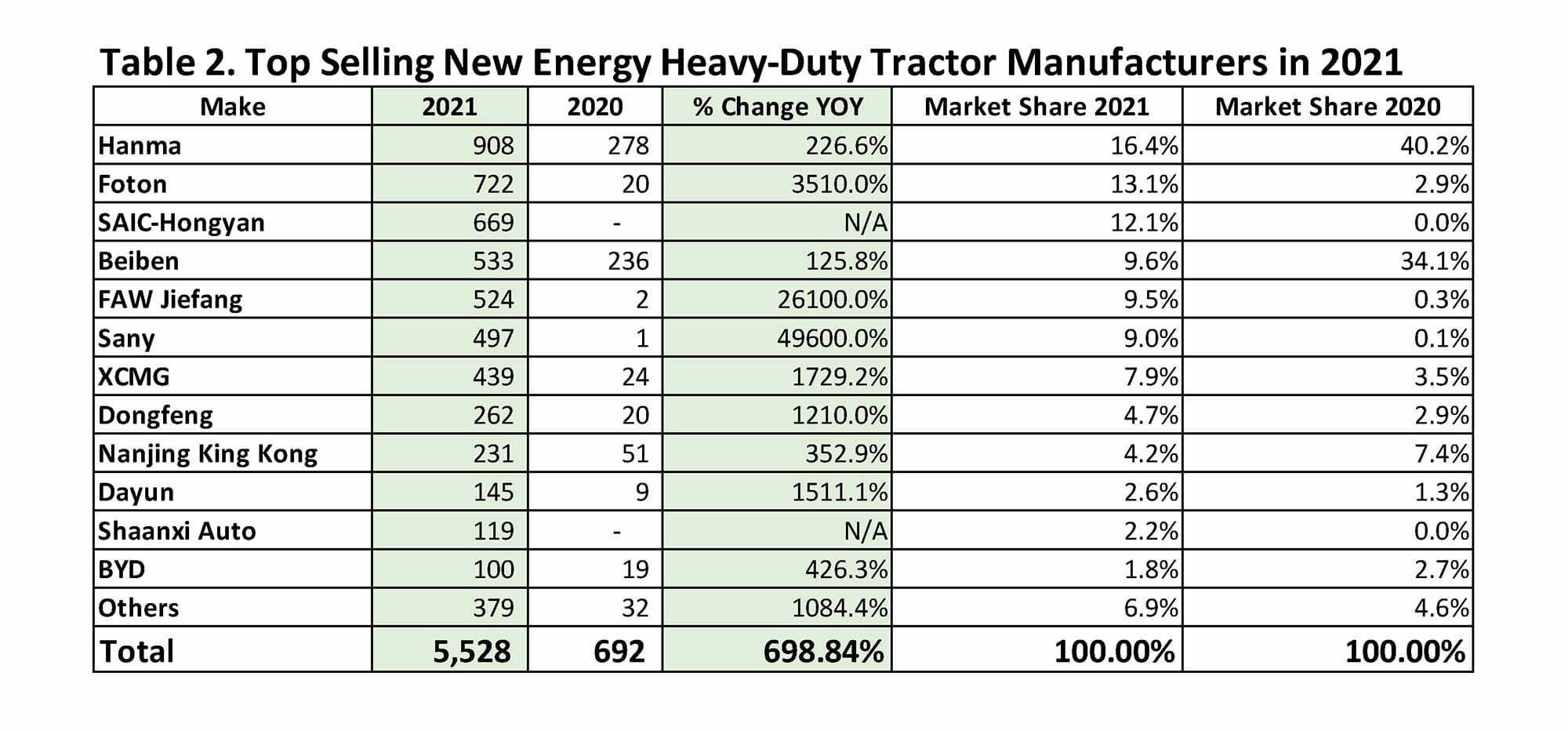 Battery electric heavy-duty trucks dominated the new energy heavy-duty truck segment in 2021 with 92.36% of shares, though that was down 6.34 percentage points over 2020, mostly taken away by fuel cell electric heavy-duty trucks, which accounted for 7.46% of new energy heavy-duty truck sales. Diesel hybrid heavy-duty trucks accounted for just 0.18% of the market, down 0.43 percentage point.
A big reason behind the jump in fuel cell electric heavy-duty truck sales is the start of China's fuel cell electric vehicle pilot city cluster project in 2021. As the table shows below (see Table 3), nearly 800 fuel cell electric heavy-duty trucks were sold in 2021, up a mind-boggling 4,228% year-on-year over the small base of just 18 units sold in 2020. A total of 11 manufacturers produced and sold these types of trucks in 2021, more than double the five in 2020. Nanjing King Long, for example, accounted for nearly half of the sales and was one of six manufacturers that did not have any sale at all in 2020. These vehicles are already registered and in operation in pilot city clusters in Shandong, Hebei, Guangdong, Inner Mongolia and Hunan Provinces as well as cities like Beijing and Shanghai.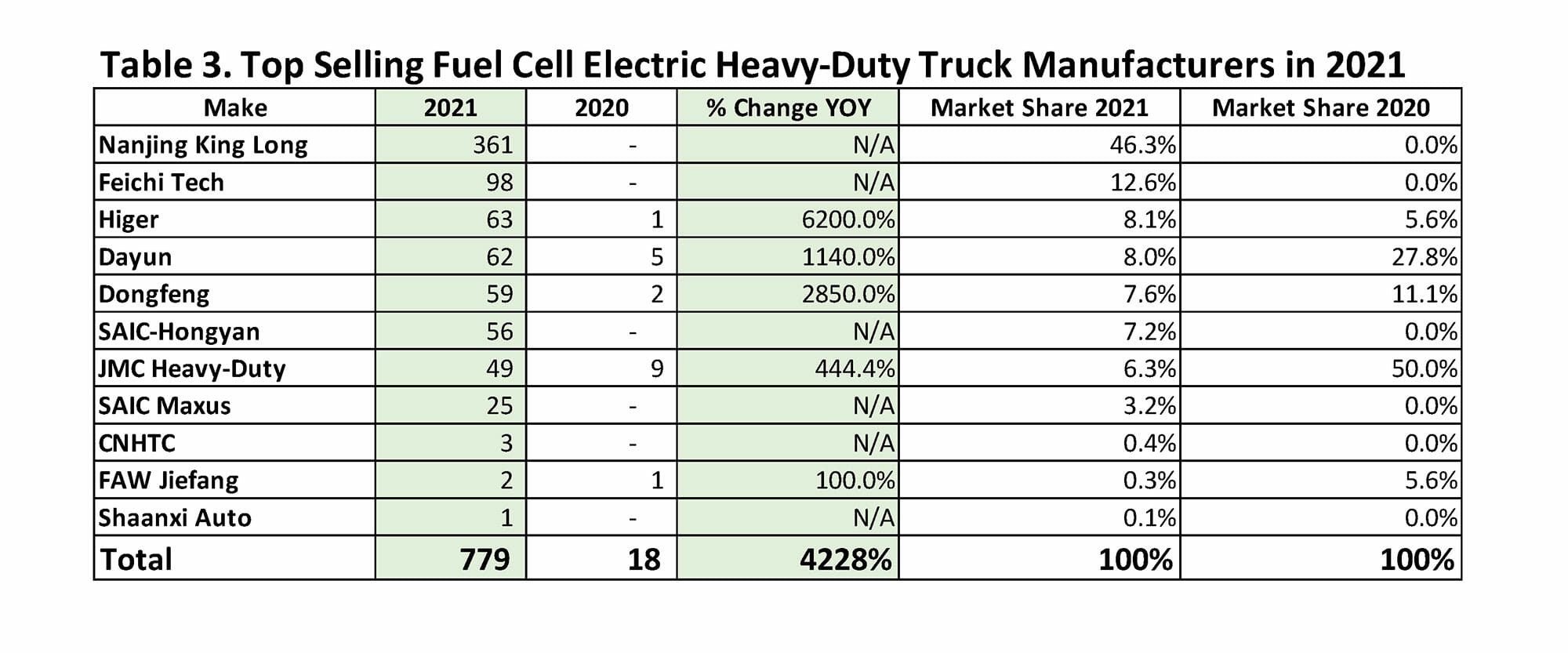 Predicted electric tuck sales doubled for 2022
In terms of the major players in the new energy heavy-duty truck market, Sany, Yutong and Hanma (Hualing) were the "Big 3" each with more than 1,000 units sold. Sany and Yutong was neck and neck and the three combined accounted for roughly 40% of the market. A total of 13 manufacturers sold at least 100 new energy heavy-duty trucks, with the top 11 all selling at least 300 units.
Worth noting in particular is that because of the extremely low base of just a few dozen or hundred units sold in 2020, most of these players achieved 10X, 20X or more of growth. FAW Jiefang, China's leading heavy-duty truck manufacturer, for example, saw a 14X growth, while Sany and Foton had 16X and 26.6X growths, respectively.
Most of the players that are ahead of the pack benefited from the aforementioned demand on tractors. A total of 12 manufacturers had sales of at least 100 tractors in 2021, and the total number of active players in the new energy tractors sub-segment increased for 14 in 2020 to 21 in 2021.
The general consensus for the new energy heavy-duty truck market in 2022 is that sales will at least double to 20,000 units, with demand estimated to be as high as 50,000 units. Many in the industry are expecting new energy heavy-duty truck sales, which currently account for less than a third of a percent of China's total NEV market, to hit a tipping point around 2024, like what happened with new energy buses in 2015 and 2016 when penetration skyrocketed from 20% to 80% within a short period of time.
Report by Lei Xing