A link to Japanese translation is here.
Chinese EVs, AVs and tech are coming, in different ways, directly or indirectly.
It was my first time attending the event in person since CES 2020, just before the start of the pandemic that changed the world forever. Up until then, I had physically attended CES for five years straight since 2016.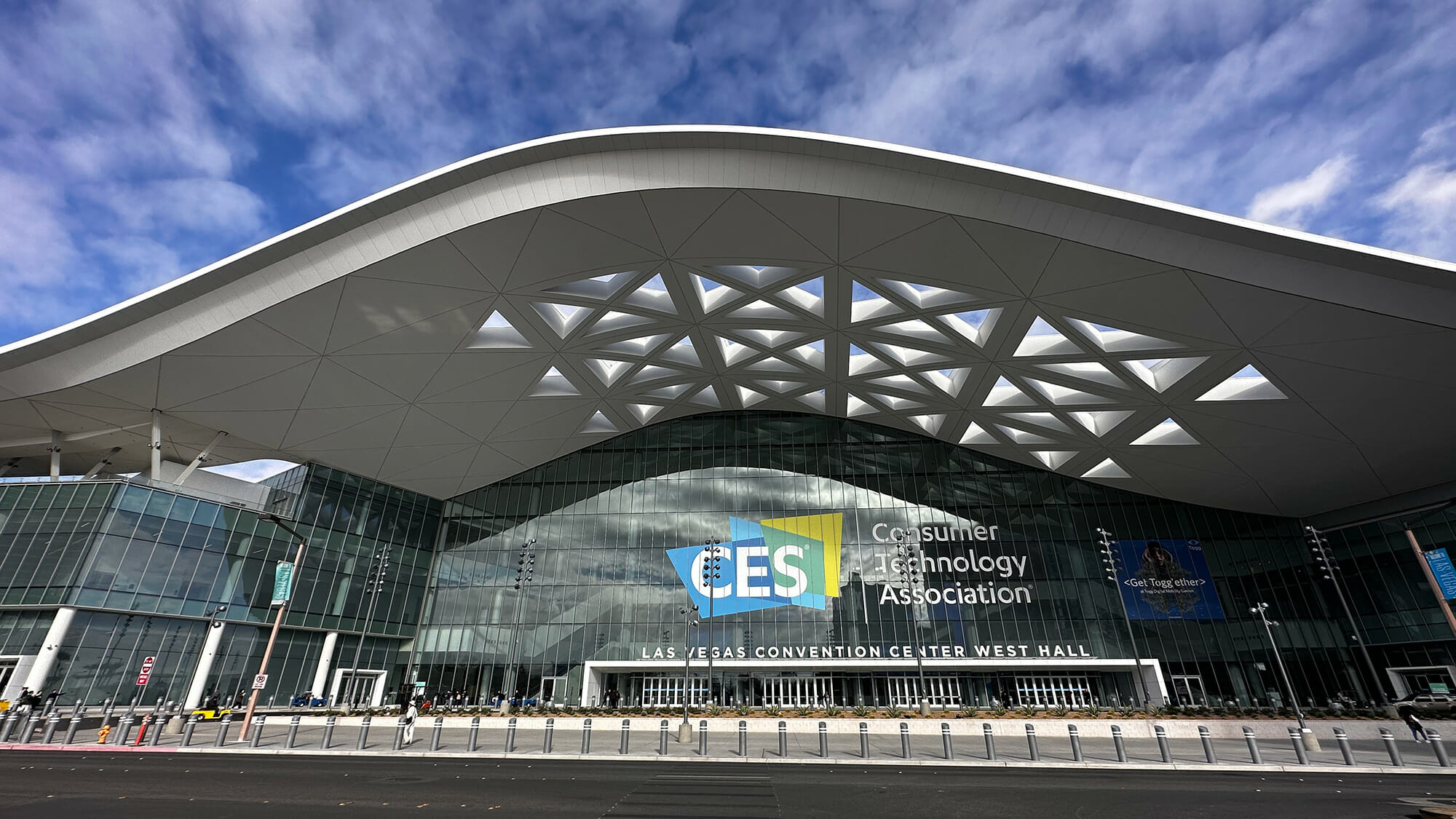 China had always been a factor at CES, be it the sheer number of Chinese companies exhibiting themselves, the majority of which often come from Shenzhen, or global companies exhibiting products and technologies that often have implications on the Chinese market.
After a two-year hiatus, including last year's in-person event that was nearly canceled again because of the Omicron variant, CES was back to its usual ways with crowd buzzing and packed press conferences and other events. More than 120,000 people attended CES 2023, including a third from overseas, while more than 3,200 companies exhibited. That included over 300 vehicle technology related companies, prompting organizers to declare CES 2023 as one of the largest auto shows in the world.
This year's CES also coincided with China finally opening up so there were many more people from China attending than I expected. I met quite a few of them in person for the first time ever after connecting online during the pandemic, and I also met many executives, both Chinese and foreign, that I had previously met when I was in China pre-pandemic. My own spin on the CES acronym was "connect, experience and surprise," and CES 2023 lived up to that in every sense.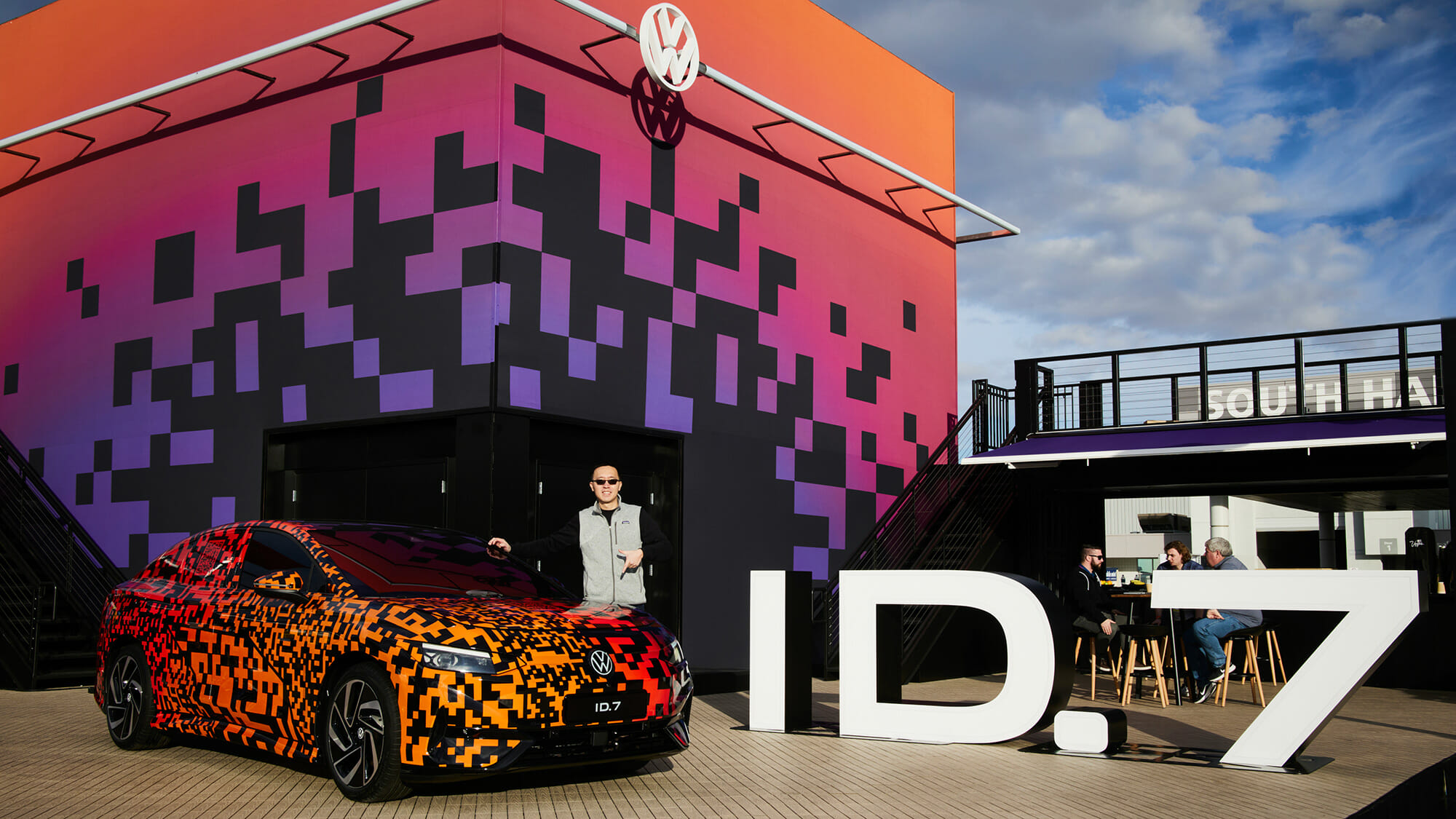 The first China factor came on January 3, when Volkswagen unveiled a camouflaged version of the ID.7, the sixth model from the ID. family and the second global model after the ID.4. Also the first sedan from the ID. family, the ID.7 has a range of up to 700 km (WLTP) and will be offered in three primary markets of China, Europe and North America. In China, the ID.7 will be produced at Volkswagen's joint ventures SAIC VW and FAW-VW, like the ID.4 and ID.6. The world premiere of the series production version is scheduled in Q2 and market launch is expected in the second half of 2023. It'll likely face stiff competition in China's cutthroat NEV market where foreign brands beside Tesla have not had much success, though Volkswagen has done relatively well among foreign brands, having sold more than 140,000 ID. models there last year.
That evening, I attended a private media event organized by ZF and shared my thoughts on the Chinese market in length with Stephan von Schuckmann, the new member of the board of management responsible for Asia Pacific, Materials Management and Electrified Powertrain Technologies. I last met von Schuckmann in March 2019 in Shanghai, nearly four years ago.
Speaking of ZF, I got to experience the race simulator ZF put up at its booth later in the week featuring its steer-by-wire (SBW) technology, which will be equipped on NIO's next generation of vehicles starting in 2025. The deal was signed last October making NIO the first ever customer in the Asia Pacific region to feature this technology on its cars.
The next day, leading global tier-1 suppliers including ZF, Bosch, Valeo, FORVIA (combining Hella and Faurecia) and Continental, which all have significant presence in China, were the usual suspects doing press conferences.
HOLON, a startup that spun off from German supplier Benteler, presented a driverless shuttle, or mover, at its press conference, where I met CEO Marco Kollmeier. I last spoke to him at Auto Shanghai 2017 when he was vice president of e-mobility at Benteler. He told me in an interview that he was looking forward to going back to China and maybe show the mover at an upcoming event there.
Later that day, U.S. LiDAR startup Luminar presented the North American debut of the Rising Auto R7, which is equipped with Luminar's Iris LiDAR as an optional package. It was my first time ever seeing this smart EV in person and I got to bump fists with Founder & CEO Austin Russell. Funny enough, two Americans sitting next to me at Luminar's press conference thought it was a Rivian (the R7 had a "R" badge on the hood), and I immediately corrected them and told them that it is a smart EV from China's largest automaker SAIC Motor.
It didn't take long for China to come up over the course of the day. At FORVIA's press conference, the second of the day following Bosch, CEO Patrick Koller talked about Chinese small EVs being priced at around 10,000 euros less than their European counterparts, giving them a competitive edge in Europe. He questioned that the EU community would find a consensus to reduce imports coming from China partially since the Germans are making in excess of 50% of their profit through their sales in China.
"Why should they do this if there is an alternative? Because people will want these cars, they have these mobility needs," Koller told me at the press conference. "If we are not capable to provide them, why should we avoid selling these existing Chinese vehicles?"
He stressed that Europe has started an EV revolution through regulations, but is late in infrastructure and electricity production, whereas China did it in the right order.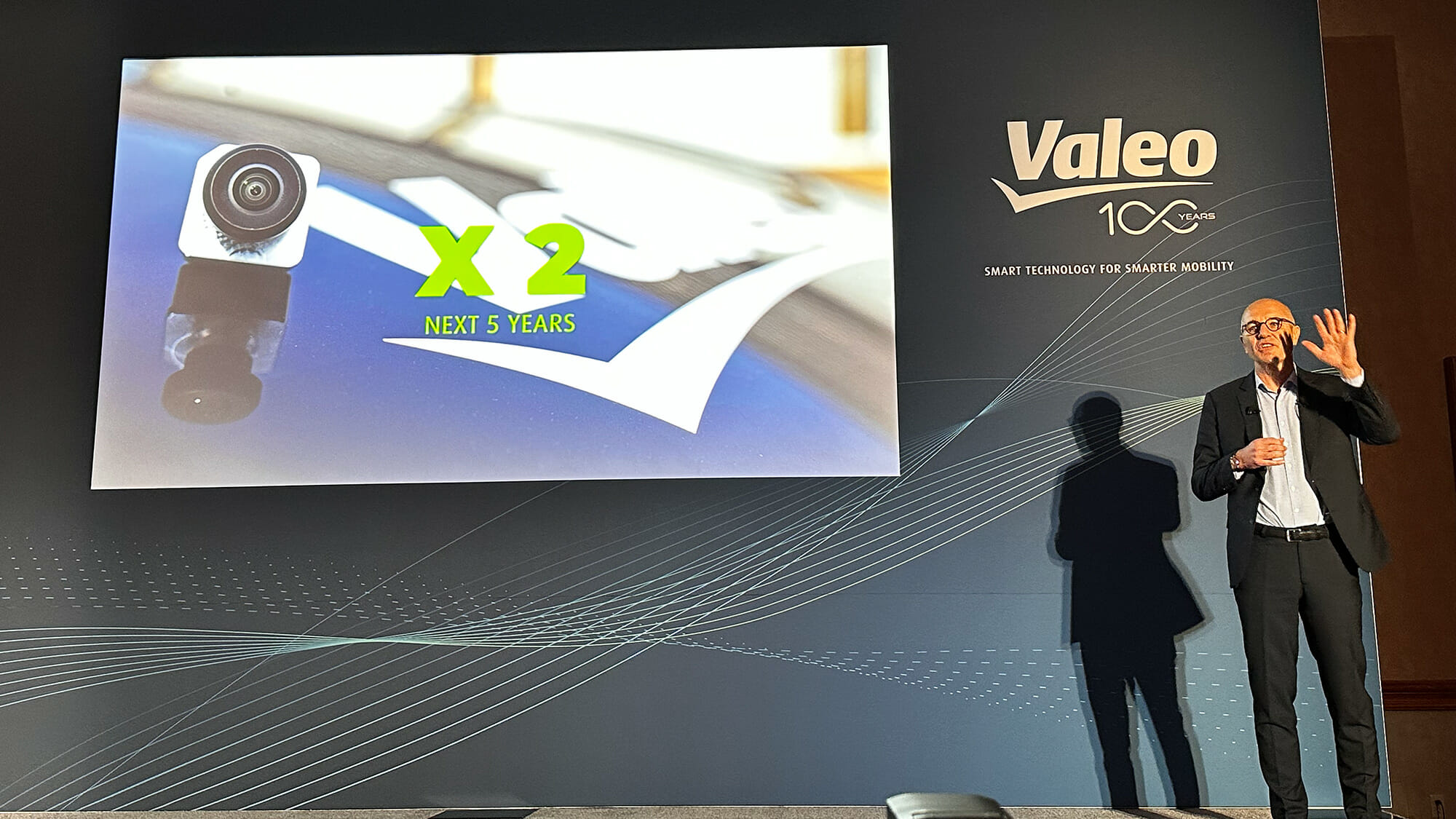 At Valeo's press conference, I met up with Francois Marion, current senior VP of Group Corporate Communications & Investor Relations, whom I last met in April 2019 at the Shanghai Auto Show while he was still president of Valeo China. His boss, CEO Christophe Périllat, told me at the press conference that he expects global LiDAR shipment to reach a million units annually within 3-5 years, especially now that LiDARs have been popping up on Chinese smart EVs like the NIO ET7, ET5 and ES7 and Li Auto L9 and L8, supplied by Chinese LiDAR startups Innovusion and Hesai.
LiDAR in my mind was the biggest theme within vehicle tech at CES 2023, where, by my count, nearly 20 LiDAR companies including Valeo, exhibited. While the French supplier is the "OG" when it comes to LiDAR production and this technology being commercialized on passenger vehicles such as the Mercedes S-Class/EQS and Honda Legend, and soon several models from various brands of the Stellantis Group, it is facing stiff competition from the Chinese.
Hesai, Innovusion and RoboSense, the Chinese LiDAR "Big 3," along with lesser-known Chinese LiDAR startups such as ZVISION and VanJee, all exhibited at CES 2023 along with foreign foes including Luminar, Innoviz, Cepton, Ouster, LeddarTech, Opsys, AEVA, AEye (in collaboration with Continental), PreAct as well as the established tier-1s including Valeo, Bosch and even Mobileye.
Each of the "Big 3" unveiled their "blind spot" or short-range LiDAR products to complement their existing long-range LiDAR products, which have already found their way onto Chinese smart EVs, as aforementioned. Innovusion and Hesai, in particular, announced ahead of CES 2023 that they had delivered over 50,000 and 100,000 LiDARs as of 2022. Hesai also announced a design win with Rising Auto, interestingly enough, on one of the brand's next new models. That presents an interesting scenario for Luminar, and I'm told that RoboSense, which is supplying LiDARs to Lucid, is also expected to get a win from Rising Auto.
Dr. Junwei Bao, co-founder and CEO of Innovusion, the exclusive LiDAR supplier of NIO, told me in an exclusive interview on January 6 that he seconded Valeo CEO's outlook on LiDAR market potential.
"Within the next 2-3 years, the volume shipment of LiDARs worldwide will be surpassing a million units a year and over the next 5-10 years, LiDAR penetration on vehicles will surpass 20-30% globally," he said.
An interesting moment came at the Hesai booth when I bumped into David Li, founder and CEO, Dr. Bao, and Tony Han, founder & CEO of Chinese self-driving startup WeRide, which also exhibited at CES 2023 and primarily uses Hesai LiDARs on their robotaxis. The three of them happened to be debating who was the No. 1 LiDAR supplier in 2022 and came to the consensus that it was Innovusion based on the number of private vehicles in customers' hands with LiDARs, as Hesai's volume included LiDARs in additional to private passenger vehicles.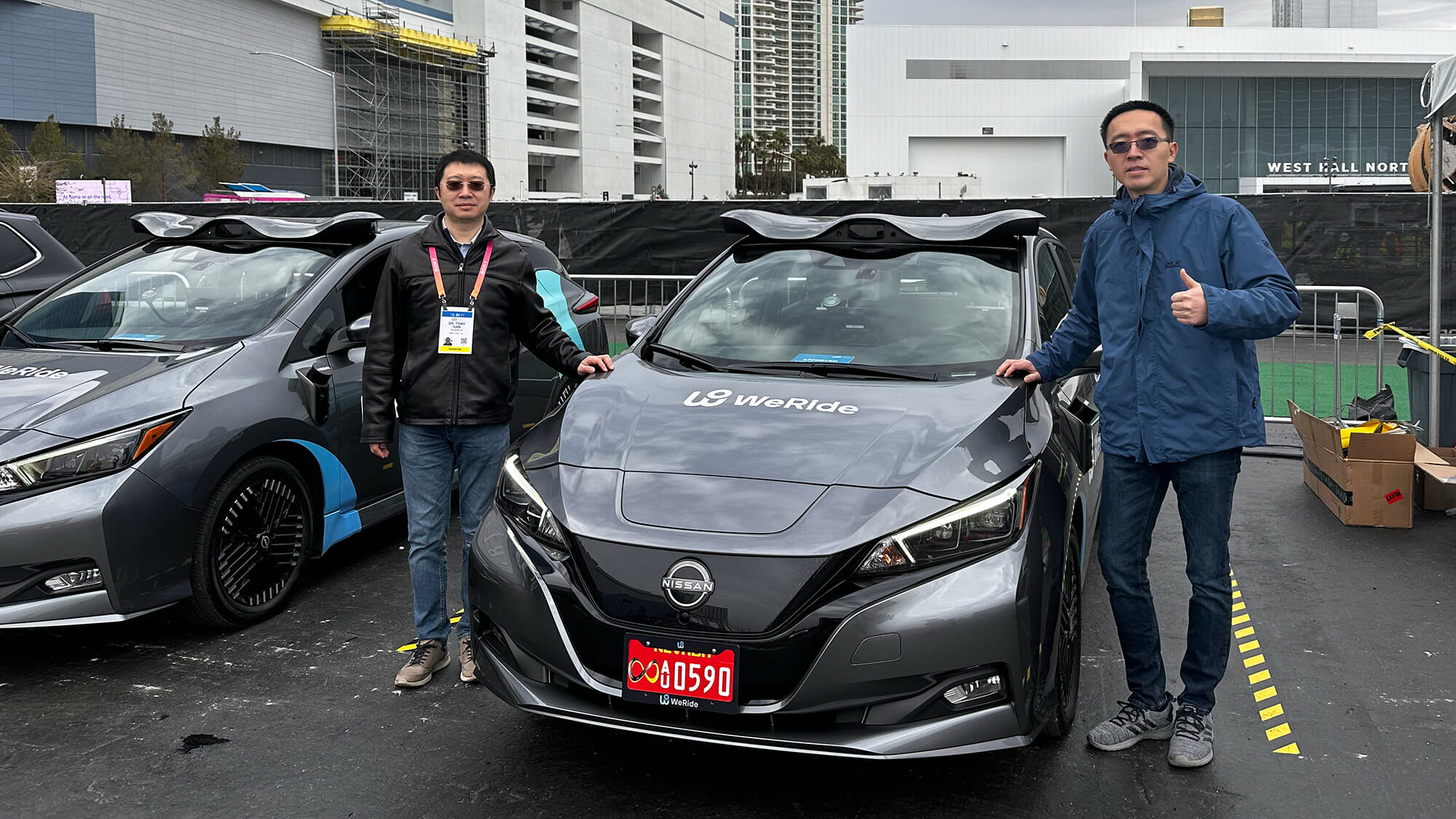 Speaking of WeRide, the Guangzhou-headquartered "Chinafornia" company with a presence in San Jose brought several units of its test vehicles (based on the 2023 Nissan Leaf) featuring its latest generation Sensor Suite 5.1 and Level autonomous technology so that attendees could experience a 30-minute demo on the Las Vegas strip. The so-called SS 5.1 has a more streamlined sensor integration on top and around the vehicle, which is graced with, you guessed it, Hesai LiDARs, among other sensors. Han told me that the cost of all the LiDARs on the SS 5.1 is no more than RMB10,000 (less than $1,500).
"What we are trying to show is that with this sensor suite setup, it's already pretty close to L4-capable," said Han. WeRide will continue to consider opportunities to expand globally, according to Han, who also hinted that a foreign IPO is not out of the question. The company is also working with Bosch to develop L2 ADAS solutions for the Chinese market.
One of the Chinese companies that was very low key but also making moves at CES 2023 was Horizon Robotics, which reached that blockbuster deal with Volkswagen Group and software subsidiary CARAID (which did exhibit officially at CES 2023) last year to develop local software and autonomous driving solutions for the Chinese market. Horizon Robotics, competing with the likes of NVIDIA and Qualcomm, wasn't exhibiting directly but had a hospitality suite showing its computing chips to potential customers. I bumped into one of its VPs on the Strip and also met him again at WeRide's booth speaking to Han. And guess what, just a couple of weeks after CES 2023, the companies signed an MOU to develop L4 autonomous driving solutions utilizing Horizon Robotics' computing platform based on its Journey 5 chip and the WeRide One software, hardware and cloud platform.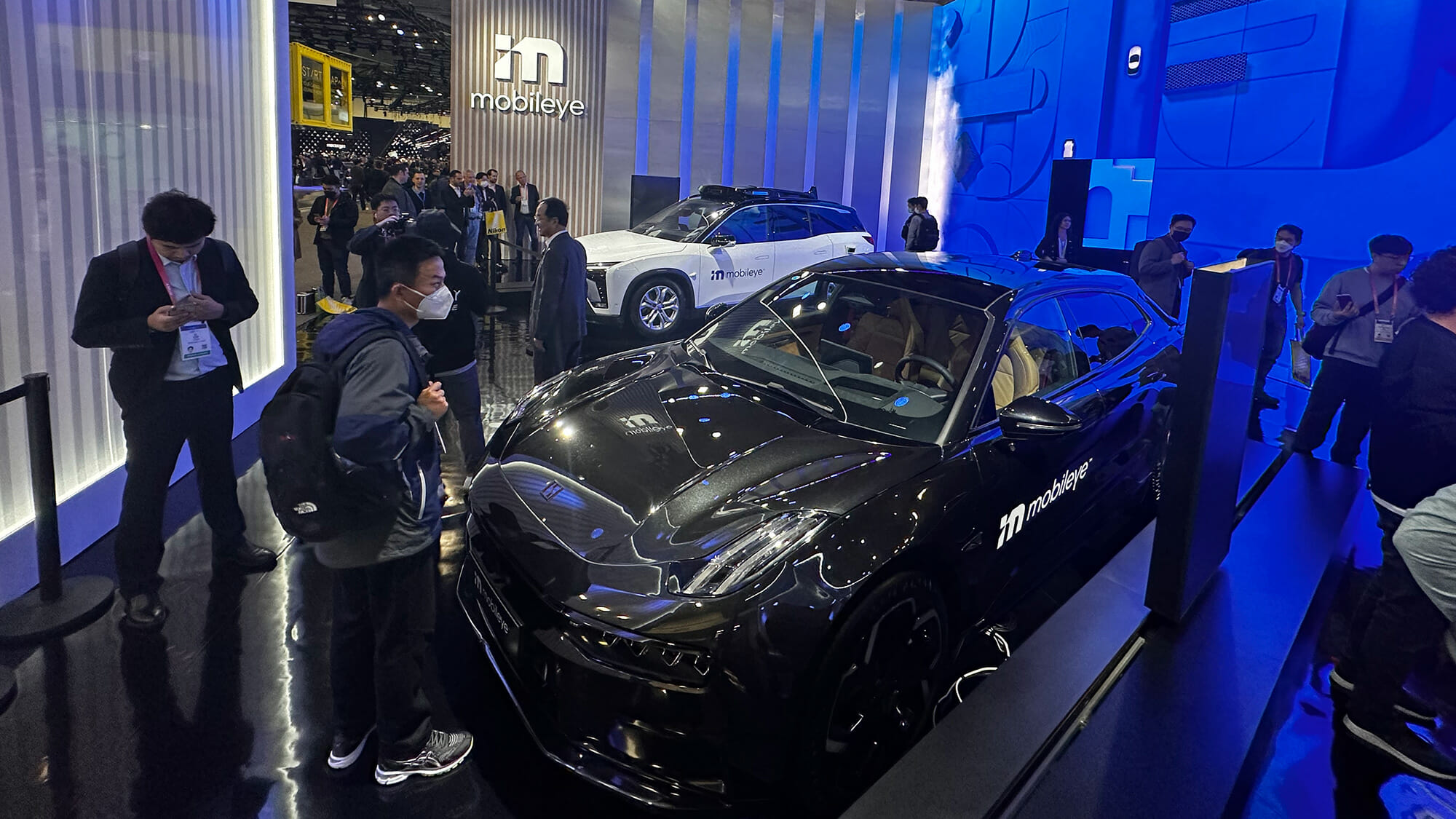 One Chinese brand that was certainly not low key at CES 2023 was ZEEKR, the high-end brand from Geely Holding Group. It wasn't exhibiting directly but was showing off the ZEEKR 001 at partner Mobileye's booth as well as the M-Vision robotaxi at partner Waymo's booth. It was again my first time ever seeing the ZEEKR 001 in person, and second time seeing the M-Vision, the next generation robotaxi that is expected to hit U.S. streets in 2024 on the Waymo One platform, following its global debut back in November at the LA Auto Show. ZEEKR was one of the more surprising Chinese smart EV brands in 2022, delivering over 70,000 units with Mobileye's "hands-off, eyes-on" SuperVisionTM driver assistance feature, which along with the ZEEKR 001 is expected to enter Europe this year. Mobileye CEO Professor Amnon Shashua announced at a press conference that three additional Geely Holding Group brands will adopt this feature this year.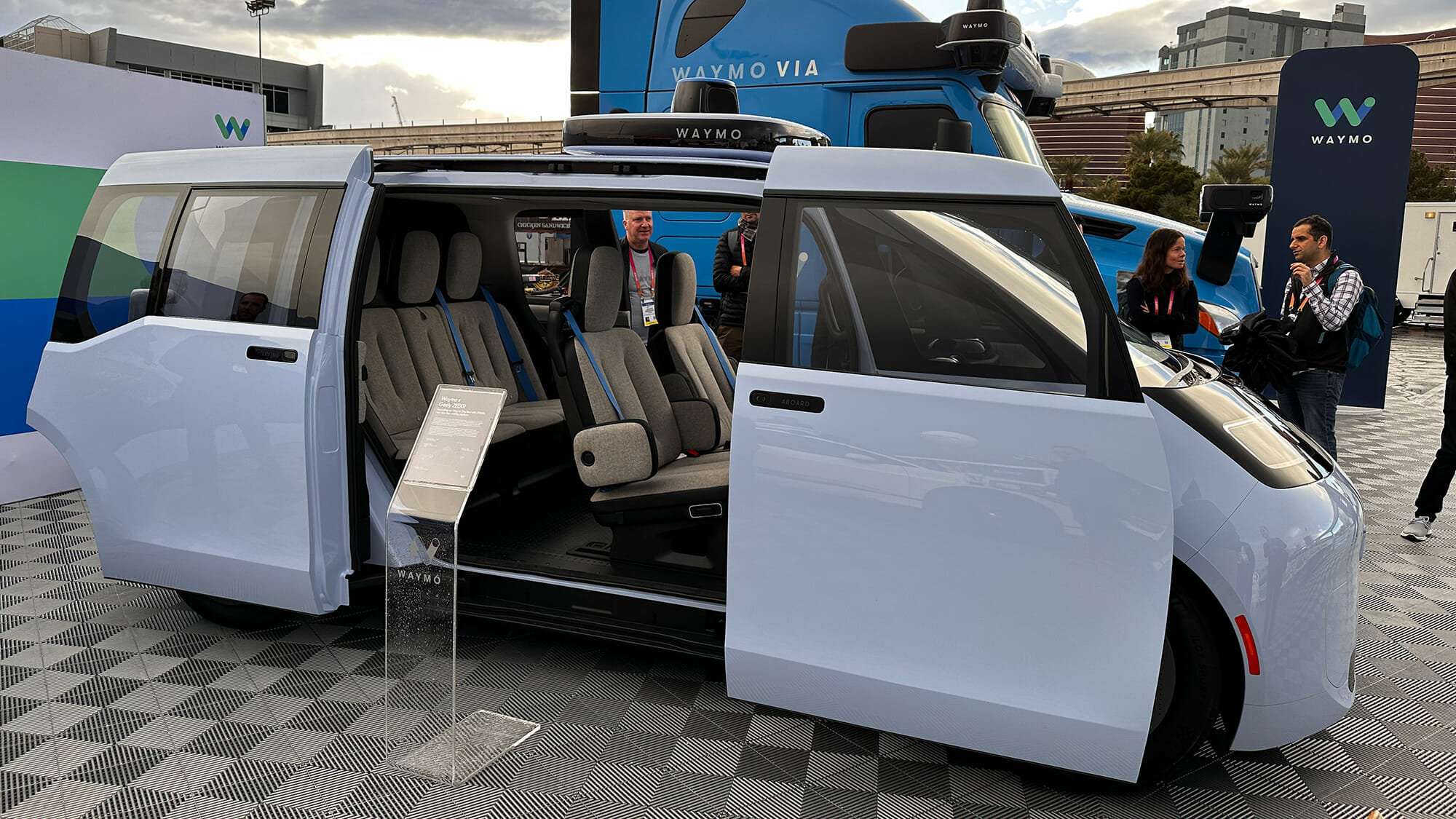 A big surprise was meeting ZEEKR CEO and veteran Geely executive Andy (Conghui) An at Mobileye's booth. I told him that ZEEKR in my mind was one of the most surprising new EV brands in China last year, and he replied: "this year will be even better."
Also appearing at the Mobileye booth was the NIO ES8 robotaxi, which interestingly enough is equipped with Luminar LiDARs and will be going into service in Tel Aviv, Munich and Detroit. It's interesting to point out that all of Luminar's customers announced so far are either Chinese brands (Rising Auto) or brands owned by Geely: the Volvo EX90 comes standard with Luminar LiDAR and the Polestar 3 has it as an optional feature. Both models were exhibited publicly at CES 2023 for the first time since their global debuts last year.
Two other executives I got to speak to at CES 2023 were Carlos Tavares, CEO of Stellantis Group, and Silvio Angori, the long-time CEO of Italian design house Pininfarina.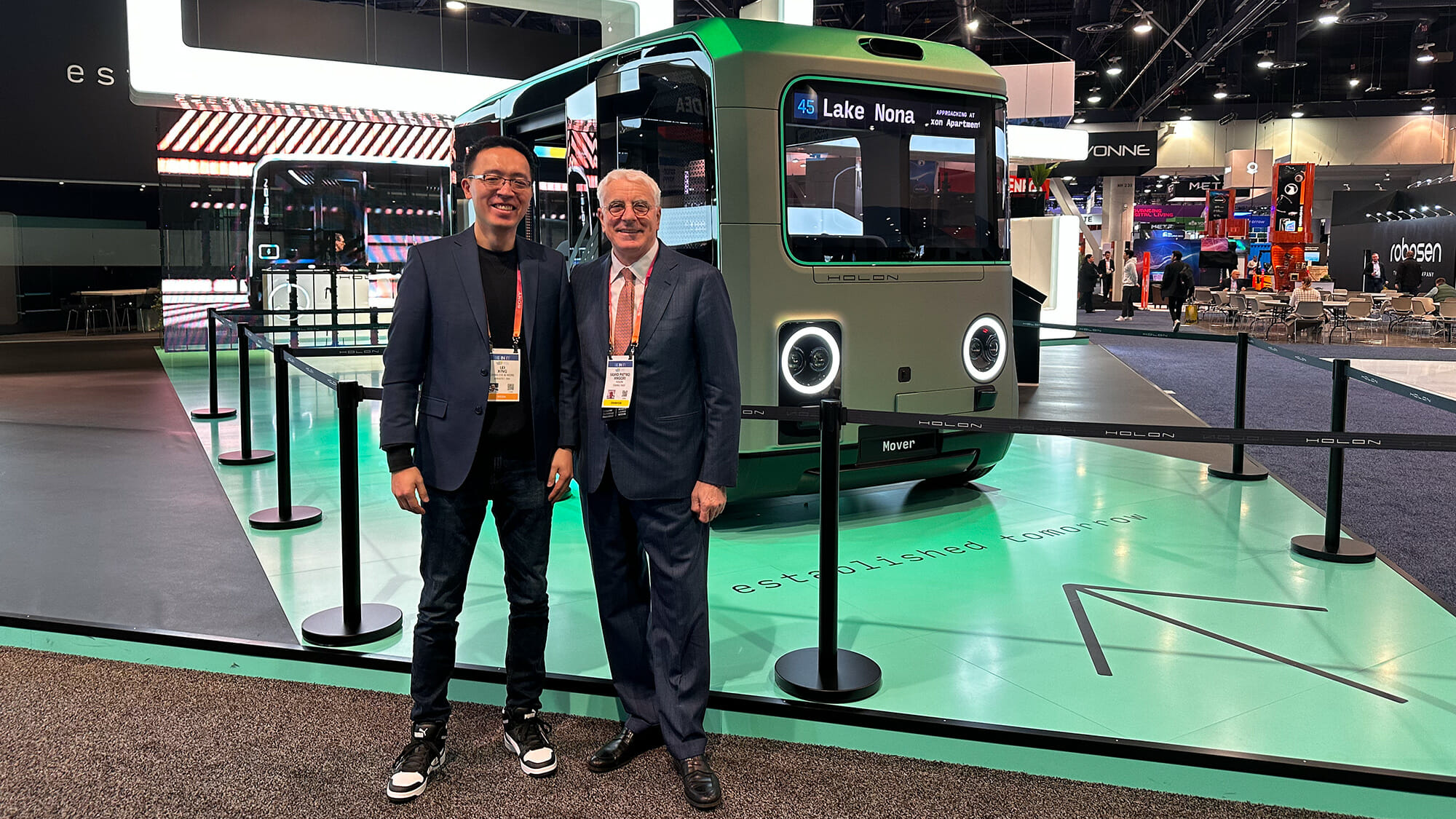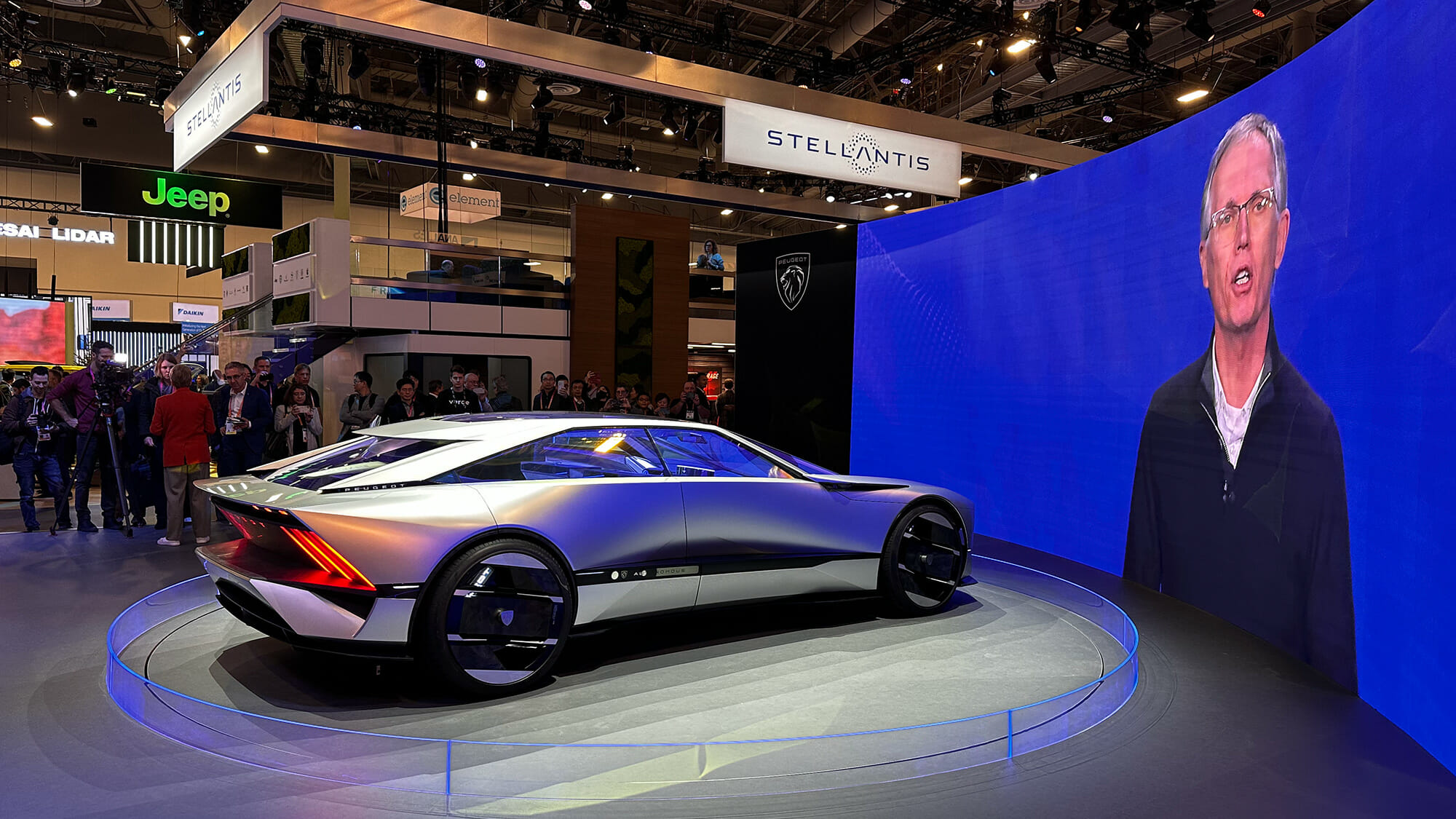 Tavares, which has had numerous scathing comments on China, and whose company has pulled Jeep production out of China, told me after his keynote speech that discussions were ongoing about whether to localize production of the next generation Peugeot EVs in China based on the Inception Concept that debuted at CES 2023. Dongfeng-Peugeot-Citroën, or DPCA, is the lone joint venture remaining for Stellantis in China.
Angori, on the other hand, told me in an exclusive interview that as Chinese automakers expand their markets outside of China, they must think about product customization.
"One size doesn't fit all," he said. "So they need to be more, much more specialized."
Pininfarina, which now drives less than 15% of its revenues from the Chinese market, is seeing its role diminished as Chinese automakers become more vertically integrated and becomes more competent and prolific in inhouse design, according to Angori.
There you have it, just some of the sights and sounds of China fact at CES 2023. It's obviously not exhaustive as I've had many more related conversations and interactions at the show. But what I have shared above proves that despite the China-U.S. geopolitical turbulence, the Chinese are showing a lot of tech confidence. And it's just a matter of time before Chinese EVs, AVs and tech reach the U.S., in different ways, directly or indirectly.
Report by Lei Xing.